The French Foreign Legion, that grueling, highly disciplined infantry branch of the French Army where a citizen of any country can enlist. The habitat for the loner, the last chance for fugitives and scoundrels to achieve gallantry, and for many years, the arbitrary career option of every fourth-grader who'd alienated his friends and whose parents wouldn't let him stay up past his bedtime. Ballads, books, and sweeping dramas told the stirring tales of those diverse soldiers marching through the hot deserts. The most famous of these is of course P.C. Wren's 1924 best-seller Beau Geste, adapted multiple times for stage, screen, and TV.  But on Sunday, February 17th & Monday, February 18th, the New Beverly raises its bayonets only to tickle your funnybone with two Foreign Legion farces, starring some of the greatest beaux jesters demonstrating their amazing physical precision in the service of manifest merriment.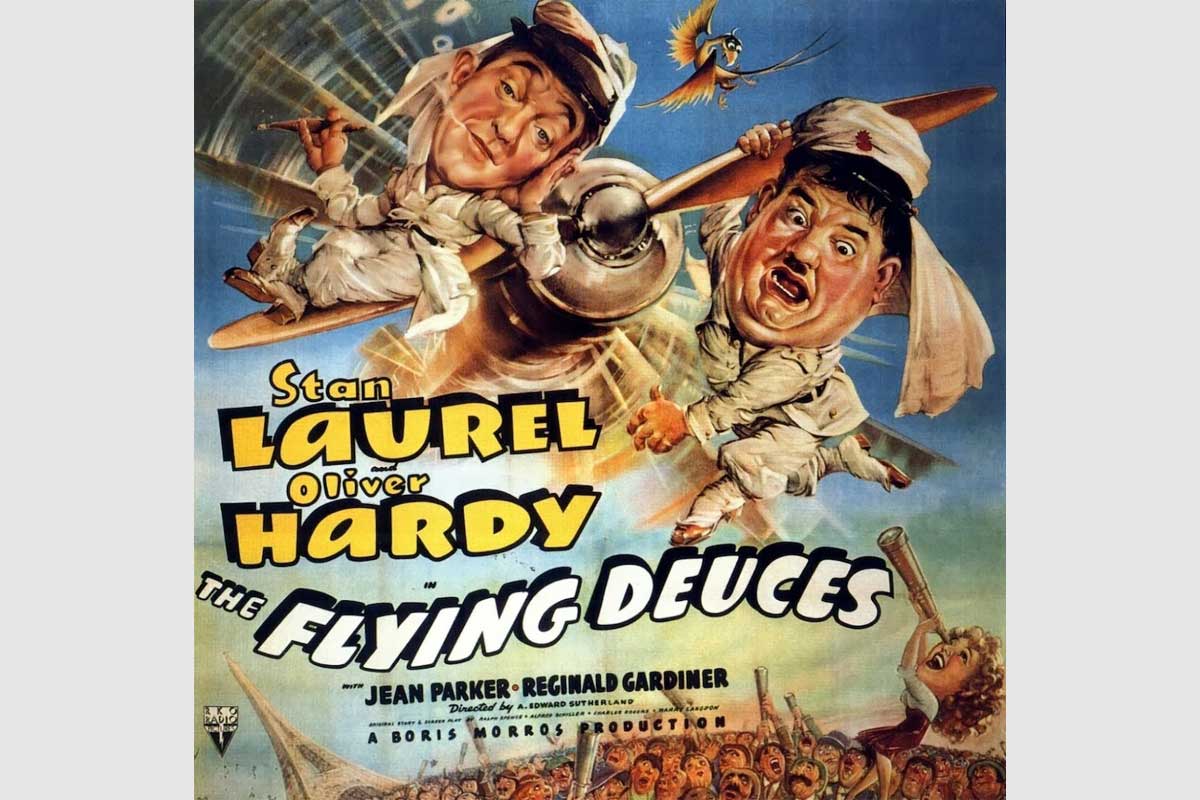 The mission begins with the iconic Laurel & Hardy in The Flying Deuces from 1939, where Stan and Ollie join the Foreign Legion after Ollie becomes suicidal over an unrequited love. However, the boys are ill-suited for desert drudgery, and their bad behavior puts them square in the path of being shot at sunrise. Even worse, the one friend they still have in the corps is the husband of Ollie's would-be object of affection! Will they escape this fine mess by creating another one?
Deuces was the first feature the duo made separate from their longstanding relationship with producer Hal Roach. The screenplay revisits the idea of Foreign Legion enlistment previously explored in the duo's short film Beau Hunks, and was created by a team including fellow Roach company comedians Harry Langdon and Charley Rogers. Well-remembered moments from the film include the boys doing what appears to be a hut-sized backlog of laundry, and Stan performing "The World is Waiting for the Sunrise" on a bedspring. The laundry scene was filmed at Iverson Movie Ranch, at one time the most-popular outdoor location for Hollywood filmmaking, and staged in what is called the "Garden of the Gods," a preserved section of the otherwise now-developed site which is still open to the public.
The straight men giving and getting grief from the antics are Reginald Gardiner, familiar from Chaplin's The Great Dictator and Christmas in Connecticut, and Charles B. Middleton, who first portrayed intergalactic dictator Ming the Merciless in the Flash Gordon serials; Middleton had previously played a Legion commandant in Beau Hunks as well. Frequent Laurel & Hardy foil Jimmy Finlayson also appears as a jailer. Director A. Edward Sutherland had previously directed W.C. Fields in the silent comedy It's the Old Army Game (where he also cast and briefly married iconic star Louise Brooks), and later directed Abbott & Costello in One Night in the Tropics.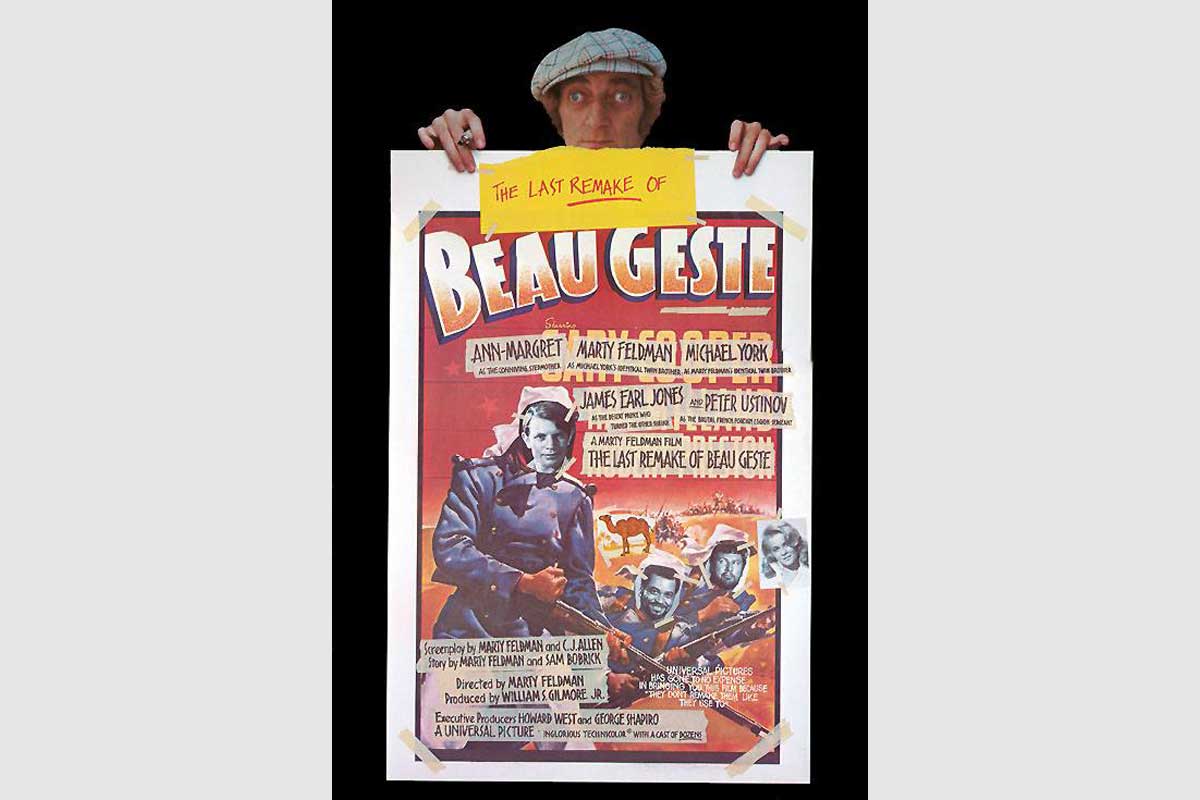 Prototype poster courtesy of Alan Spencer
Meanwhile, in The Last Remake of Beau Geste from 1977, shame befalls the noble Geste family when their patriarch's scheming new young wife Flavia (Ann-Margret) sets to seize his fortune, beginning with the family's priceless Blue Water Sapphire, which is stolen before she can snatch it. Dignified son Beau (Michael York), suspected of the crime, joins the Foreign Legion, while his hapless twin brother Digby (Marty Feldman) takes the fall and goes to prison, then escapes to join him while Flavia follows their trail. The brothers, under the brutal tutelage of cannon-legged Sergeant Markov (Peter Ustinov), will have to fend off local warlord attacks as well as their golddigging stepmother in a rollicking story that, to paraprhase Feldman's friends in Monty Python, makes the original Beau Geste look like a drama!
Writer/director/star Marty Feldman, already established as a respected comedy force from his own television series and collaborations with the Pythons and Mel Brooks, was signed to a five-picture deal by Universal in 1976; in his droll fashion, he took the piss out of the hoopla by quipping to friends, "I have a five picture deal, until the first picture bombs. Then I have a no picture deal." Feldman had long wanted to satirize the Foreign Legion and propagandist notions of "dying for flags instead of people," and suggested developing the concept around Beau Geste, which Universal owned the rights to; upon watching the previous 1939 Gary Cooper version in preproduction, he inadvertently realized his inspiration was The Four Feathers instead, but continued with the original plan. The overseas-based production met with multiple problems that put it behind schedule and over budget, including shutdowns caused by Feldman catching chicken pox and excessive rains in the Spanish desert locations, as well as wrangling for limited period props and resources with another Foreign Legion-themed film shooting at the same time in Spain, Dick Richards' March or Die with Gene Hackman.
According to "Sledge Hammer" series creator and longtime Feldman friend Alan Spencer, Feldman's original cut of Geste was told in flashback with wild asides, modeled on the unpredictable structure associated with the Pythons; it was assembled by Jim Clark, who had previously directed Feldman in the 1970 comedy Every Home Should Have One. After submitting his edit, Universal sent him on a two-week working vacation overseas, then brought in Verna Fields to re-cut the movie into a more linear fashion, and had composer John Morris create a different score than the one he had already completed. Besides losing the flashback structure, which caused the opening introduction to Feldman (a close up on his famous eyes) to be moved to the end, a scene involving John Cleese as Sherlock Holmes was cut, reportedly because Universal executives did not find him funny. Upset at the studio's action in his absence, Feldman sought help from the Director's Guild, which insisted that his original cut be shown again to test audiences; the current "two tries" rule for director's cuts has remained standard ever since as a result. Though Feldman's cut logged better audience scores, the recut is what was released by the studio, and his original has not been seen or located since. In spite of the fraught events beforehand, Geste was a surprise success, particularly in the UK and France, and Universal agreed to back Feldman's next project, In God We Tru$t, this time guaranteeing him final cut. The 1980 release, which played New Beverly in April 2014 with Spencer in person, was not well-received, leading Feldman and Universal to mutually terminate their relationship shortly after. As Spencer recollected, "The film still works, but Marty's cut was a true classic as opposed to what Universal released."
We won't make you iron your dress khakis or polish your boots, but we do demand you march down to the New Beverly in some formation, and salute some comedy geniuses making sass in the desert sands.