The final night of September brings the final night of New Beverly's flashback to the "greatest hits" of Quentin Tarantino's 2007 Los Angeles Grindhouse Festival. The original event brought dozens of underappreciated films to new fans, spurring a wave of fresh critical appraisals and respect for the many talents that quietly turned out these crafty entertainments.
Our concluding show on Saturday, September 30, pays tribute to one of these previously unsung craftsmen, former Actors' Studio resident player turned writer/director John Hayes. Writer Stephen Thrower, in his deeply researched history book of exploitation filmmaking Nightmare USA, wrote of Hayes, "What's striking about [his] career trajectory is the way that he returns, time and time again, to the experiences of his childhood, revisiting familial traumas in a variety of settings, from melodrama to horror to hardcore. It's this obsessional quality that reveals a true artistic temperament…Hayes journeyed through many of the major genres, following the ups and downs of the exploitation film market for nearly forty years." And the two films picked by Quentin to represent Hayes' output demonstrate his versatility.
In 1940, Leslie Hollander is violated by raging vampire Caleb Croft (Michael Pataki) after he murders her boyfriend with brute force. Impregnated and believing the child to be her lover's, she gives birth to a half-vampire son, and feeds him as best she can with her own blood. 30 years later, her grown son James (William Smith) seeks to avenge the rape of his now-dead mother, and finds his vampire father maintaining a respectable facade as Professor Lockwood, a night school professor of occult studies. While waiting for the right time to confront him, James is tortured by his own cravings, and when classmates Anne (Lyn Peters) and Anita (Diane Holden) inject themselves into the lives of these estranged blood relatives, another cycle of violence will be initiated. These are the events that all began with one traumatic night at the Grave of the Vampire, from 1972.
It is now a well-known bit of trivia that "The Sopranos" creator David Chase wrote Grave, his first feature screenplay. The then-neophyte had been hired by Hayes' production company Clover Films for some archival tasks, and previously served as production manager on Hayes' WWII action film The Cut-Throats. In an interview for the Archive of American Television, he remembered, "I was there off and on for a year. They'd hire me, and they wouldn't have anything and they'd fire me and I had to look for work again, and then they'd have a project and I'd go back, or they'd recommend me to somebody else…it was an internship, essentially." Hayes suggested the primary father/son vampire concept, and Chase wrote the screenplay, reportedly from an unpublished novel he'd composed called The Still Life. Both men had endured unhappy childhoods – Hayes' parents had split when he was four and he was raised by his grandmother and an addict uncle, while Chase's parents fostered an environment of hostility and erratic behavior that often left him physically sick – thus Grave functioned as an exploration for both of them on the effects of youth trauma. Hayes shot the film in 11 days on a $50,000 budget. Of the production, Chase said, "[That] was sort of during my knocking-around phase…I was starting to learn how it all actually worked. I think I did visit the set once…I wrote [the script] and then he completely rewrote that. I was invited to the screening, and I was aghast, it was really not what I'd written at all."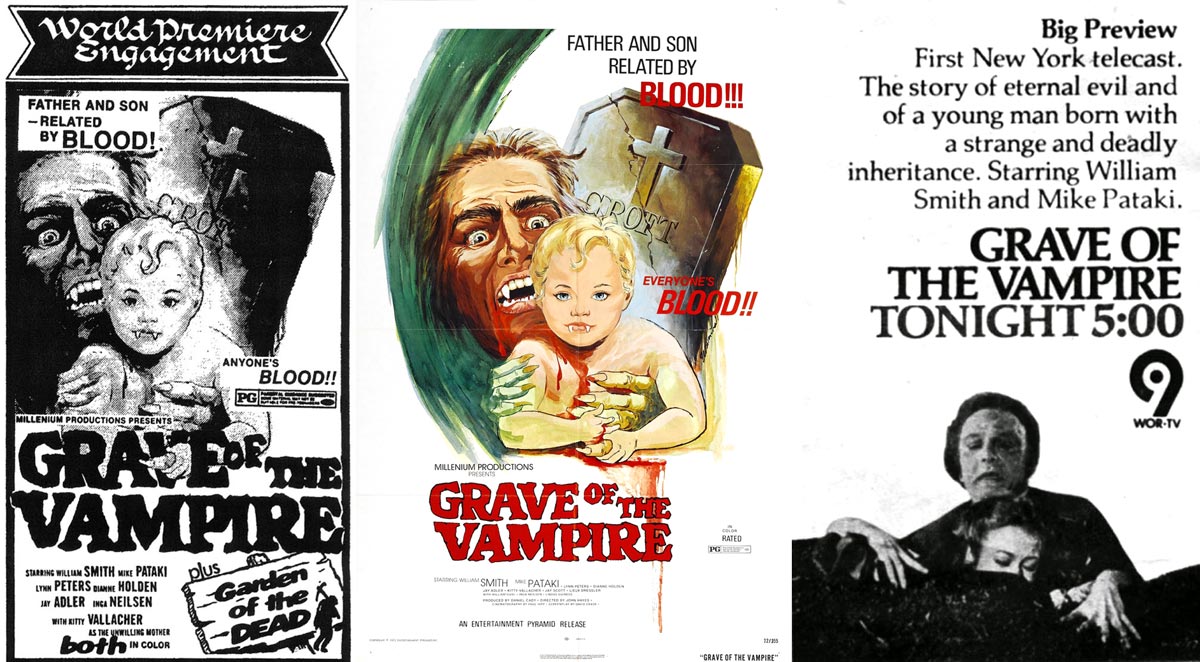 Star Michael Pataki previously acted for Hayes in his 1970 dark fantasy Dream No Evil, playing a lustful traveling evangelist, and would appear in several more of his films. Lyn Peters, playing innocent Anne, is probably best remembered from the "Londinium" episodes of "Batman" as a criminal protegee of guest villains Rudy Vallee and Glynis Johns. Diane Holden, playing her morbidly-inclined roommate Anita, would work for Grave's co-producer Daniel Cady's 1974 drama Black Starlet, starring Juanita Brown and Marilyn Joi. Much of the crew of Grave were used to film Hayes' followup film Garden of the Dead, shot in the same year, and with its 58-minute running time, likely made with the intention to be a quick second feature paired with Grave.
The tone may be lighter and the stakes much lower in 1977's Jailbait Babysitter, but for its title heroine, there's still going to be some scary territory for her to navigate. 17-year-old Vicki (Thérèse Paré) has long resisted giving up her virginity to anyone, particularly her would-be boyfriend Robert (Roscoe Born). But when mutual friends crash a babysitting job of hers, and one of them tries to make unwelcome moves on her, it catapults her into an odyssey that will thrust her into adult situations she is not ready for, and challenge her notions of what she really wants and from whom.
Hayes wrote and directed Jailbait after helming the Charles Band-produced sci-fi thriller End of the World with Christopher Lee and Sue Lyon. By this time, he had fallen out with his Clover Films partner Daniel Cady and became a free agent, alternating directing conventional films with adult films under the alias of "Harold Perkins." During this time, he would also occasionally take small acting roles in others' projects, including a pair of Disney productions, Treasure of Matacumbe and The Shaggy D.A. He would retire from the film business in 1985, occasionally participating in stage projects; his one-act play The Front Room was mounted in the 1987 Hollywood Fringe Festival. He was contemplating a return to low-budget digital production, but was incapacitated by cancer, and died in Burbank on August 21, 2000.
Star Thérèse Paré would work again with Hayes on his final mainstream credit, "The Madness Room,'' a 1985 episode of the George Romero/Richard Rubenstein-produced "Tales from the Darkside" series. Co-star Roscoe Born has been seen on many major soap operas for years, from "Ryan's Hope" in his youth to most recently "One Life to Live" in 2012. For years there has been widespread speculation that John Goodman had appeared in Jailbait as an extra, however the actor flatly denied his involvement in an interview with the AV Club website. When featured player Billie Mae Richards comes on screen, you may not recognize her face, but her voice will definitely sound familiar, as she was the voice of Rudolph the Red-Nosed Reindeer for all three of the classic Rankin-Bass stop-motion animation Christmas specials.
Wrap up New Beverly's Grindhouse Month by spending your Saturday with a vampire and a vamp, courtesy of director John Hayes.