WAIT – they don't want the kidnappee back? While kidnapping comedy is a relatively small genre, it brings up interesting things to consider while watching a film such as The Happening (Elliot Silverstein, 1967). While this film deals joyfully in beatnik comedy and thrills in its Mad Mad Mad Mad-Cap World-approach it also manages to engage in some deep looks at existential conflict, relationship deterioration, and critiques of different kinds of youth culture. It also gets increasingly dark as it moves towards the final act. The Happening is a better and more substantial film than many give it credit for. Introducing the world to Faye Dunaway (The Happening was her feature film debut) and rolling out a bleached blonde Michael Parks, this charming and underappreciated film does more than simply entertain us with the comedy of a kidnap-gone-wrong story. It examines the counter-cultural landscape, relationship breakdowns and generational divides. As a bonus, the electricity between Parks and Dunaway blasts off the screen like fireworks, their dialogue bouncing back and forth rhythmically and musically, as though their characters came with snaps and bongo drums. In all veracity, it is Parks and Dunaway that really create The Happening aspect of the film.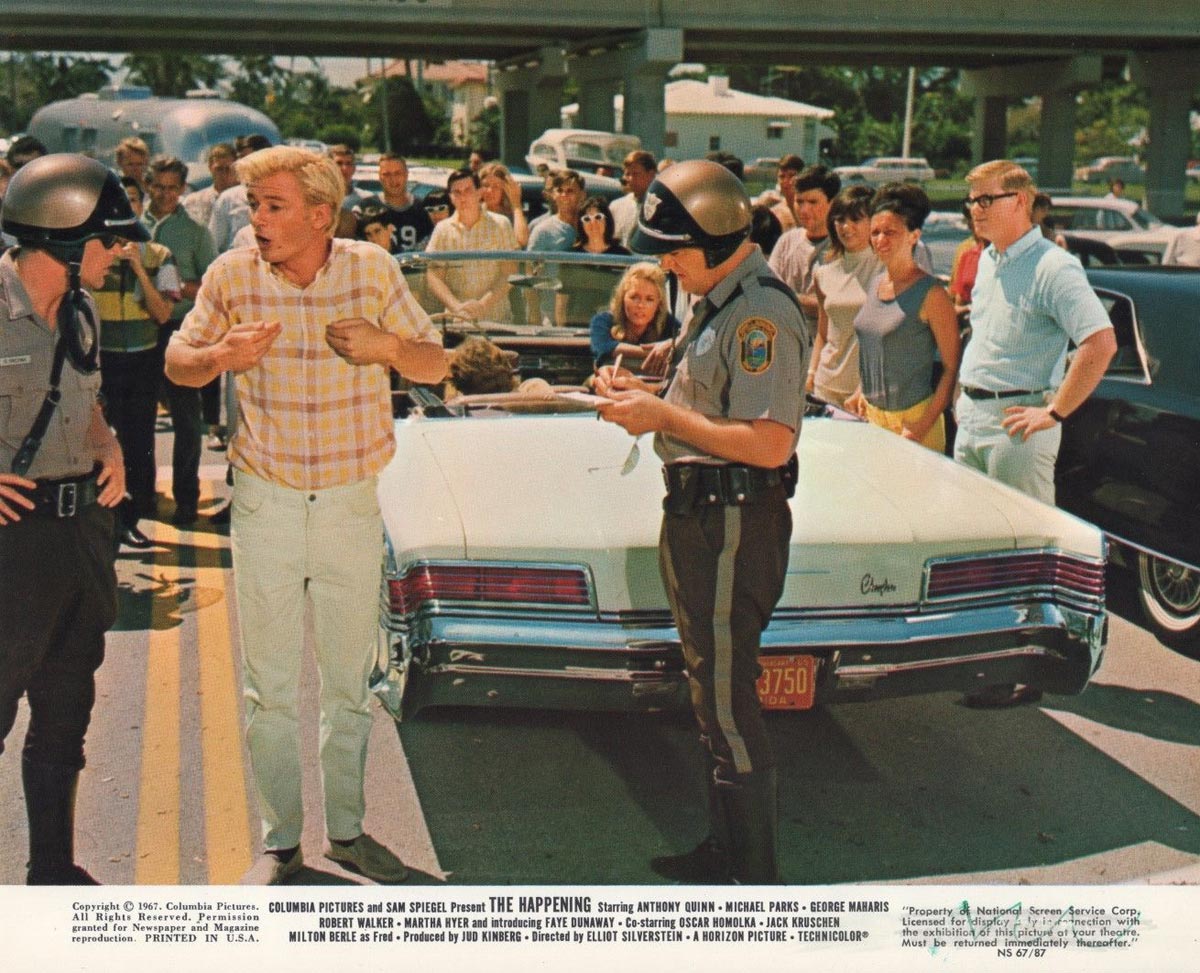 Let us examine the four characters who abduct a mob boss, put him up for ransom, and discover that…no one is willing to pay. It's of consequence here to note that the kidnapping wasn't premeditated. It was one of those things that seemed like fun at the time and was certainly along the lines of the hippie byline "if it feels good, do it." So, the kidnapping was done. But the question remains: were all the kidnappers hippies? It's safe to say that Sureshot (Michael Parks) and Sandy (Faye Dunaway) were. They look the part, act the part, and speak the part. But the other two – Taurus (George Maharis) and Herby (Robert Walker, Jr.) are questionable. Before the abduction, the four young folks are on a boat, having outrun a police raid on a forest love-in type party that they all attended. But Taurus makes it clear that he is not like the others – not only is he hunting for a sugar mama (that's his line of work, apparently, living off women) but he also slaps Sandy, hard, when she calls him out on being a hustler. Sureshot gets in the middle, causing the egotistical Taurus to say, "Oh that's right, she's your chick!" It is at this point that characters are defined and coupling is created: Sureshot and Sandy are defined as bohemian-type non-conformist figures in the positive sense; they are fun and joyful. They represent beat culture and free youth energy, displayed in the way that they relate to each other as well as the theatrical/lyrical manner in which they talk. Taurus is everything that Sureshot and Sandy are not, and yet he manipulates himself to seem like he's hippie-esque. As for poor Herby…he's incredibly malleable and BOY does Taurus know it. Taurus is a hustler, as stated by Sandy (and by himself) within the first 10 minutes of the film so when it comes to young "hangers on," Herby is that kid. In this sense, Herby is not a reliable ally as he is not sure in his own skin. He makes a decent lackey for Taurus.
The idea of human abduction is to seize a person of meaning/value from another person/group and invoke trauma so that they are forced, at all costs, to give in to the demands of the taker. What happens when that trauma cannot be catalyzed? Will the kidnapper still retain authority or power over the victim? What does it do to the abductee when they realize that they are not wanted and that the kidnapping has actually relieved their loved ones and not upset them? In The Happening, when Roc Delmonico (Anthony Quinn) tries to reach out to his wife Monica (Martha Hyers), she refuses to pawn/sell the jewels ("Oh I couldn't do that! You GAVE them to me!") and his business partner Fred (Milton Berle) engages him in a full conversation about dinner rushes and salads that will make you die from laughter (it's Uncle Milty, after all).  These people, who thought that they had meaning in their partner's lives…are now worthless. Who do they turn to? Their captors? For Roc, that was simply unthinkable. Turn to the hippies? THAT generation? The generation that destroyed all that was good, nice, clean and respectable in his world? Not a chance!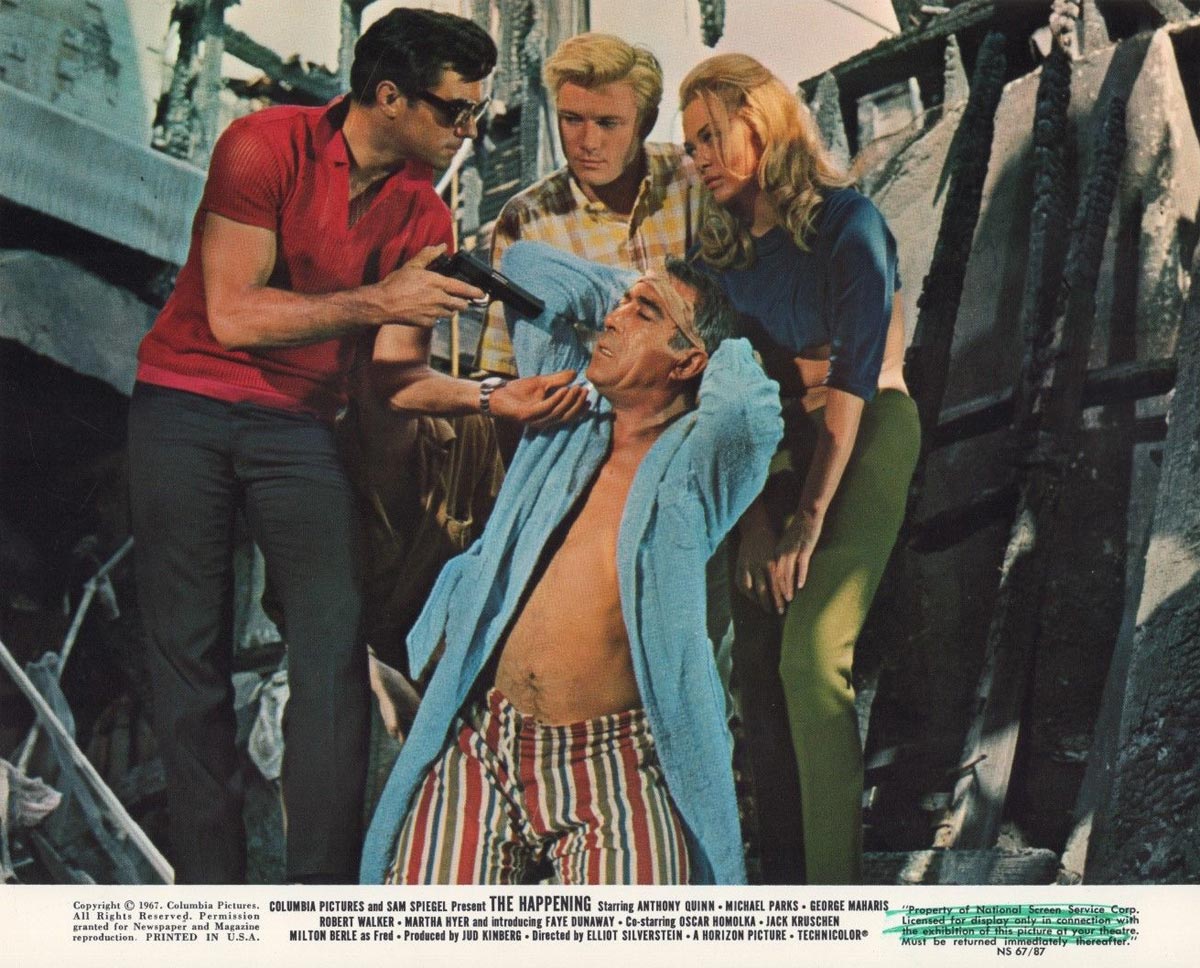 The scene where Roc learns that he is, for all intents and purposes, all alone in this world, is a glorious one – really one of the best in the film. After having been shut down by his wife, his business partner and his mother for the ransom, he slumps down in the phone booth, surrounded by his captors. It is the ultimate moment of existential crisis. It is undeniably heart breaking. I actually welled-up, looking at this broken man (not a small man either – Anthony Quinn is a large fellow) just devastated at the bottom of this late 1960s phone booth with the red panels on the sides, his youthful kidnappers staring down at him. The cinematography and the lighting used in this scene is immaculate. Everything that has ever made him King of the Castle is gone. Roc is no longer The Godfather. He's not even a blip on the mafia screen. He could disappear forever and no one would care. And even worse? A bunch of young party hearty kids who didn't necessarily intend to kidnap him but did because – hey- it sounded good- have him in their pot-drenched little palms. This is Roc Delmonico's worst nightmare.
This film went through several title changes. It began as The Innocent, transitioned to Mister Innocent, became It's What's Happening and settled as The Happening. Based on a story by James D. Buchanan and Ron Austin, it was scripted by Frank Pierson of Cool Hand Luke (Stuart Rosenberg, 1967) and Dog Day Afternoon (Sidney Lumet, 1975) fame. Pierson had previously worked with The Happening director Elliot Silverstein on Cat Ballou (1965) and an episode of Have Gun, Will Travel called "The Kid" (1961). Also of note, both Pierson and Silverstein had worked on one of the best crime television shows to ever air on broadcast television: Naked City. Silverstein's episodes alone feature some of the best performances of young Dennis Hopper, Robert Redford and Martin Sheen.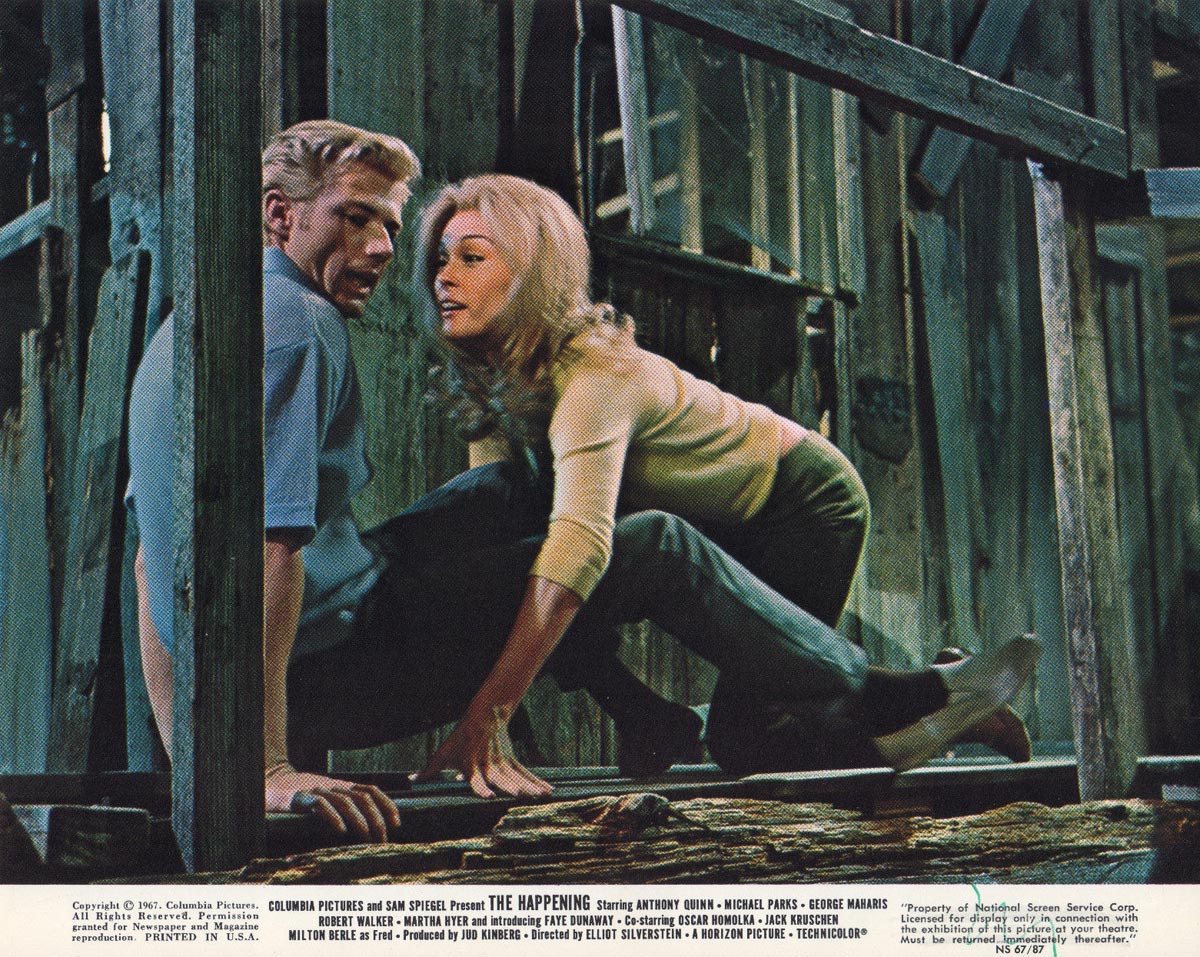 While The Happening may not seem to be a film that says, "look at my cinematography!" it actually IS. Seriously – LOOK AT ITS CINEMATOGRAPHY. Philip Lathrop, the genius eyes behind every episode of the Peter Gunn Show (1958-1960), Lonely Are The Brave (David Miller, 1962), The Cincinnati Kid (Norman Jewison, 1965), Point Blank (John Boorman, 1967) and so much more was the photographer of this film. The Happening's staff is seriously a who's who of greatness: art director Al Brenner was also the art director for The Connection (Shirley Clarke, 1961), Monte Walsh (William Fraker, 1970), and Scarecrow (Jerry Schatzberg, 1973). Production designer Richard Day had things like On the Waterfront (Elia Kazan, 1954), Moontide (Fritz Lang, 1942) and The Grapes of Wrath (John Ford, 1940) under his belt, while editor Philip W. Anderson had completed The FBI Story (Mervyn Leroy, 1959), Ocean's 11 (Lewis Milestone, 1960) and another Martha Hyer flick, Night of the Grizzly (Joseph Pevney, 1966), before getting to The Happening film bench. This set was fucking loaded.
And then of course there's the song by the Supremes. While the film may not have done so well upon release, the song from musical director Frank De Vol (credited on-screen as "Music by De Vol") destroyed the music charts. Written by Motown legends, Lamont Dozier, and Brian and Eddie Holland (Holland-Dozier-Holland), it ended up being the tenth #1 single for the Supremes in the US. While it isn't actually used IN the film, it can be heard at the end. Not great for the success of the film, but pretty great for Diana Ross, et al.
It would be impossible to discuss the production of The Happening without including the presence of executive producer Sam Spiegel. Known for big pictures like John Huston's The African Queen (1951) and David Lean's Lawrence of Arabia (1962), he had also done "little" pictures like Joseph Losey's The Prowler (1951) and Orson Welles' The Stranger (1946) under the name S.P. Eagle. While most people knew Spiegel as a major player in Hollywood, Spiegel was a Polish immigrant whose past included ditch-digging and some major felonies, thus his name changed from S.P. Eagle to Sam Spiegel (but only after he felt safe enough to do so!!!). It was Spiegel who decided to use Frank Pierson and Elliot Silverstein as the writer/director team for The Happening, but Silverstein was uneasy with Spiegel's conception of the film. Silverstein notes, "Sam was interested in the story of the picture being told in a more traditional way, it was more serious than how I saw it…I wanted to do a vaudeville kind of film, a mocking satire of social values…Frank and I wanted to be tongue-in-cheek, and Sam was not comfortable with that."
The Happening producer Jud Kinberg remarked that behind the scenes on the film there was a great deal of turmoil. He didn't get along with Silverstein, Silverstein and Pierson were not on the same page as Spiegel, and the whole thing was a jumbled up mess on an interpersonal level. He also lamented that both he and Spiegel overproduced the film. "You keep on wondering, 'Can I do it again?' and you try too hard. We should have relaxed on that film instead of jiving it." Elliot Silverstein was quite honest about the "too many cooks in the kitchen" scenario. He speculated that Spiegel might have been a little too busy for The Happening since he was concurrently trying to produce The Night of the Generals (Anatole Litvak, 1967) in Europe. Ultimately, Silverstein says, he would not change much of the film but it just wasn't successful based upon the way the story was interpreted by creative and producing teams. Says Silverstein, "We went too much in one direction to please, and we should have gone for our point or [Sam's]. It should have been serious or satirical not both."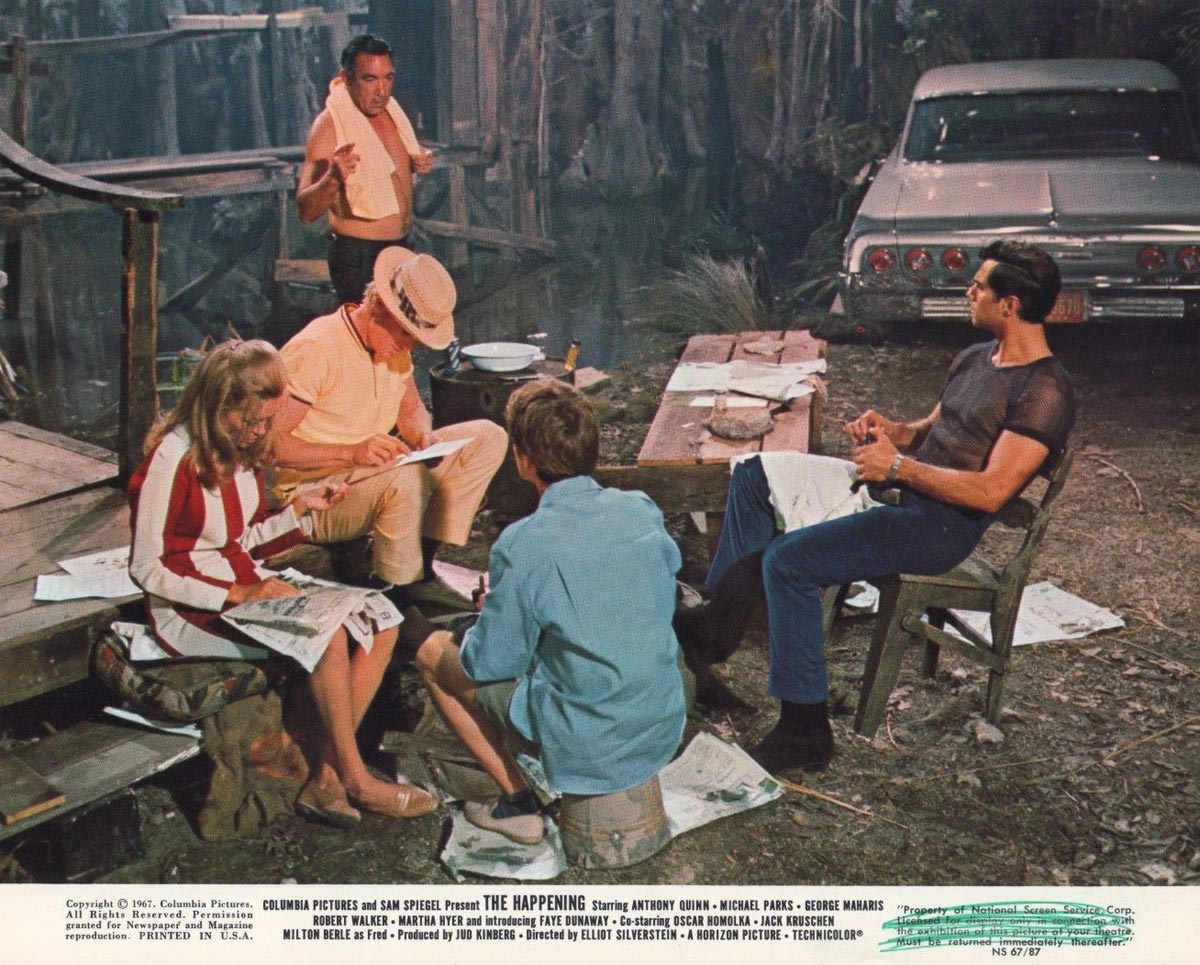 On the Soapbox Office podcast episode dedicated to Michael Parks, Mitch Cleaver and Josh Roush talk about the lovable kookiness of The Happening and what a joy it is to watch Parks in this role. "It's a different shade of Parks," they comment, "Bleached blond Parks doing big, big comedy…this movie is somewhere between Beach Blanket Bingo and The Italian Job." The two men trade off quoting lines from The Happening and doing the "OMG, remember when that happens??" They spend a wonderful amount of time filling the memorial podcast with hearty laughter about a film that has rarely been reviewed positively. It is a joy to listen to because they clearly love the film and honestly? There is so much about the film to love. Whether it is on an intellectual level, a comedic level or simply to engage with the performances of a truly ensemble cast, The Happening is a motion picture that should not be missed.
Rare films that make you laugh and forget anything except sitting in that theater and what's on that screen are few and far between. The Happening is one of those films. See it in 35mm at the New Bev on August 16 & 17.