The New Beverly opens the month of May with a one-night-only combo starring a fellow who can transition from working with Marlon Brando one day to ALF the next without breaking a sweat, and has the unique distinction of essaying both America's most-feared and most-beloved fictional presidential candidates: revered actor and humanitarian, Martin Sheen! We've picked two rare films of his which, due to poor distribution, many of you probably saw on cable during the early heydays of the medium, and we're bringing them full circle by putting them back on the big screen where they were intended to be viewed!
We go first to pre-Civil War New Mexico for the austere, minimalist 1979 western Eagle's Wing. After his war party attacks a rival tribe, but fails to take Eagle's Wing, the fallen chief's horse, White Bull (Sam Waterston) robs a stagecoach, stranding its passengers, and takes Judith (Caroline Langrishe), an Irish priest's sister, as a hostage. Trappers waiting to trade with the now-slaughtered Indians are themselves attacked, and survivor Pike (Martin Sheen), an Army deserter, comes across Eagle's Wing during his escape, stealing the horse and causing more Indian death in the process. While an unscrupulous mercenary party search half-heartedly for the stagecoach travelers, a battle of wills brews between the inexperienced Pike and the hardened White Bull for possession of the horse.
"It's really the story of an obsession, an action film… It's almost a silent picture. It had practically no dialogue. It was quite a challenge, something I'd always wanted to do, a film which doesn't rely on words," is how director Anthony Harvey described Eagle's Wing in a 1988 interview. Before directing milestone work like The Lion in Winter and the "Hallmark Hall of Fame" production The Disappearance of Aimee with Bette Davis and Faye Dunaway, he first drew notice as an editor, beginning with comedies such as I'm All Right Jack with Peter Sellers (recently screened at TCM Fest 2017) and stepping up to edit Kubrick's Lolita and Dr. Strangelove. The screenplay was by American writer John Briley, who would go on to write several films based on real people or events, most notably Richard Attenborough's Gandhi, for which he won an Academy Award. Cinematographer Billy Williams had previously shot films both men were attached to, such as Harvey's TV adaptation of The Glass Menagerie, and Pope Joan, written by Briley, along with New Beverly favorites like The Silent Partner and Kid Blue.
Alongside Martin Sheen, Harvey Keitel plays the experienced trapper partner Henry. In peculiar convergence, Keitel had originally been cast to play Captain Willard in Apocalypse Now, and filmed for a week until Francis Ford Coppola replaced him with Sheen. Sheen would later appear in the Briley-written films Gandhi and Enigma. Sam Waterston previously portrayed a Native American character in Frank Perry's Rancho Deluxe, which screened last month at the Bev, and had played Tom Wingfield in Harvey's Glass Menagerie. English actress Caroline Langrishe has appeared in TV productions of Les Miserables with Anthony Perkins and A Christmas Carol with George C. Scott, but is probably best known for appearing as Ian McShane's girlfriend in the last two seasons of his BBC/A&E mystery series "Lovejoy". The haunting poster treatment was done by prolific artist Vic Fair, who also created memorable posters for The Man Who Fell to Earth and Amarcord; Fair recently passed away on February 23rd at the age of 78.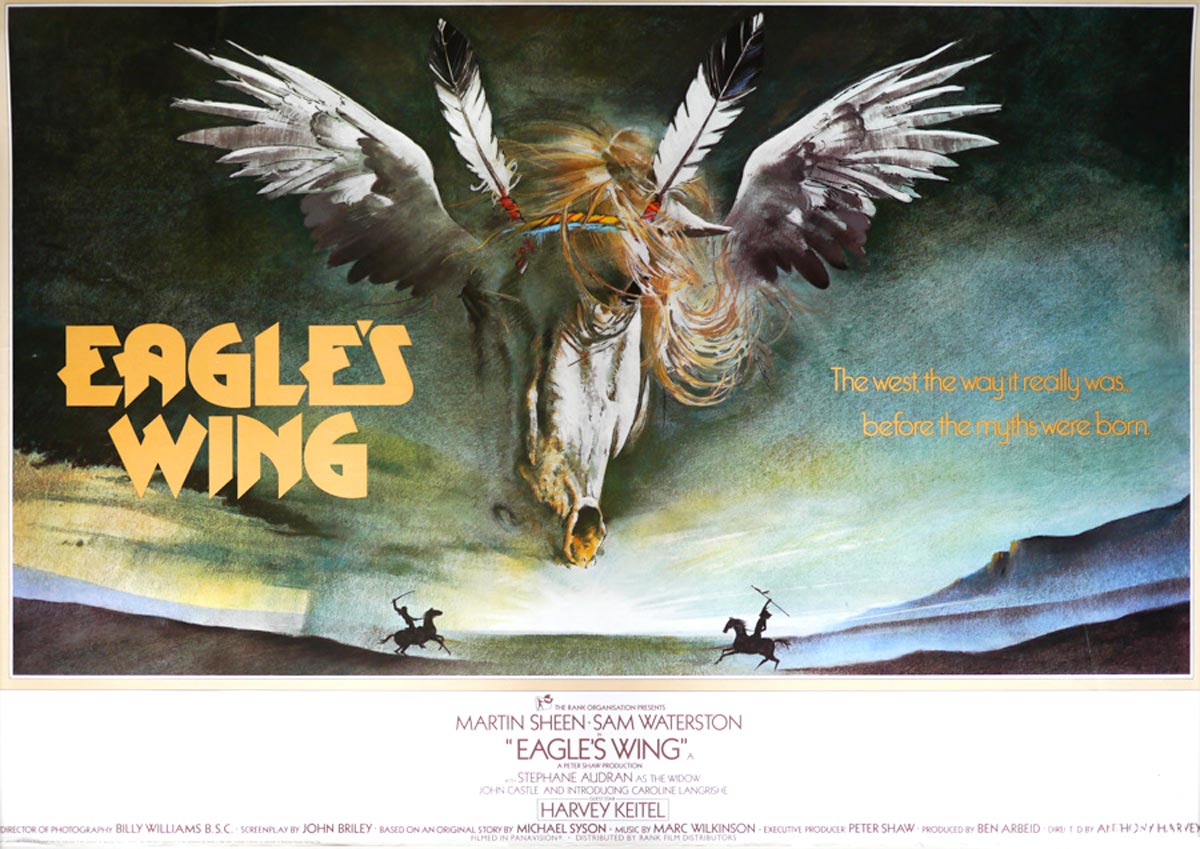 The action leaps to present-day London for the 1981 heist caper Loophole. Unemployed architect Stephen Booker (Martin Sheen) has racked huge debts so as to not upend the plans of his entrepreneur wife (Susannah York) and pull their children from a posh school. He thinks he's found a reprieve when Mike Daniels (Albert Finney) hires him to "interpret" the structure of an existing building, but soon realizes he's been recruited to help rob a nigh-impregnable bank! Desperate to avoid a collapse that will ruin his career and marriage, Stephen joins the gang, determining the best route in and out will be to tunnel underneath the vault. The team learn that it may not be the police or bank security that poses the most threat to their plan, it's the tight conditions, deadly gases, and other buried vagaries that could cost them the money and their lives.
London-born writer Robert Pollock had previously worked in teaching, magazine publishing, and public relations when, while freelancing for the Sunday Times, he befriended a parolee who gave him elaborate break-in documents, later discovering said man was one of England's most effective bank robbers. Pollock integrated the plans as part of his 1973 novel Loophole; or How to Rob a Bank, which drew rave reviews from both book critics and crooks; Alfred Nussbaum, a former FBI Most Wanted figure then serving a 40 year sentence, even provided a pull quote. Loophole was adapted for screen by Jonathan Hales, later to become a featured scribe for Lucasfilm, scripting episodes of "The Young Indiana Jones Chronicles" and Attack of the Clones. Director John Quested started out as an assistant director on selected UK productions, including two Bond films, and produced films for Hemdale and Brent Walker Productions. In a nice link to our opening feature, he also worked under Anthony Harvey as production supervisor on The Lion in Winter. Quested left directing behind to become head of production at the venerable British studio Goldcrest, with films like Jill & Karen Sprecher's Clockwatchers made during his tenure.
Loophole was not a box office hit in the UK, where it opened in March 1981 and was already aired by the BBC on Christmas that same year, or in America, where it was first offered on cable and videocassette in 1982 before receiving a two-day New York City run at Cinema Village in 1986. But it did have an extremely unintended influence on its fans. In 1976, two daring heists took place in Nice and Paris by a group called The Sewer Rats, and during trial, Pollock's book was cited as the inspiration to the gang, who copied the method of entry detailed within. And in January 1984, a brazen daylight robbery took place in Richardson, Texas, where masked gunmen went to a bank president's home, attached fake bombs to his family, and directed him to go to his bank and withdraw the desired money, leaving it in a specially-rigged location from which the robbers safely retrieved it later. When the criminals were caught and put on trial, one of the bandits, Steven Nail, revealed in court that the idea for the crime came from watching Loophole at the co-conspirators' home. As the aforementioned career crook Nussbaum said, "If author Robert Pollock is not on parole, he should certainly be under surveillance. He has an exceptionally crafty mind."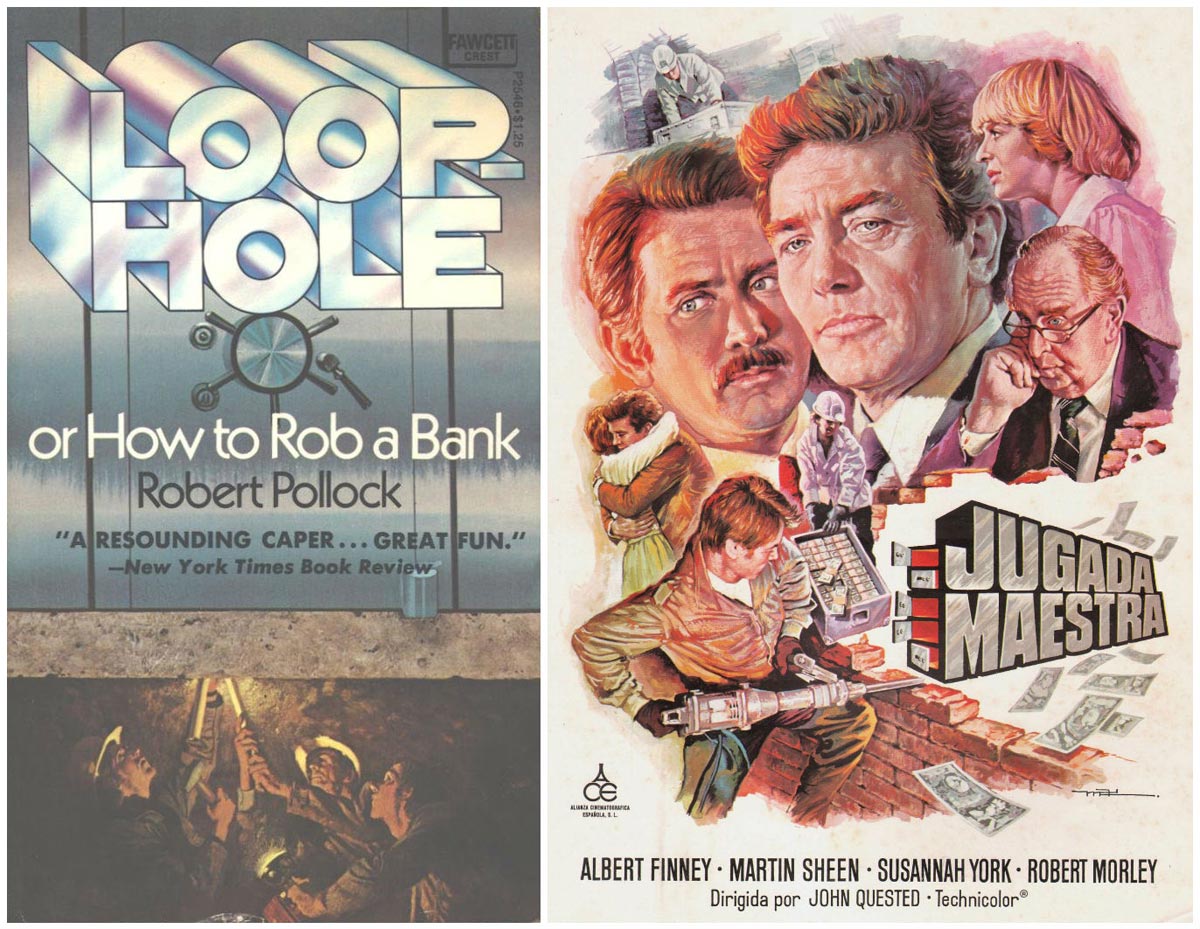 Once you've seen these less-heralded performances by one of the world's most-heralded actors, you'll leave the cinema with a couple of new comfort movies! Join us at the Bev on May 2nd for a night that will launch the Sheen into your summer!