"First we'll have an orgy. Then we'll go see Tony Bennett."
"Alice, they don't want to know what you think, they want to know what you feel!" So proclaims Ted (Elliott Gould) in Paul Mazursky's brilliant Bob & Carol & Ted & Alice, mocking the newfound, aggressive honesty of his best friends, Bob (Robert Culp) and Carol (Natalie Wood), who have recently returned from a life-changing immersion into raw, radical sincerity. The four friends are just starting in on their pudding at a nice Los Angeles restaurant while Bob and Carol attempt to spread their inspirational (inspirational to them) ethos to everyone around them. Their eyes blaze with a cult-like zeal – honesty is beautiful! Even the waiter, Emilio (Lee Bergere) isn't spared their fervor as Carol pushes the confused man for an authentic admission of his feelings regarding… food service: "Do you really hope and feel that you wish the service was satisfactory? Is that what you really feel?" Carol wants to know. Carol's urging makes Emilio, whose face is a perfect mystery, conveying either nothing or a multitude of thoughts, ill at ease. Or maybe he doesn't care and yearns to close out the tab, move on to the next weird, wealthy patron. We look at Emilio and wonder if he's reflecting the gentle ribbing of the filmmaker – does he view Carol as an out-of-touch, pampered Hollywood woo-woo because to say how you really feel as a waiter would find you out of a job, quickly? Some professions don't exactly jive with total transparency.
It's a wonderful detail that places the viewer on the side of the waiter, and then, shifts focus by giving Carol a sympathetic break. Carol's sincere but slightly obnoxious entreaties are realized as rude, especially by Ted's wife Alice (Dyan Cannon), so Carol walks right into the kitchen and apologies to Emilio. She kisses his hand. She didn't want to make him feel uncomfortable. That's quite sweet of her to understand this, but, is that even true? Isn't feeling about discomfort? Isn't that scary tiptoe towards genuineness where it all starts and pushing through that fear will unleash the emotional beauty of … waiting tables?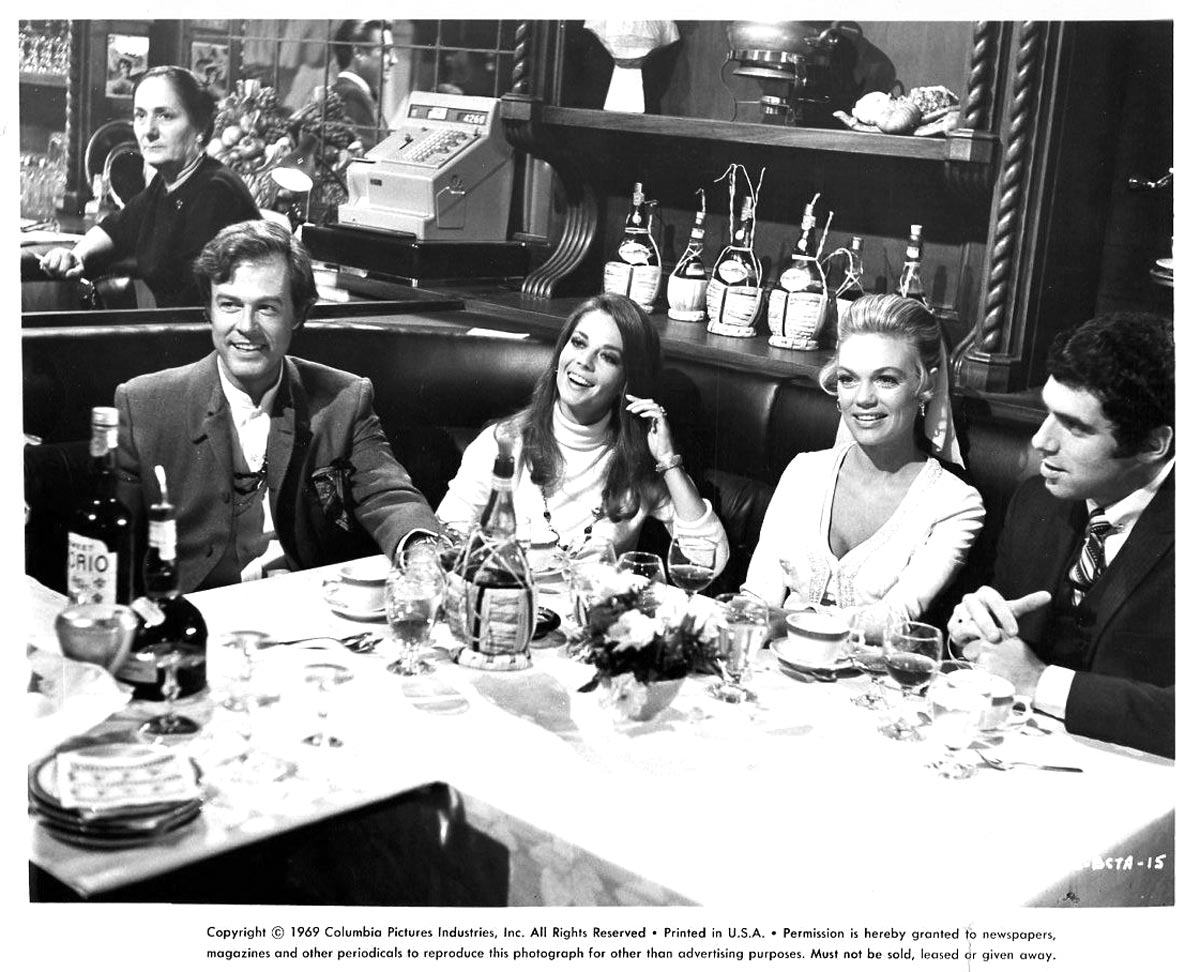 Given the opening of the picture, Carol might be committing a slight "cop-out." Mazursky shows the couple driving up to the Californian Esalen-like Institute, first, under the idea that they're venturing to the New Age compound for the purpose of documentation – Bob's a documentary filmmaker. Soon, however, in a room full of strangers on a kind of lockdown with no rules (save for forbidding physical violence), they fall into the group's wave of naked truth telling. With the various ages and types, Bob and Carol scream and punch pillows, sharply or sensitively remark to others about how they feel (not what they think) and, in one case, Bob calls a "hostile" woman a bitch. The couple open up to each other, sob and hold on tight as the group hugs them back. The gestalt therapy is a serious awakening for the couple and their earnestness and vulnerability is both humorous and touching. Mazursky (with co-writer Larry Tucker) knows we shouldn't be mocking these people, but at the same time, he knows their journey to their "true" selves is comedic, even a bit ridiculous. After all, in our deepest moments, or what we perceive to be our deepest moments (they could also be exceedingly self absorbed moments), we are sometimes ridiculous. And sad.
This kind of empathetic thoughtfulness, this love for people, no matter how flawed, this observation that life is simultaneously real and surreal, was one of Mazursky's great gifts as a storyteller.
from Alex in Wonderland to his masterpiece Blume in Love to Harry and Tonto to one of the great 70's female dramas, An Unmarried Woman, to to the social satire 1980's, Down and Out in Beverly Hills (a remake of Jean Renoir's Boudu Saved from Drowning), his satirical but sensitive look at the trials and tribulations of the upper class frequently and aptly found him compared to Jean Renoir. He was also likened to his hero Federico Fellini, and he tapped into both filmic influences with Bob & Carol & Ted & Alice, his directorial debut.
The picture was released in 1969 and Mazursky was a 39-year-old first timer, a late start for a director. He was a writer and actor (his screen debut was in Stanley Kubrick's Fear and Desire, he went on to appear in The Blackboard Jungle) and remained a terrific, often hilarious actor and comedian until his death in 2014 (watch him on Larry David's Curb Your Enthusiasm to witness how sharp he remained throughout his decades-long career). He'd previously studied the later-to-life embracing of hippiedom with his screenplay I Love You Alice B. Toklas! (starring Peter Sellers), something that was clearly personal to him. He too was getting older, coming to terms with the new freedoms, and maintaining a marriage, which he managed to keep together his whole life. He also went to therapy and his own therapist, Donald F. Muhich, shows up in Bob & Carol as Alice's shrink (Muhich's also in Willie & Phil, Down and Out in Beverly Hills, and most darkly humorously, in Blume in Love, as George Segal's therapist who suggests "sport-fucking.") Having worked and lived through the 1950s and 1960s, Mazursky understood the pressures of the generation gap; how those sliding into middle age were contending with the flower power freedom of the 1960s as it transformed into the Me generation (before the term was coined) of the 1970s. Bob & Carol was that procession right into the 1970s. Did any other era have such a stark rollover? From the death knell at Altamont and the Manson killings to Kent State? It's perfect that Elliott Gould is the breakout star of Bob & Carol – he would become the iconic emblem of early 70's man, what Time Magazine would deem on its cover, a "Star for an Uptight Age."  Mazursky was feeling all of these changes, and the movie was conceived from his own experience. As he told Sam Wasson (in the book "Paul on Mazursky"), he was, at one point, much like Bob:
"I saw this article that had Fritz Perls, the gestalt therapist, sitting in a hot tub with some naked people up at a place called the Esalen Institute. I thought, 'Maybe there's something in this.' So Betsy and I went up to Esalen for a weekend and it was fabulous. And I knew that it was a movie. But that's all I knew. What I didn't know was that we were the only couple in this marathon encounter. And Betsy and I were the only two there who knew each other. So they picked on us, but especially on me because Betsy would say things like, 'He never lets me finish, he never lets me talk,' and then she would start to cry and they would say to me, 'You're a beast, you're brutal.' I was the bad guy. [Laughs] So I did what Bob Culp did in the movie. I said, 'Well, I'm only up here to make a movie.' But they didn't think movie, they thought, you need help."
Culp's Bob and Wood's Carol take that "help," share it with their friends (without their friend's asking), and spread it around so much that they begin rattling Ted and Alice's relationship, too.  Their awakening jostles all kinds of sensations; sensations that the couple really and truly try to be convinced of as "beautiful" commotions. And you really see them trying, with eyes that flash from worried to thoughtful to stimulated, sometimes in an eerie way, like they're falling into a mind trick rather than a newly embraced philosophy. When Bob confesses to Carol of an affair in San Francisco, she doesn't lose her head in an angry, jealous fit of betrayal; she instead focuses in on her freshly discovered mindfulness and feels OK with it, even curious about the sex. So supposedly secure is Carol, that she tells their best friends, who are not so thrilled about the admission – especially Alice, who is upset enough to be revealing her own fears in marriage. A bedtime argument between Ted and Alice in which a frustrated Ted is in the mood after a night of pot smoking with their best friends (the friend's who just discussed the affair) is one of the picture's greatest scenes, beautifully acted by Cannon and Gould: "I'm upset for both of them, Alice!" Ted says. "But I'm getting more upset for myself! I don't know, I'm beginning to become a … Never mind." What he's beginning… the movie will get back to that.
Since Bob had an affair, Carol has one too, with a built, blonde tennis instructor named Horst. Returning early from a work trip, Bob discovers the surprise when lovely Carol comes bouncing down the stairs, a shirt thrown over her naked body. He says lovingly to Carol that "no scenes of any kind" happened in San Francisco, and your heart kind of melts. You also sense a big scene. And one does indeed happen. At first Bob is enraged by walking in on this all's-fair-in-love-and-mindfulness infidelity. But then, he turns. It's a powerful bit of acting by Culp, who goes from feeling cuckolded to thinking maybe Carol is seeking revenge to adjusting his head and heart and ego and understanding… or forcing himself to understand … to the point of terrifying Horst further. Not everyone gets their whole… deal. And so this big, scared tennis instructor hides in their bedroom as a smiling Bob bangs on the door, reassuring him he's not going to murder him. It's both funny and moving:
Bob: Listen, man, you decent? I'm coming in. Hi. I'm Bob Sanders, Carol's husband. And I'm not gonna hit you or anything like that. It's nice to know you. I have seen you at the tennis courts.
Horst: Yes, I teach tennis. I'm very embarrassed.
Bob: Oh, listen! Come on, now. That's what I was trying to say. You mustn't be embarrassed. You mustn't feel ill at ease. I don't want that.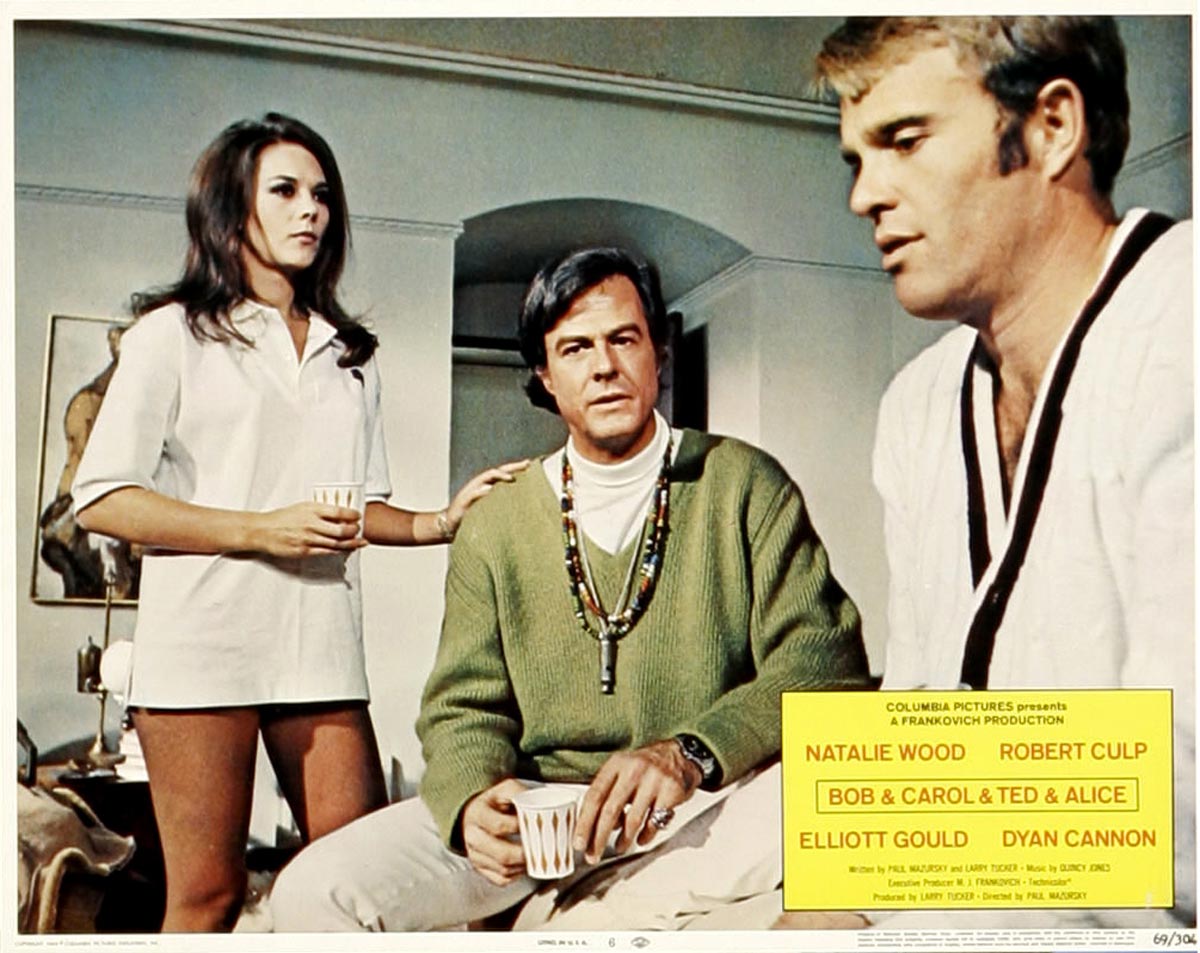 No one wants anyone to feel ill at ease, and yet, everyone does. Bob and Carol never seem to settle into this lifestyle. Truly relax. The film's famous conclusion is another admission – Ted to Alice – he had an affair. At that point, uptight Alice figures they should go for broke – orgy. A foursome. Did she come to this out of spite? Is she really turned on? Is she giving up believing in the sanctity of marriage with a fuck-it-all fling? Or is she embracing a new, freeing, mind-expanding lifestyle of swinging? We'll see part of that answer before they head off to Tony Bennett. These people aren't built for this and Ted spends a lot of time readying for the orgy, checking his breath, swirling Listerine in his mouth (Gould is brilliant throughout, the perfect balance of sincere and ironic, cutting and sweet).
Yes, the friends wind up in bed together but finally, really, they can't consummate the act. Some critics thought this was a, to again use the term, "cop-out," a swift last act of moralizing. I disagree. I think it deepens the complexity and themes of the movie, the messiness of sex and affairs and de-stabilizing one's life to new ideas, for better or for worse. New Age idealism isn't something that comes so easily and if pushed, if one is trying to convince oneself that they're breaking down those walls too much, they're not being honest with their own thorny emotions and humanness.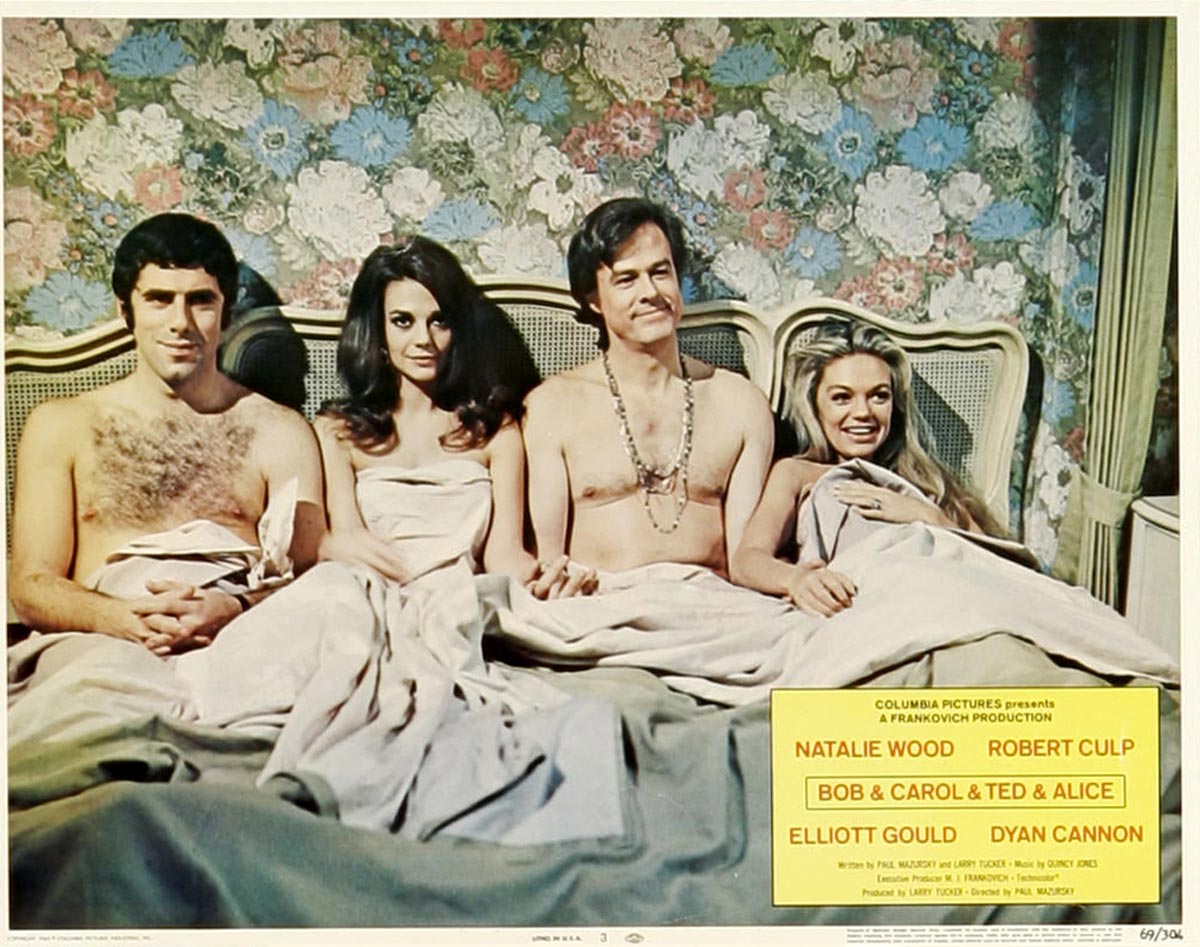 And that's not to moralize swinging, not on the part of Mazursky – if people are really cool with it, fine – but it's obviously not so simple.  How many people have you talked to who have tried it or do it? Have you listened to a polyamorous couple and noticed something off? (I am not saying all, just that I've noticed this before) That there's sometimes a strange power dynamic there that doesn't entirely seem equal? Do you ever wonder if people should just lie? That these questions remain timeless and that so much of these New Age therapies discussed in the picture feel very of-the-now makes the movie a lot more timeless than you'd initially think it to be. Just recently, in fact, I was talking to someone about their naked revelations from an ayahuasca ceremony…
And what of the finale? What Mazursky called the "Fellini ending"? Jackie DeShannon sings Burt Bacharach's "What the World Needs Now Is Love" sweeping over what appears to be a dreamscape of togetherness, perhaps ironic, as characters look at each other and strangers look at them, mirroring the early scene at the Institute. It could be colossally corny but it's strangely sad, powerfully bittersweet. Like another hope; a hope for something deeper to come out of all of this, but will anything rise to the surface? These people are either connecting on a deeper level or totally lost. And here comes 1970.