Dick Van Dyke and Mary Tyler Moore were mutually elevated to superstardom playing beloved TV couple Rob and Laura Petrie on "The Dick Van Dyke Show" for five seasons, displaying their enormous comic versatility. When the show ended production in 1966, each of them went off to make a string of interesting films before ultimately returning to television in new, self-named sitcoms that reaffirmed their appeal. On April 5th & 6th, the New Beverly is putting this duo back together, screening two comedies from their late-'60s feature sojourn that place them in situations way beyond the confines of 148 Bonnie Meadow Road in New Rochelle.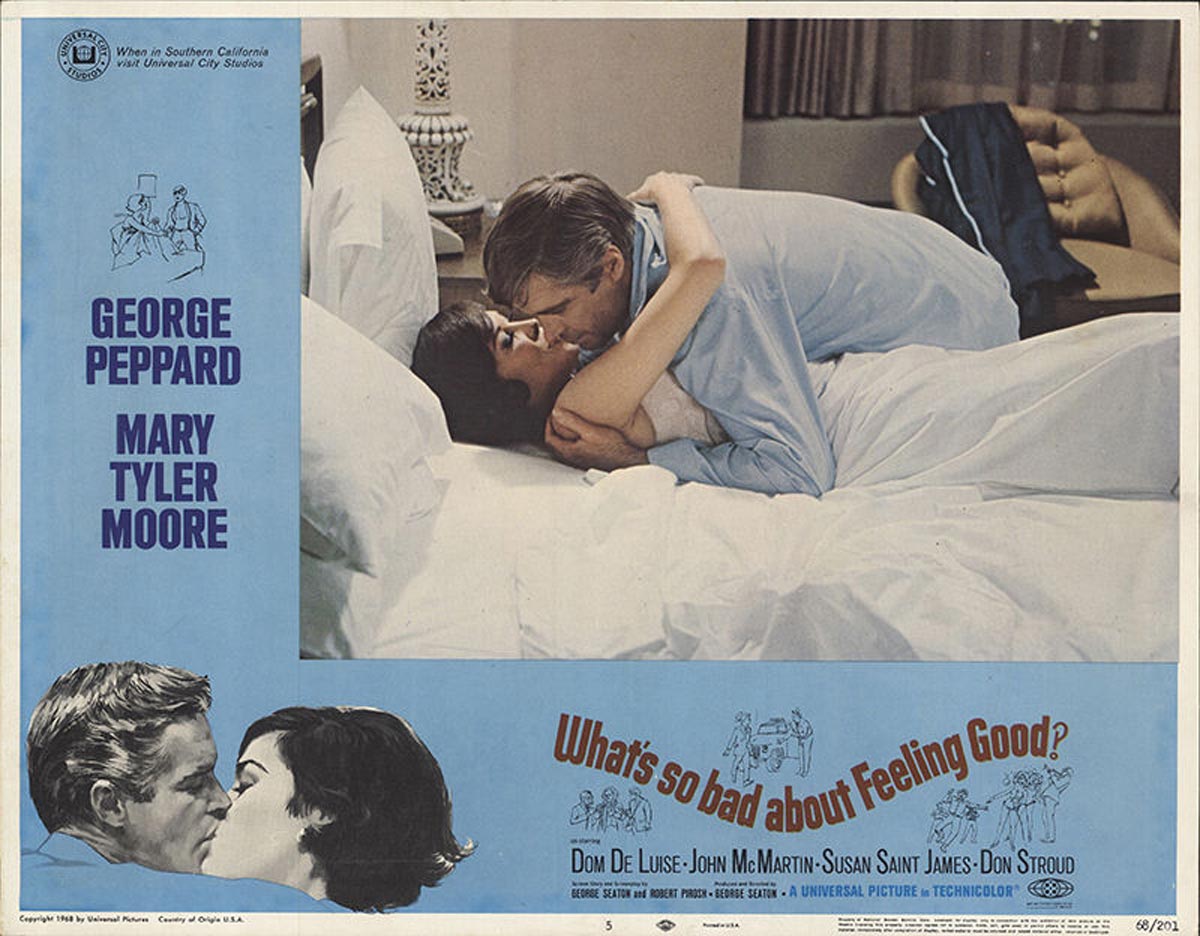 Disgruntled advertising executive Pete (George Peppard) has been living in a New York City commune among other societal drop-outs, trying to find solace in art but mostly just reveling in fashionable gloom. A wayward toucan flies into the loft, bringing with it a virus that makes almost all the beatniks start feeling beatific, or in the case of Pete's girlfriend Liz (Mary Tyler Moore), faking it to make it. Soon, they've all shed their hippie duds to blend back in among the normals and spread the virus around, until the whole of New York has almost completely lost their surly reputation. And as the giddy populace leave unpleasant jobs behind and stop buying the normal placebos of cigarettes and psych drugs, the government must send a scientist (Dom DeLuise) to "cure" this collegial contagion. It's going to be an awkward collision of "Mad Men" lives and "flower power" wishes in the 1968 comedy What's So Bad About Feeling Good?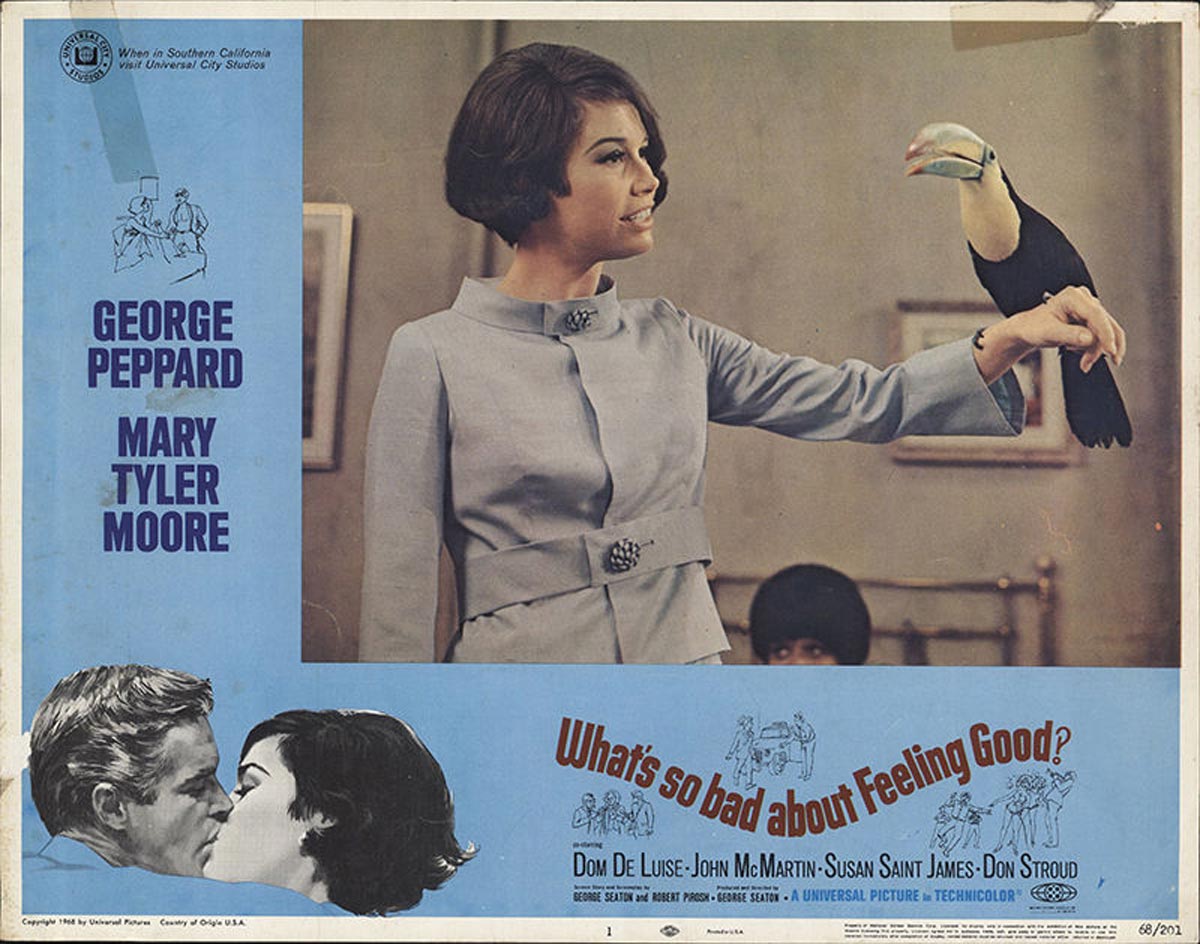 What's So Bad originated from the 1943 novel I Am Thinking of My Darling by Victor McHugh, recently cited by New York Daily News' book blog as "the best New York novel you've probably never read." The original novel was set during World War II, when citizens everywhere dealt with item shortages, service outages, and fearing for loved ones in battle. Director George Seaton and his writing partner Robert Pirosh, who had previously helped write the Marx Brothers' A Night at the Opera and A Day at the Races, transposed the primary themes of McHugh's book into the then-new climate of counterculture rebellion and LSD experimentation. (Oddly enough, McHugh by then had decamped New York for San Francisco, where he kept company with Beat writers) If the events depicted on screen have an extremely cartoonish vibe, it's probably from the additional script contributions by two of the best cartoon writers of the era – Tedd Pierce, who co-wrote dozens of classic Warner Bros. shorts like The Dover Boys and Broomstick Bunny, and Bill Danch, who wrote on the original "Spider-Man" series and several Filmation shows including "Sabrina and the Groovie Ghoulies" and "Fat Albert". Seaton would follow this light comedy with one of the first influential hits of the '70s, his adaptation of Arthur Hailey's Airport.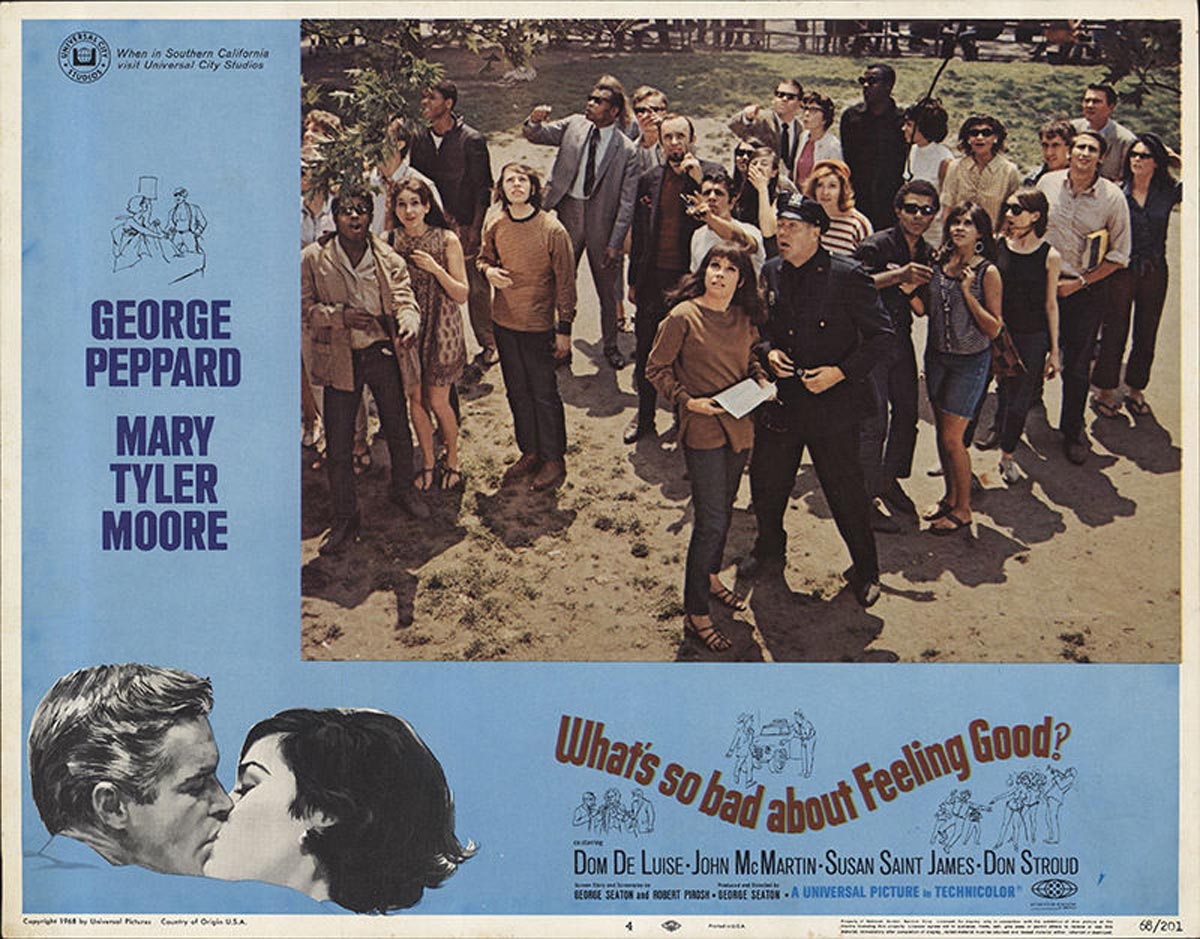 Co-starring with Peppard, Moore and DeLuise are a wide array of stars in their earliest stages of popularity, such as Don Stroud, Susan St. James, George Furth, and in unbilled appearances, Moses Gunn, Cleavon Little, John P. Ryan, and Titos Vandis. Gillian Spancer, who plays "Sack" – the girl  seen only in a burlap bag and bare feet, would go on to both write for and star on several daytime soaps, including "One Life to Live," "All My Children," and "As the World Turns." Thelma Ritter, who made her screen debut in Miracle on 34th Street, also directed by George Seaton, had her final performance here. New York's then-mayor, John Lindsay, granted the filmmakers a first-time-ever access to City Hall for a pivotal scene, as a gesture to lure other filmmakers to shoot on location.
Struggling actor Jack Albany (Dick Van Dyke) makes the mistake of leaving a film set in his gangster character's clothes, causing him to be mistaken for Ace Williams, a hitman expected by local mobster Leo Smooth (Edward G. Robinson). Hosted at the criminal's compound, he plays along while trying to convince Smooth's painting instructor Sally (Dorothy Provine) of his actual predicament. When Smooth plans an elaborate art heist, and the real hitman (Jack Elam) comes on the scene, Albany is not just going to have to do the best acting of his life, he'll have to add directing and choreography to this situation if he, let alone his career, is to survive. In this 1968 Disney farce, Albany's future contains Never a Dull Moment.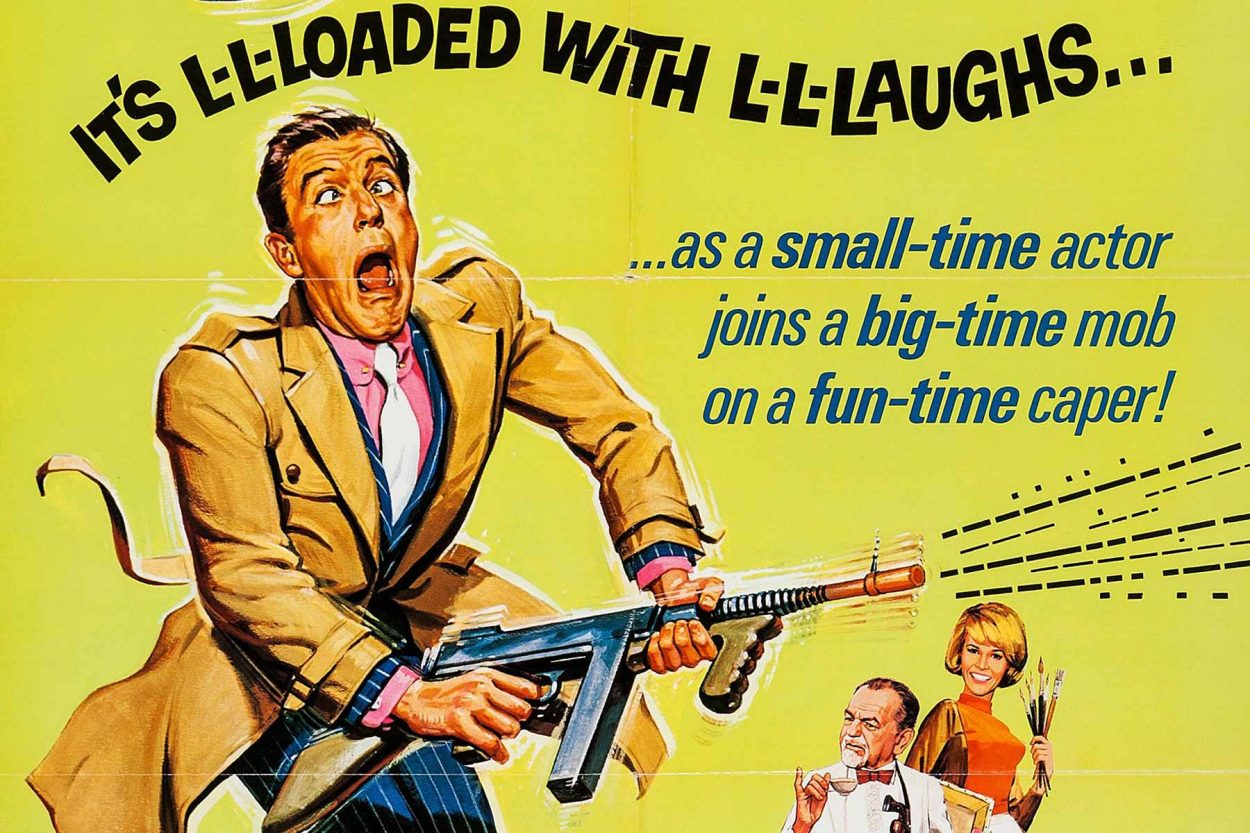 Author Morton Freedgood, who worked in public relations for many film studios before writing full time, wrote several popular crime novels under the pen name of John Godey, including the source book for this film, A Thrill a Minute with Jack Albany from 1967. He revived the character for a follow-up book, Never Put Off Until Tomorrow What You Can Kill Today in 1970. Freedgood/Godey later wrote the novels that became the source material for The Taking of Pelham One Two Three and Johnny Handsome. The adaptation was written by longtime Walt Disney friend and collaborator A.J. Carothers, who would later write the source story for The Secret of My Success with Michael J. Fox. This project was the first full producing credit for Ron Miller, the former L.A. Rams tight end who became Disney's son-in-law, and would become president of the company in 1978. Director Jerry Paris previously co-starred on and directed several episodes of "The Dick Van Dyke Show," and would go on to direct episodes of both "The New Dick Van Dyke Show" and "The Mary Tyler Moore Show," as well as the films The Grasshopper, Evil Roy Slade, and the second & third installments of Police Academy.
Moment was the third film Van Dyke made for Disney, after the smash success of Mary Poppins and New Beverly perennial Lt. Robin Crusoe U.S.N. In the same year, he also starred in Chitty Chitty Bang Bang, often mistaken for a Disney film because of its song score by the Sherman brothers. Some of the greatest silver screen tough guys fill out the cast – besides Robinson and Elam, Henry Silva, Slim Pickens, Mickey Shaughnessey, Richard Bakalyan, and The Tingler's deceptively serene theatre owner Philip Coolidge are in on the action. Before home video became a viewing option, Disney reissued Moment in 1977 as a double feature with their animated favorite The Three Caballeros.
So put on your capri pants, avoid tripping over your living room furniture, and come take in some lesser-known work by Van Dyke & Moore. What's So Bad has never received a home video release in any medium, making this screening of an original IB Technicolor print a most-unique opportunity. And at $8 for two movies, it won't cost you a thumb or two to see the show!