This March the New Beverly has been exploring the honest and open film work of Frank Perry, while concurrently running a series of unusual Westerns that virtually explode off the screen. On March 19 and 20, these streams will cross to show a helluva double feature of Doc (Frank Perry, 1971) and Rancho Deluxe (Frank Perry, 1975). Directed by Frank Perry, these two films have distinct connections to the first pairing of the month, Monte Walsh / Tom Horn, and possess narratives that underscore How the West Was Lost. But Doc and Rancho Deluxe maintain different tones, both from each other and from the other films that have played thus far. To put it simply, these are Frank Perry films with a twang.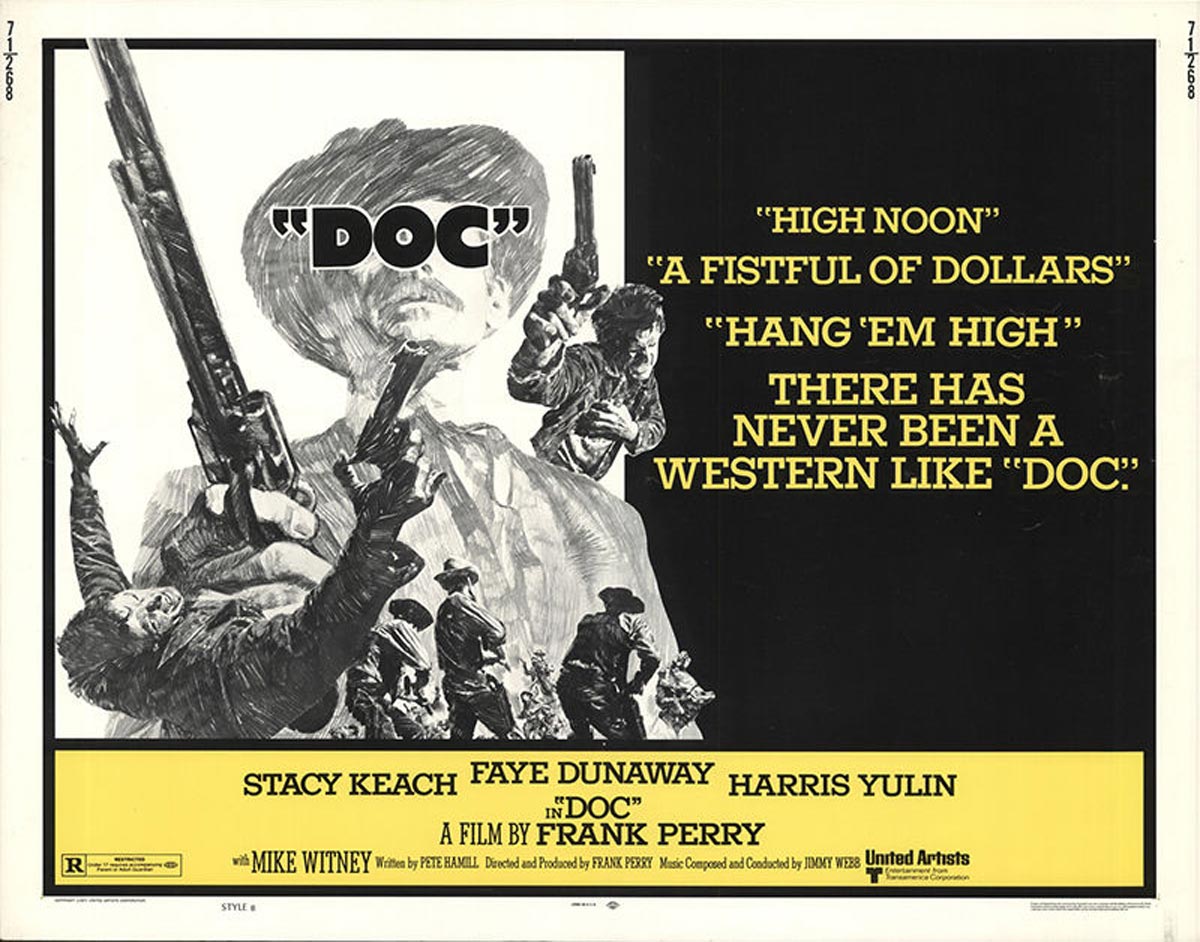 "I didn't want anything conventional," Frank Perry said of Doc, a film designed to be a historically accurate telling of the life of John Henry "Doc" Holliday and the shootout at the OK Corral. "Even the famous shootout at the OK Corral will only last 7 seconds on film. These people were the antithesis of the characters in John Wayne Movies. Wyatt Earp, in actuality, had a strong resemblance to Lyndon B. Johnson. He had a conscious desire to become a mythic figure with a place in history… Doc was a dentist who lost his practice because he was ill with consumption and died at 35, which makes him a perfect existentialist hero. Katie, who has been immortalized by all the screen sirens from Linda Darnell to Barbara Stanwyck was really a whore who left the line in Tombstone to live with Doc and discovered she hated the domestic life… They were disturbed people and Doc finally became a movie about their perverse triangle."
While Perry may have gotten some facts wrong (it's not verified whether "Katie" aka "Big Nose Kate" Elder ever gave up The Profession – the details of her relationship with Holliday could fill an article unto itself!), the goals that he aimed for with this movie were hit straight on. With a cast featuring Stacy Keach and Faye Dunaway as the leading couple (Doc and Kate) and a then-unknown Harris Yulin as a Totally New Kind of Wyatt Earp, Frank Perry built a powerhouse of a film. It was a Western to be sure, but it was a Western film. Dark, edgy and brutal, Doc is not a film that feels good at any point of the story. Even when old friends reunite, that joy lasts for about 2 minutes before one of the best (and most telling) lines of the movie gets said.
Doc Holliday: We sound like bad people, Wyatt.
Wyatt Earp: We are, John.
The wonderful thing about Doc is that it's a no bullshit film. It doesn't sugarcoat history or play into the cinematic mythologies constructed around real-life figures. While part of this is Frank Perry's desire to violently jolt viewers out of the traditional My Darling Clementine (John Ford, 1946)/ Gunfight at the OK Corral (John Sturges, 1957) archetypes, the other part is wholly based in the way that Westerns were going at the time. Doc falls under the same umbrella as films like Hombre (Martin Ritt, 1967), Tell Them Willie Boy Is Here (Abraham Polonsky, 1969), Ulzana's Raid (Robert Aldrich, 1972) and Dirty Little Billy (Stan Dragoti, 1972). This strikingly unique brand of Western cinema was not like the films that came before it nor like those that followed – these films were deeply anti-establishment and anti-war, cynical and fatalistic to a fault, and committed to asking dangerous existential questions that no one else wanted to ask. These are some of the best Western films ever made.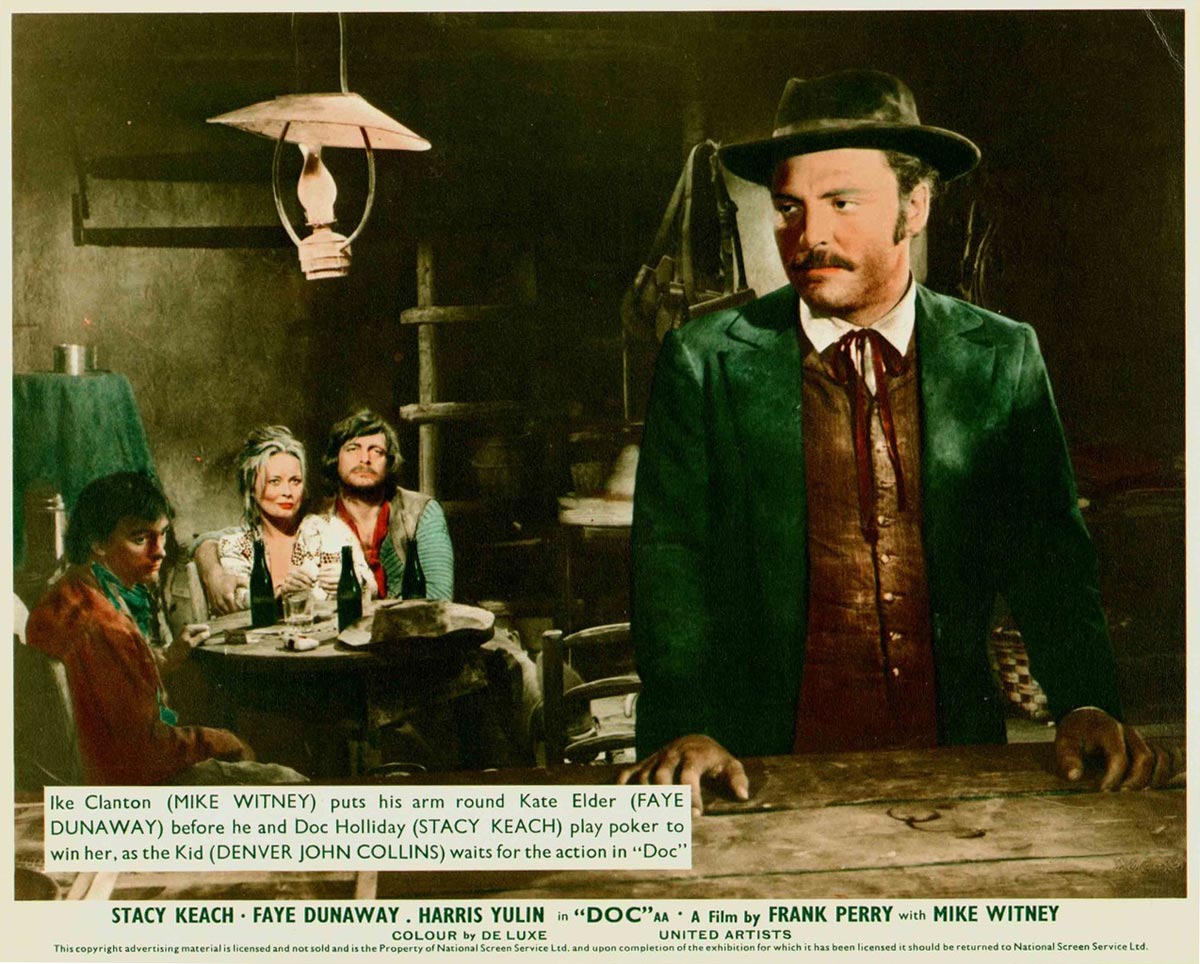 As one article on Doc Holliday films states, "Doc in 1971 nearly obliterated any hope for a romantic, mythic view of Holliday. There are no holds barred as Doc (portrayed by Stacy Keach) and Kate (played by Faye Dunaway) jar the viewer with obscenities, brutality and drunken debauchery." This film, written by Pete Hamill and shot by Gerald Hirschfeld (a Perry standby who had photographed Last Summer and Diary of a Mad Housewife before this), is no joke. Even in the sweetest moments, when it should be allowing the viewer respite, there is none. While Dunaway and Keach have intoxicatingly wonderful on-screen chemistry, their characters' relationship is undoubtedly complicated, shown by the linguistic violence of their pet names for each other – "Bones" (Doc) and "Bitch" (Kate).
Doc is another movie about the deterioration of the American West and the death of the Cowboy Mythos. This film fights, claws, scratches at everything that has been built up about the Hero Wyatt Earp and begs us to look closer at binaries of good/bad and how these ideas come about. If nothing else, however, Doc is a Frank Perry picture, through and through. In the depiction of women's strong sexuality, the mutability of personal ethics and the questioning of the existence of morality itself, this film makes the viewer feel lost, found, uncomfortable and enthralled in a manner that only Frank Perry could.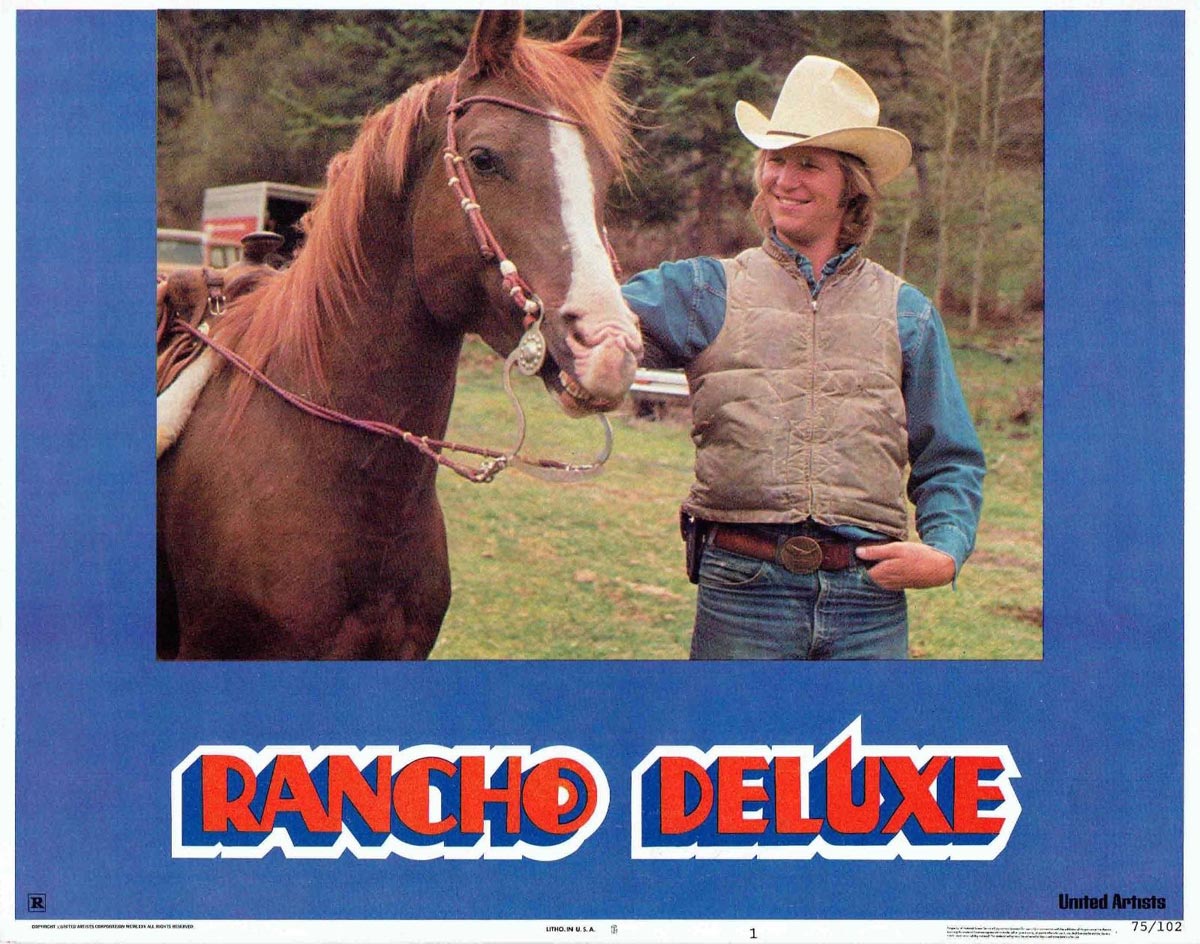 After the grim brilliance of Doc, get ready for something a little lighter with the Altman-esque comedy Western, Rancho Deluxe (Frank Perry, 1975). There is something almost surrealist about the manner in which this story about cattle rustling and capitalism unfolds. The delightful cast, headed up by Jeff Bridges and Sam Waterston, carries it through, joined by amazing character actors like Slim Pickens, Clifton James, Richard Bright and more. This is certainly one of Harry Dean Stanton's goofiest roles but in the most beloved and charming way. The film is as crazy as its characters. Loose, fun and terribly wacky with a penchant for periodically making social statements, Rancho Deluxe shouldn't be missed.
Shot by William A. Fraker, the man who directed Monte Walsh, Rancho Deluxe clearly has Western bonafides. Written by Thomas McGuane, who would later go on to write Tom Horn, (see the rustler pattern rising here?), Perry's film features many treasures. A wonderful video game competition between Harry Dean and Jeff Bridges. Some salaciously funny hippie sex romps. Joe Spinell as Sam Waterston's parent. And if you look close, you'll catch the delicious Warren Oates dolled up in a cowboy shirt, playing harmonica in a bar band. Oates had just finished Monte Hellman's Cockfighter (1974) with Harry Dean Stanton (among others) and took Rancho Deluxe. He was interested in McGuane's next project, his directorial debut, 92 in the Shade (Thomas McGuane, 1975).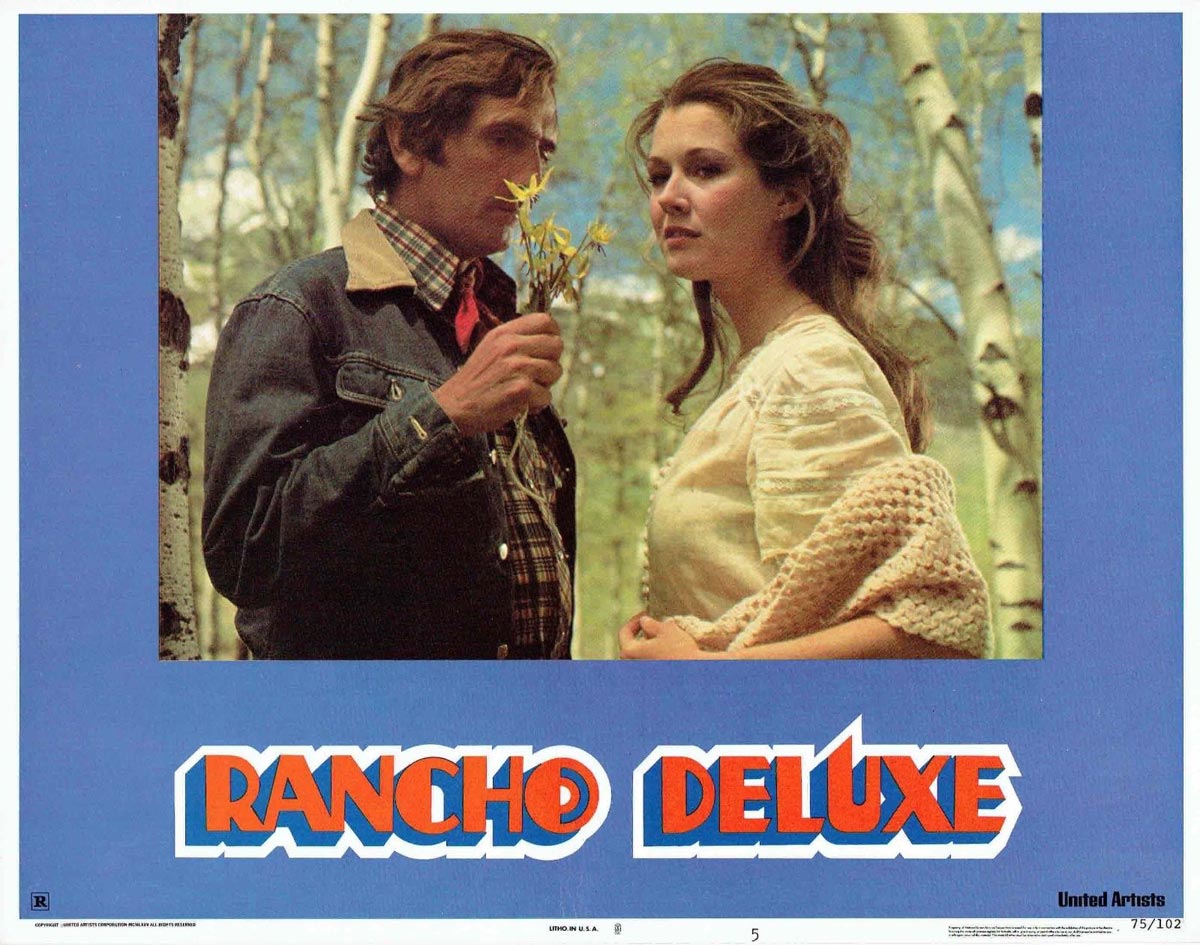 Frank Perry's solo work is a mixed bag. It is certainly not the same as it was when he was with Eleanor, but it is nothing to sniff at either. Rancho Deluxe reads like a hippie Marx Brothers Western, with its anarchic sentiment and pointed satire on the death of the cowboy and decline of the hero-centered West. While most of the film is funny, when we stop laughing, Perry leaves us to consider our characters and their trajectories- personal or professional. The economic and sexual discussions in Rancho Deluxe play close parallels and should be treated with a watchful eye- they are meticulously wild.
Much like the other films this month that have studied the dissolution and disillusion of personal ethics, moral values or traditions, either cowboy or within the Perry-scope, Rancho Deluxe allows us entrance to critique and reevaluate but does so through the fun and raucous energy of laughter and (at times) joyful shock. Enjoy this film. It was made to be loved.
Doc and Rancho Deluxe screen March 19 and 20.