For the final installment of our Gower Gulch tribute on February 26th & 27th, after revisiting some of the stalwart heroic men that made the location famous by firing pistols in the air, we're championing one spunky lady who fired off yodels. A recent essay by Marcie Bianco & Merryn Johns pointed out that for decades in Hollywood, movies headlined by women outnumbered those headlined by men two to one. And as many studios had a retinue of starlets with musical theatre backgrounds as franchise players (Jeannette MacDonald at MGM, Deanna Durbin at Universal), Republic Pictures had their own "Queen of the Cowgirls," Judy Canova.
From her early teens performing with her siblings in vaudeville and Broadway, to starring in her own long-running radio sitcom, and even briefly having her own comic book, Canova charmed America with her frequent persona as a guileless, plucky country girl, complete with twangy speech, braided hair and straw hat, her big heart and horse sense always serving her well. After a string of featured roles for other studios, she became a contract player at Republic in 1940, and worked steadily for them until 1955, usually playing "herself" thrust into madcap situations.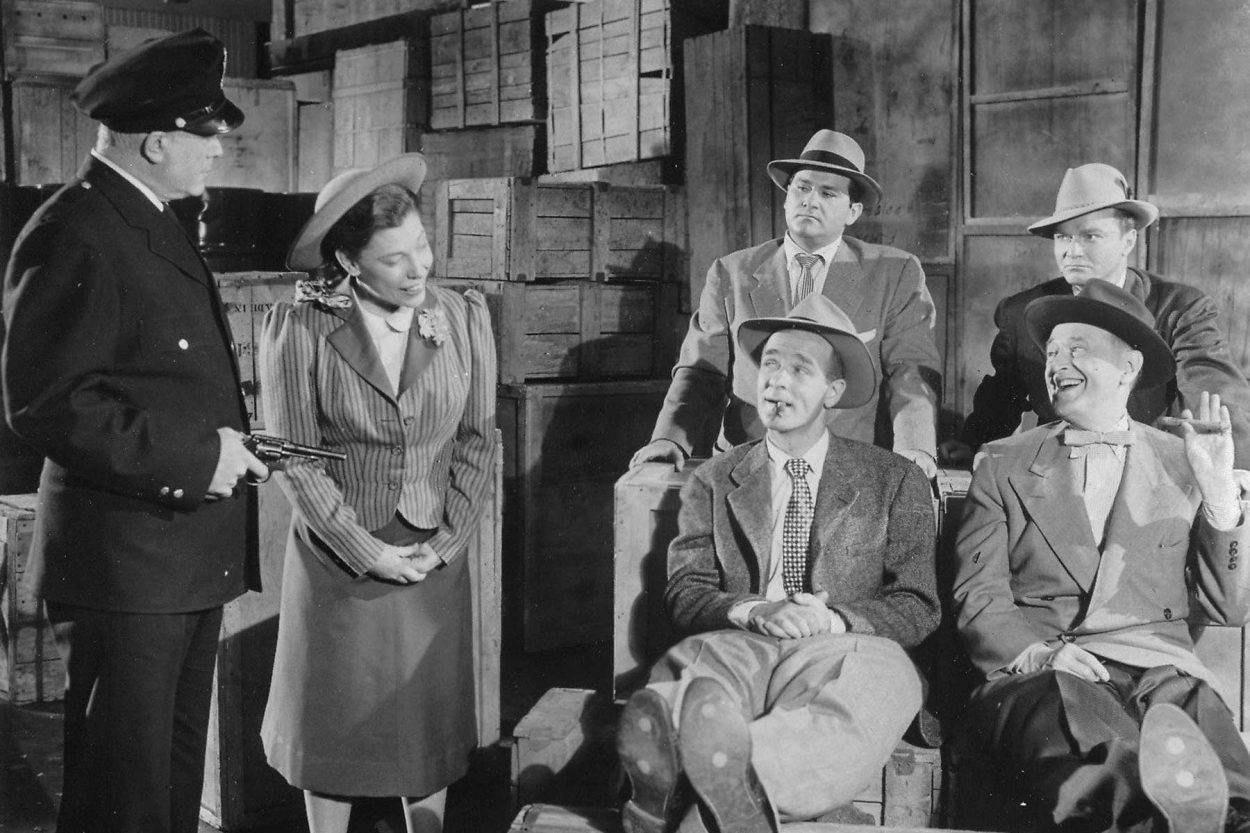 Untamed Heiress, from 1954, finds her deviating somewhat from her hick schtick, though still embodying the naive innocent among sharpies. A prospector's longshot claim pays off, and he hires two hard-luck talent agents to track down his previous benefactor to share the wealth. In their quest, they accrue a debt with mobster "Spider" Mike and discover the benefactor's sole heir, Judy, still living as an adult in the orphanage she grew up in. The agents and the crooks agree to a detente to get Judy to her fortune and their finders' fee, but encounter more trouble when an opportunist claims the prospector is incompetent in order to seize the windfall for himself. But no con artist's metaphorical song-and-dance skills can match Judy's genuine song-and-dance skills.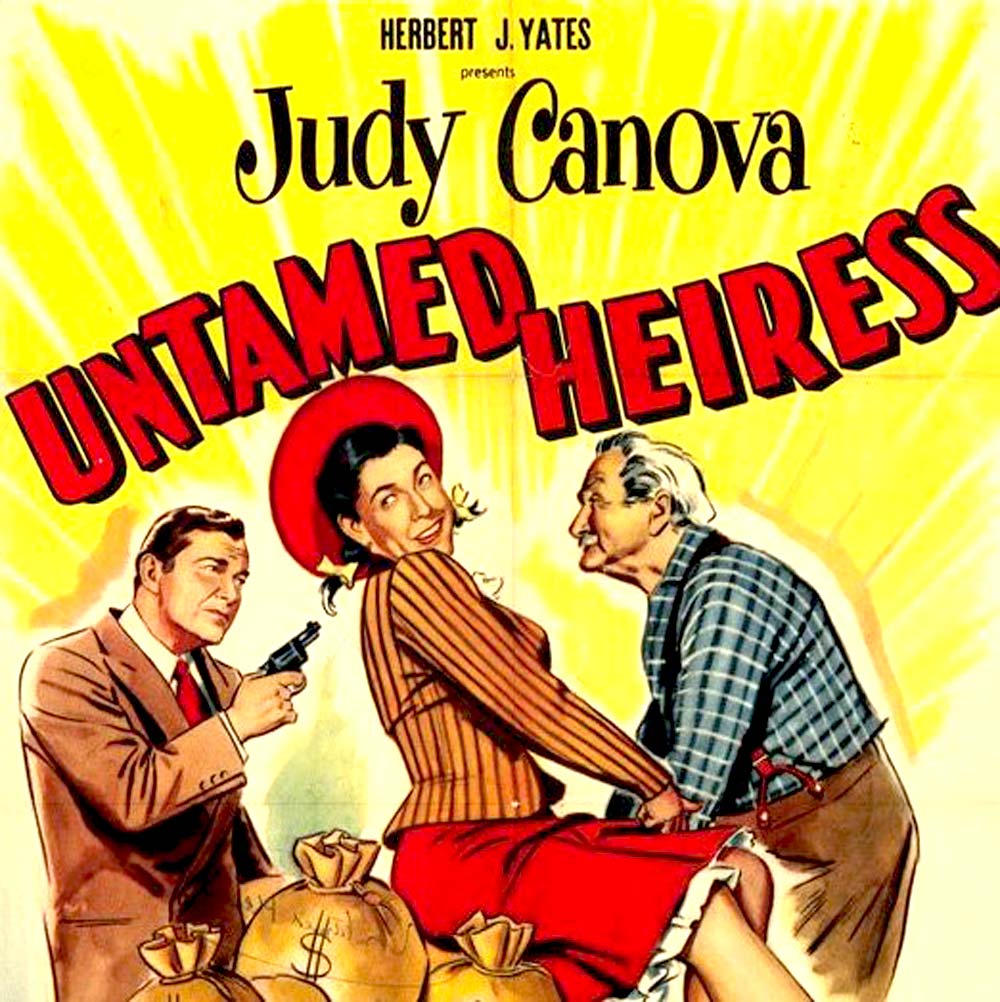 Heiress features the involvement of many artists connected with Abbott & Costello, fitting since Canova often intersected with the comedy legends in sketches. Director Charles Lamont was responsible for many of the duo's films, including Hit the Ice; he would also helm two more Canova projects, including her final film for Republic, Lay That Rifle Down. Story creator Jack Townley wrote Canova's debut for the studio, Scatterbrain and other followups, then went on to be a staff writer on the boys' 1953 TV show. He also wrote Riders of the Whistling Pines with Gene Autry, featured earlier in our Gower series. And cinematographer Reggie Lanning went on to join Lamont in shooting Abbott & Costello Meet the Keystone Kops; Lanning would later shoot 56 episodes of "Alfred Hitchcock Presents."
You'll see a lot of familiar faces whose names you might not initially place filling out the cast. George Cleveland plays Judy's would-be rainmaker; he did several films with her, usually playing a similar sort of mentor, and went on to play Gramps in the initial years of the "Lassie" TV series. Taylor Holmes, playing one of the talent agents, had a stage career that pre-dated film itself, quickly transitioned to silents, and appeared in noir classics like Nightmare Alley and Kiss of Death; his last credit was voicing King Stefan in Disney's Sleeping Beauty. Don "Red" Barry, playing Spider Mike, played the first Red Ryder in film (hence the nickname), did 8 episodes of "The Virginian" with our eternal New Bev statesman Clu Gulager, and played Jud Larrabee on "Little House on the Prairie." Jack Kruschen, playing Mike's henchman Louie, went on to play Dr. Dreyfuss in Billy Wilder's The Apartment, and made dozens of TV appearances into the '90s, including grandparents on "Webster" and "Full House." And while Ellen Corby doesn't have a large enough role to merit poster billing, she would go on to immortality as Grandma Walton on "The Waltons."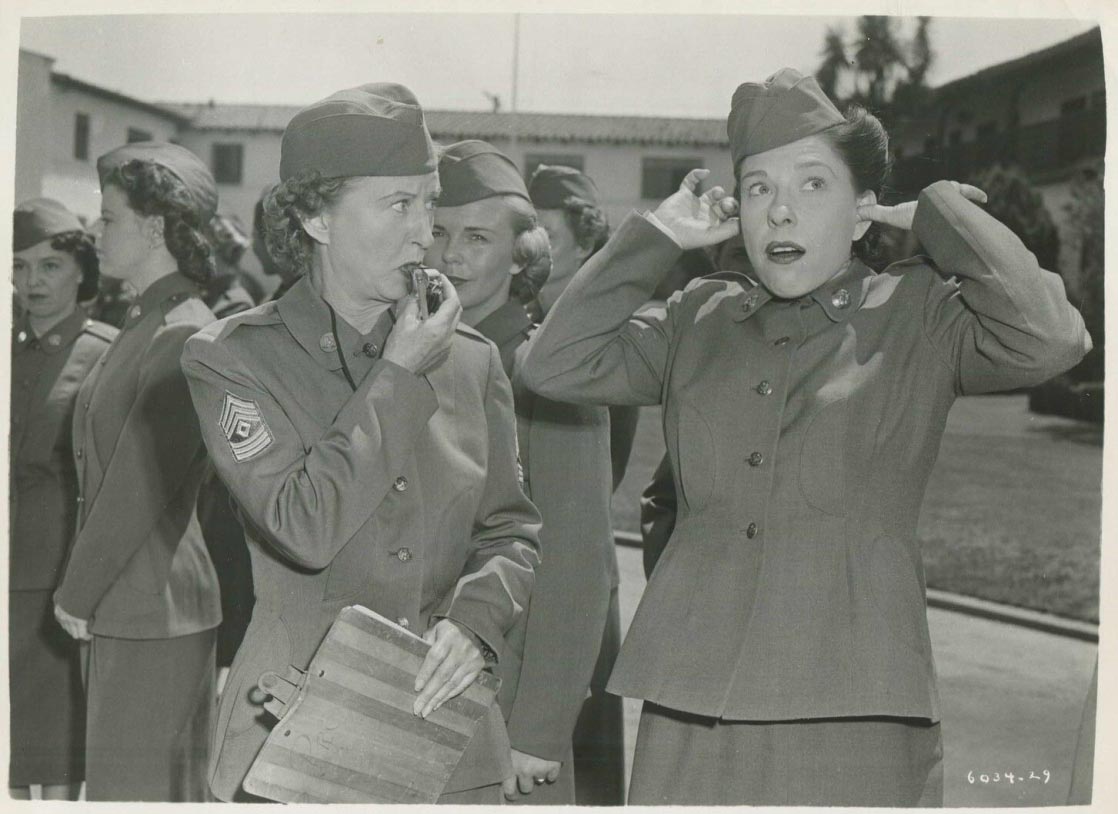 We go back to 1952 for our second Canova offering, The WAC from Walla Walla. Judy plays the only child of a family with generations of military service, who initially seems ill-equipped to carry on their tradition. But when she is smitten with hunky Lt. Tom Mayfield (Stephen Dunne), she enlists in the WACs to be closer to him. Unfortunately, so does her more glamorous rival Doris Vail (June Vincent), and when they are assigned to a top-secret missile research program, it's not certain what precisely is going to explode.
Canova was very fond of our boys in uniform – she would close performances during World War II with "Goodnight Soldier" and helped sell War Bonds – and this was not the first time Canova used khakis to get a laugh: in the 1942 musical True to the Army she played a character hiding from gangsters by infiltrating a military base cross-dressed as "Private Yoo-Hoo." One gag in WAC flips the script by having her being mistaken for a male soldier, portrayed by grown former Little Rascal Carl "Alfalfa" Switzer.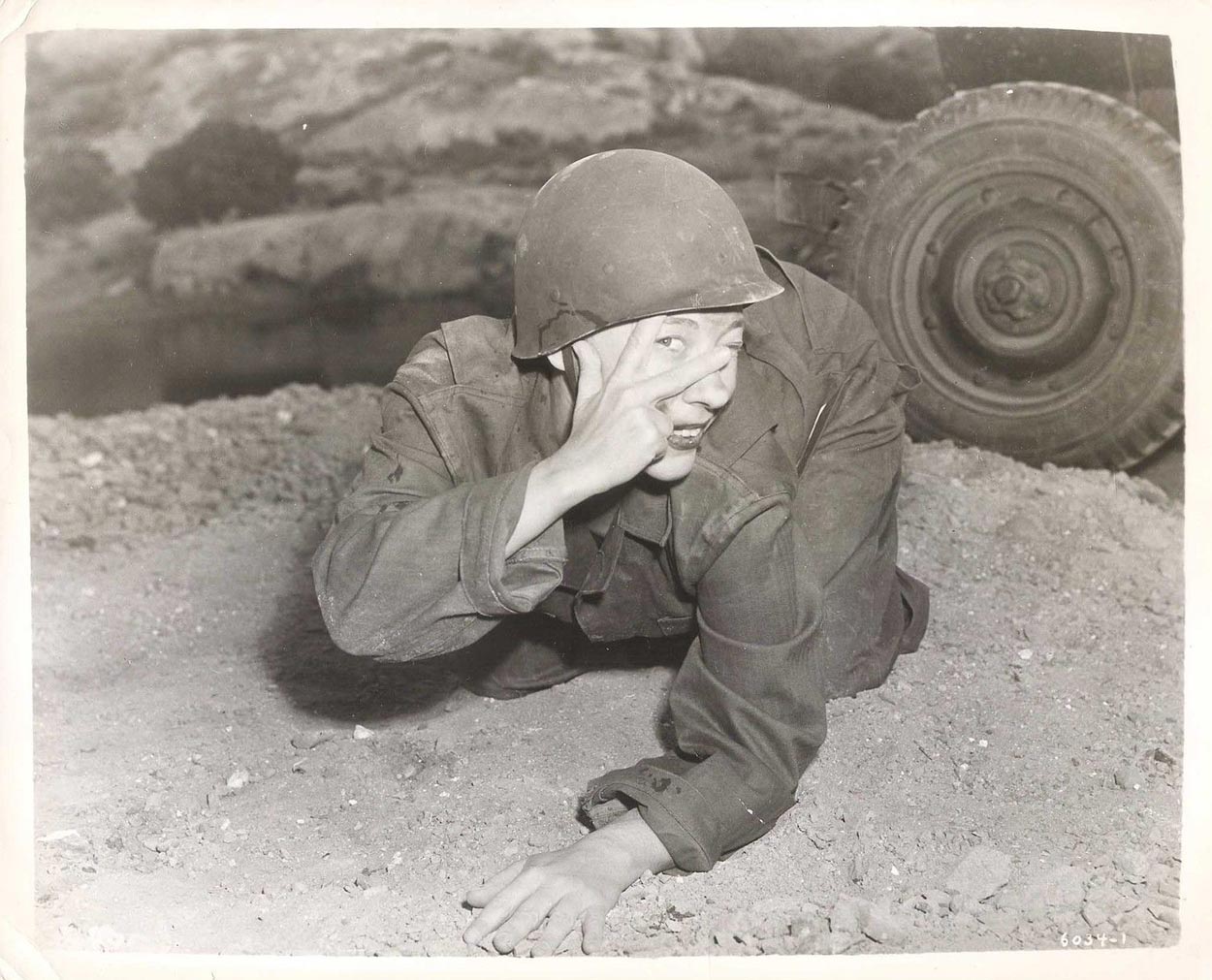 This entry is notable for being directed by William Witney, one of Republic's most prolific contract helmers. He was responsible for three of the other films in our Gower series, including the standout Roy Rogers drama The Golden Stallion, and is frequently championed by Quentin Tarantino as an underappreciated master of multiple genres. "I've found directors of some of these movies who I'm really into, but William Witney is ahead of them all, the one whose movies I can show to anyone and they are just blown away. He makes you accept everything on his terms…" And this time, Witney helps sell the daffy antics of Canova as she bumbles her way into heroism.
Also notable is that after the making of this film, Canova took a brief sabbatical to give birth to her daughter Diana Canova, known to later generations for starring in The First Nudie Musical and the sitcoms "Soap" and "Throb." 
More curious faces can be found in the supporting cast. Irene Ryan plays a take-no-guff WAC sergeant years before playing taking-even-less-guff Granny Clampett on "The Beverly Hillbillies." Playing Judy's father Jud is George Chandler, who as a youth played W.C. Fields' wayward son in the classic short The Fatal Glass of Beer and the hapless husband of Ginger Rogers in Roxie Hart, and in his autumn years sold a car to unscrupulous dealer Jack Carson that forces him into honesty in "The Twilight Zone" episode "The Whole Truth;" he too would play on "Lassie" along with co-star George Cleveland. And if you caught our screening of Andrew L. Stone's Fun on a Weekend last summer, you saw Allen Jenkins as the perpetually annoyed beachfront concessionist; you'll also know his voice as Officer Dibble on "Top Cat."
From Minnie Pearl to Dolly Parton, everyone loves a heartland lady who can belt a song and crack a joke. So come close out our Gower Gulch retrospective with a big country kiss from an original musical mirth mistress, Judy Canova!