The New Beverly has declared this November a tribute month for trailblazing performer Nancy Kwan, and we're kicking it off on November 13th & 14th with her starmaking debut film and a rarely screened, not-on-DVD followup, both presented in original IB Technicolor prints. Not only do these showcase Kwan at the start of her worldwide appeal, but both of them are also early credits for legendary producer and Hollywood power broker Ray Stark.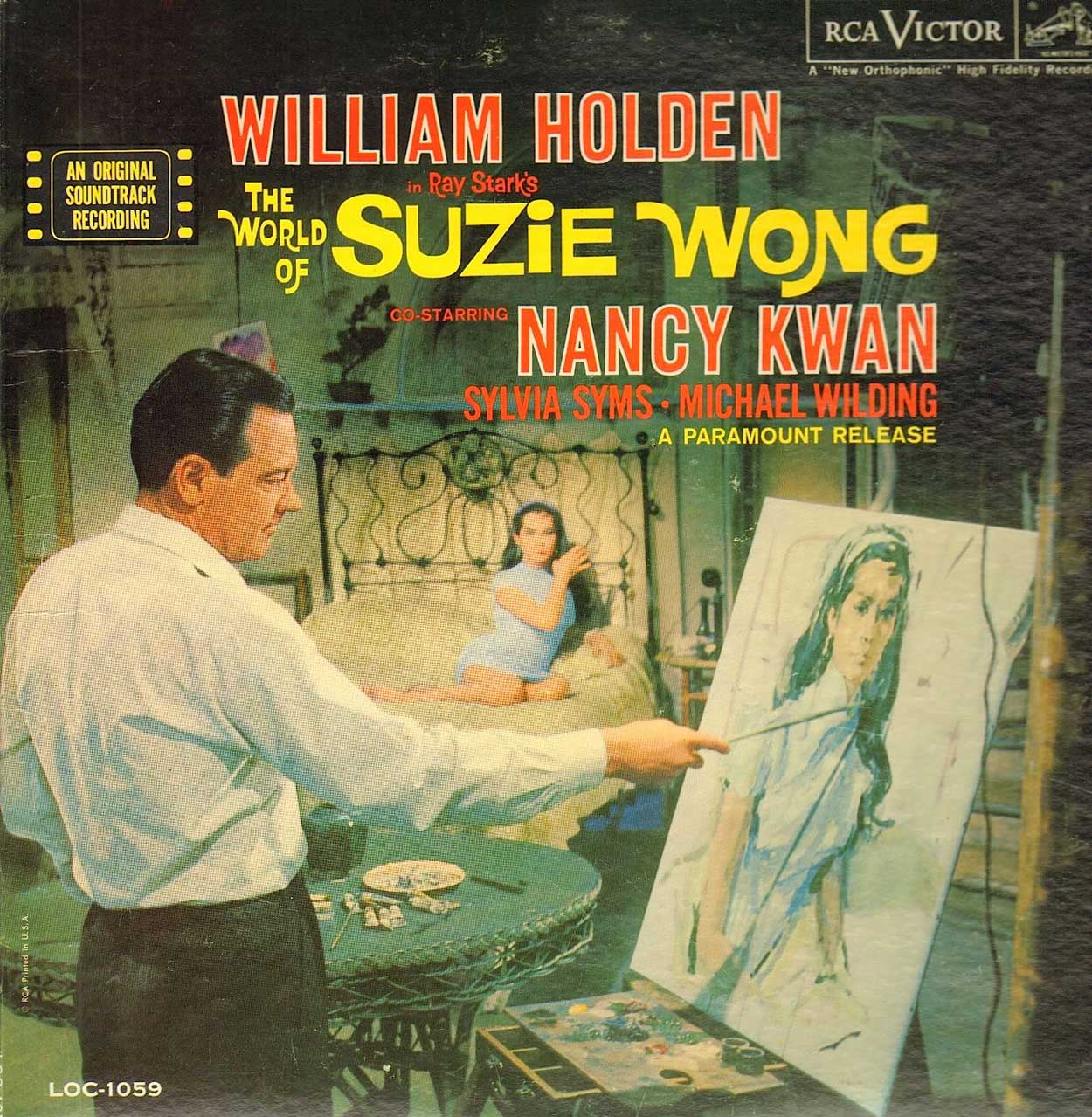 Robert Lomax (William Holden), an American expat, struggles to earn a living as a painter in Hong Kong. In the pursuit of his true passion, he finds his muse: a saucy, street-smart "bar girl" who agrees to model for him. He first knows her as Wong Mei-Li, but as their relationship evolves to romance and layers of secrets about the both of them are peeled away, Lomax will find himself fully immersed in The World of Suzie Wong.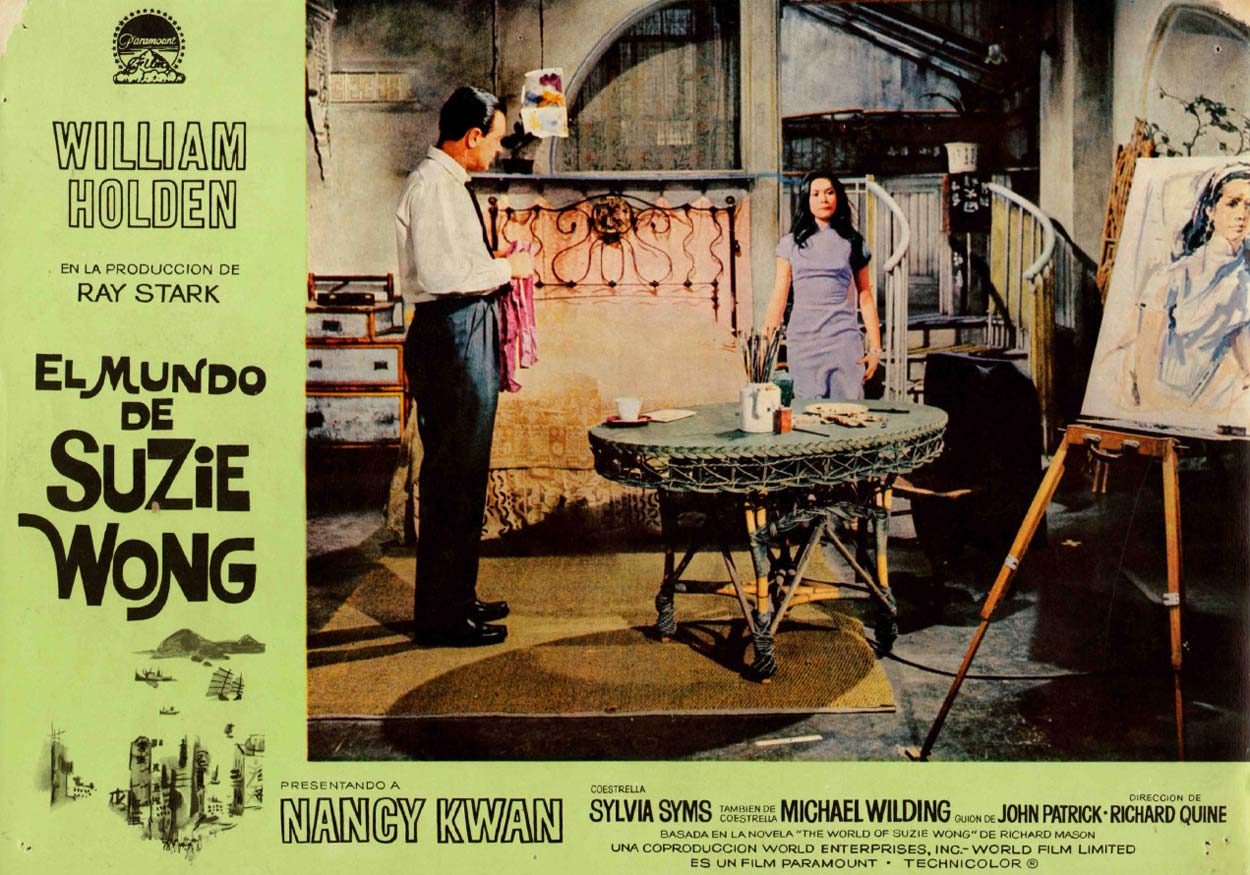 Suzie Wong had begun as a 1957 novel by Richard Mason, which in turn was adapted for the stage by David Merrick in 1958. When preproduction began in Hong Kong for the film adaptation in 1959, Kwan submitted for a screen test. While the initial test was found lacking, Ray Stark fervently believed she would be perfect to play Suzie, and sent her to intensive training that led to more and improved screen tests. However, Paramount insisted on casting another biracial actress, Romani/Vietnamese star France Nuyen, who had already played Suzie in the Broadway show, and Stark agreed Kwan was not screen-ready yet. Kwan instead took a small role and understudied for Nuyen in a touring stage production, then took over for her when Nuyen left for Hong Kong to begin shooting the film.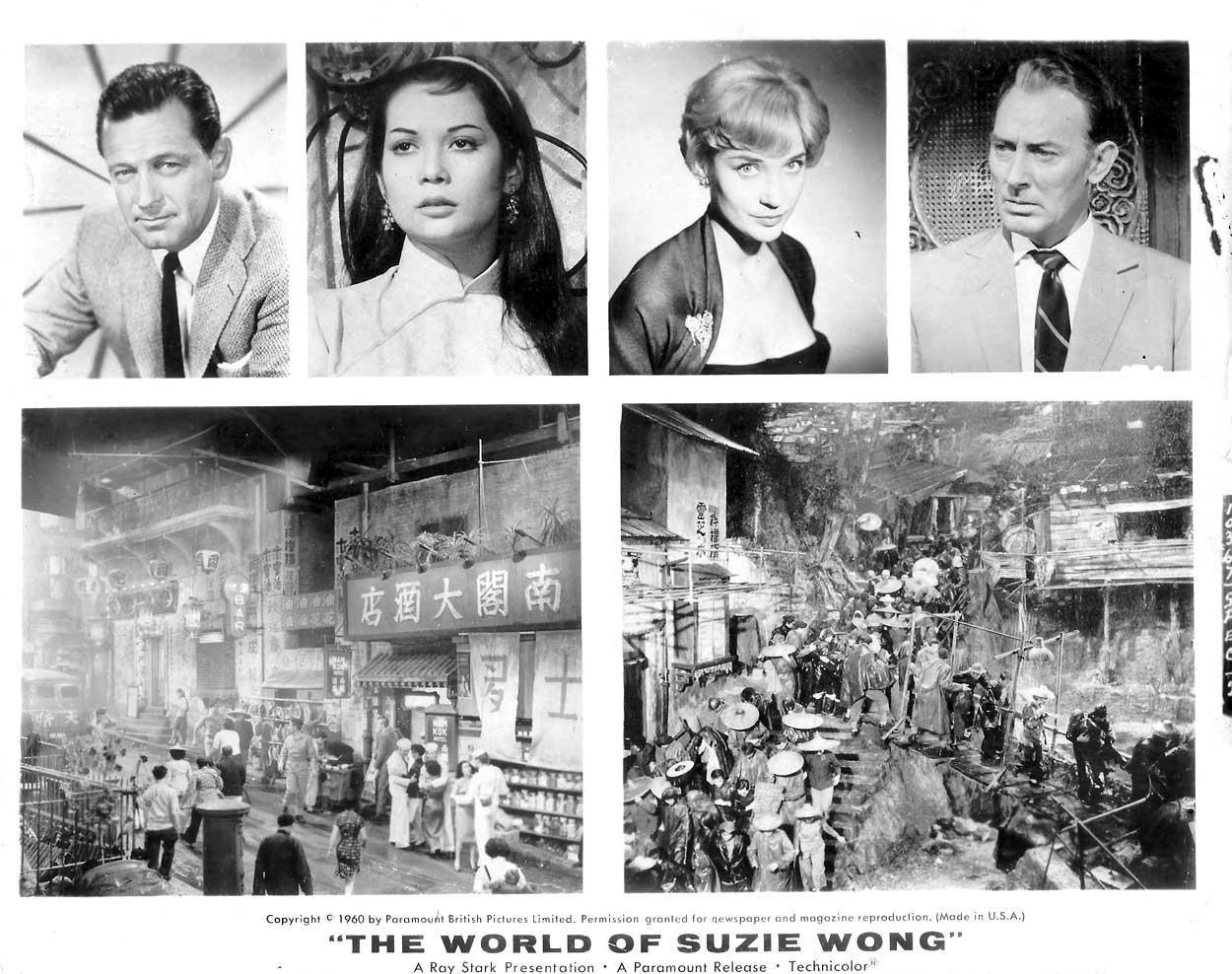 Five weeks into the shoot, a pattern of troubling behavior from Nuyen drove Stark to fire her and director Jean Negulesco. He proceeded to go all-in on Kwan, asking her to leave the play (at the cost of a lawsuit) to take over the role, and reshooting all the previously filmed scenes under new director Richard Quine. The gamble paid off: Kwan received a 1960 Golden Globe nomination for Best Actress-Drama, and shared a Golden Globe award for Most Promising Newcomer with Ina Balin and Hayley Mills, the latter recognized for Tiger Bay, which played the Bev this past September.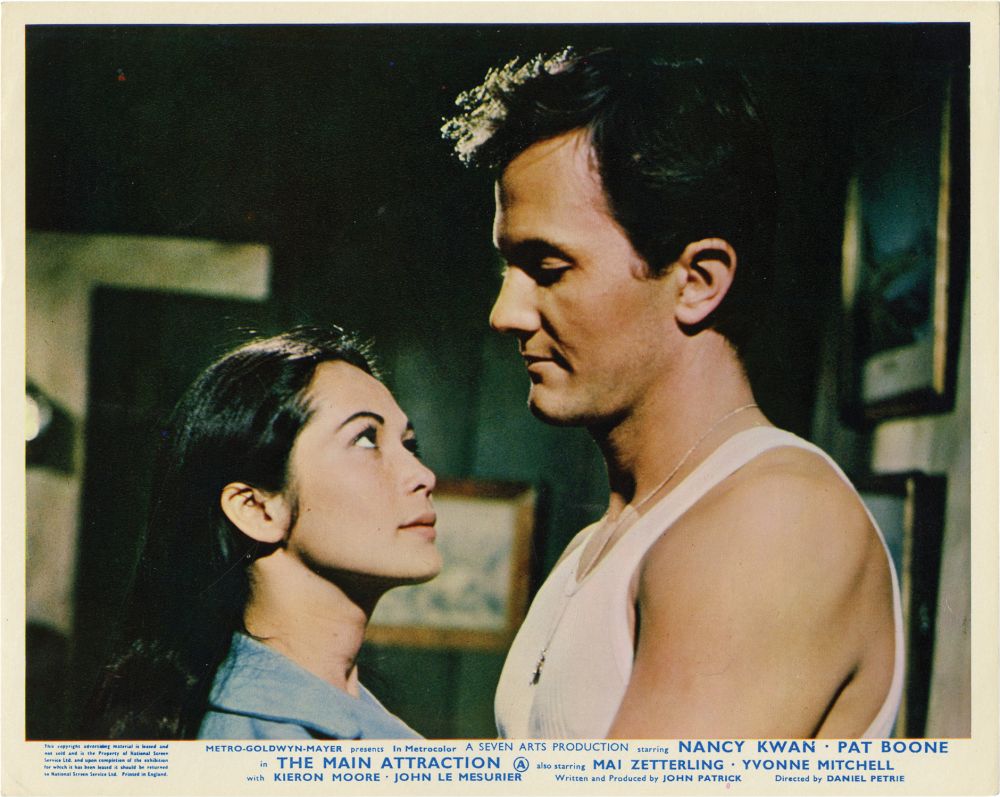 The Main Attraction from 1962 offers all manner of unconventional surprises for the first time viewer. To start, Pat Boone plays against type as Eddie, a prickly American drifter in Italy, boozing, smoking, and barely subsisting as a troubadour. He takes up with Gina (Mai Zetterling), an older woman who fancies him, and joins her in a traveling circus where she performs as a ventriloquist. Then Eddie in turn becomes infatuated with Tessa (Nancy Kwan), the circus' spirited acrobat and equestrian. Jealousy and wrongful accusations will put Eddie in the biggest danger he's ever known in his already troubled young life. To quote from the film's original trailer, it is a story rife with, "Temper. Tenderness. Suspense. Splendor. Melody. Madness."
Before even elevating her to the lead in Suzie, Stark signed Kwan to a multi-picture deal with his company Seven Arts, and after that film's success, proceeded to headline her in four more films, beginning with Main Attraction. It would be during filming in Austria that Kwan met and married her first husband, hotel magnate Peter Pock, with whom she would have one son. Other returning Suzie alumni were cinematographer Geoffrey Unsworth, and screenwriter and playwright John Patrick, who reworked a treatment by HUAC-blacklisted writer Marguerite Roberts. Daniel Petrie directed, coming off his film adaptation of Lorraine Hansberry's A Raisin in the Sun.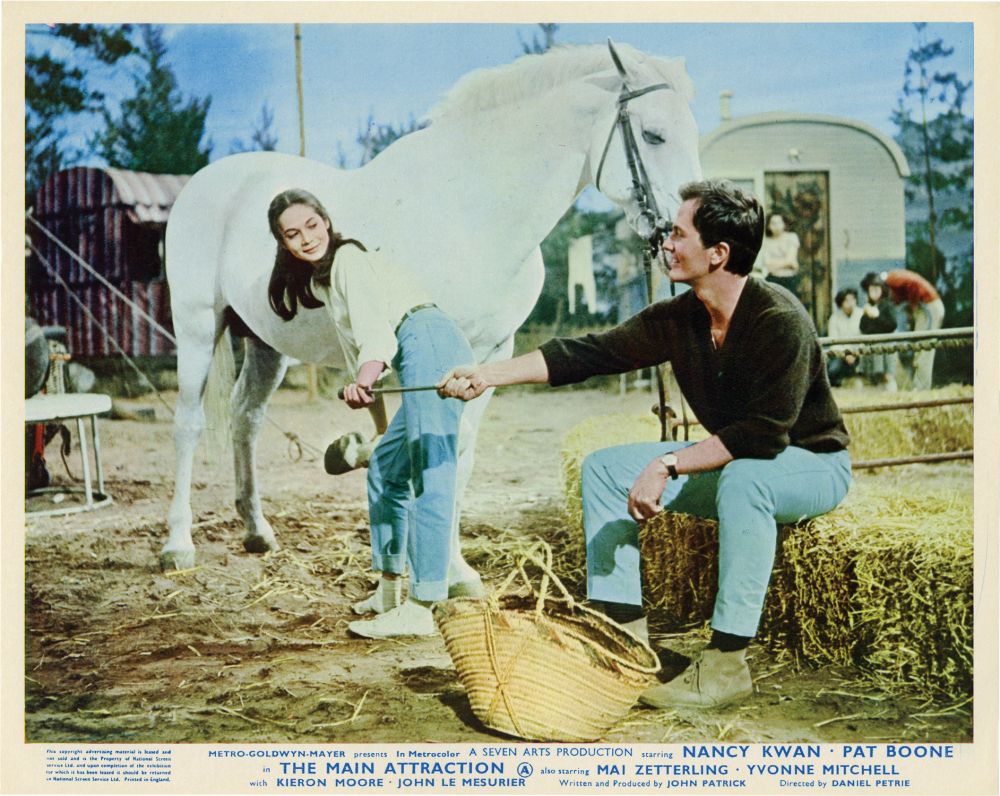 Stark bought out Pat Boone's contract with 20th Century Fox, hoping to rebrand the wholesome teen idol into a viable dramatic actor by casting him in Main Attraction. Actor and fellow blacklist target Jeff Corey was hired as Boone's acting coach, and the two wound up collaborating on writing the title theme song, reportedly writing it during a drive to the shoot. During filming, Boone objected to a scene hinting that his character had direct intimacy with Kwan's, but complied with shooting it in tandem with a more chaste alternate take. When the finished film was denied a Production Code Association censor's seal, Stark attempted to capitalize on the notoriety, but Boone pressured him to tone down the content to obtain the seal, agreeing to a large-scale publicity tour in exchange.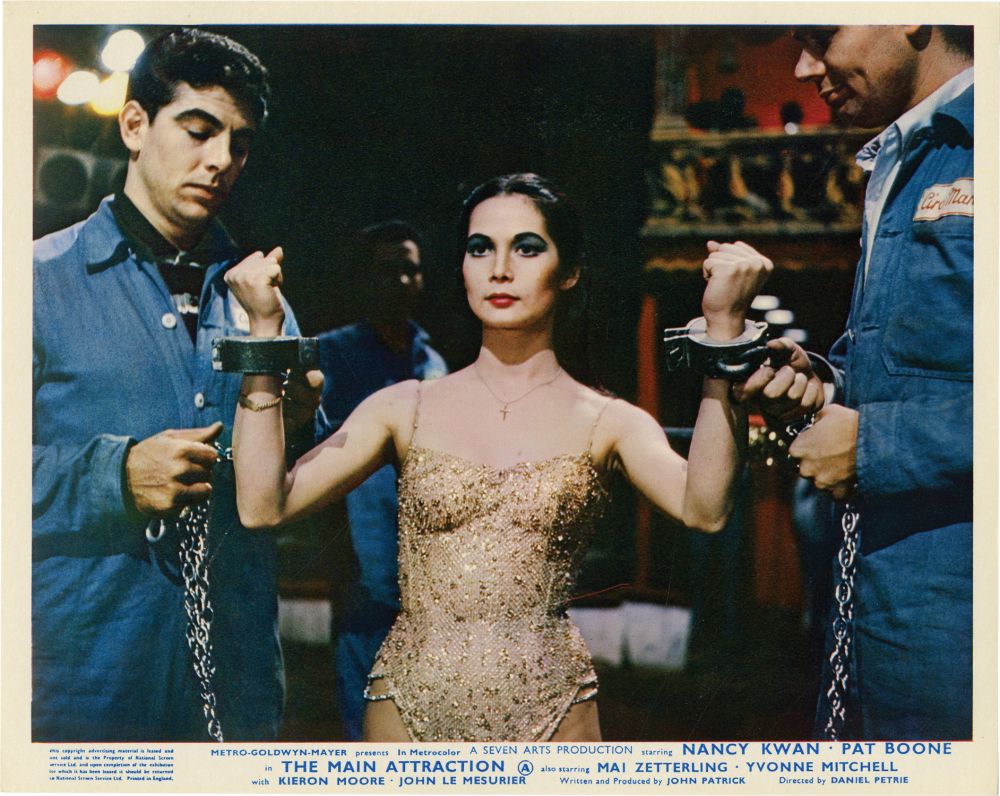 In an era where very few Asian actors were given significant roles, let alone positioned as a box office draw, the budding producer Ray Stark took a chance on the budding talent of Nancy Kwan. Together, they made multiple films, partnered in other business, and enjoyed a friendship that lasted to the end of Stark's life. Come see these first works of these iconic talents, as the launch of our Nancy Kwan November at the New Beverly!