The way John Cassavetes seduces Britt Ekland in Giuliano Montaldo's Machine Gun McCain is a three-minute Master Class in multi-faceted acting – multi-faceted acting in a potentially stupid scene.
Cassavetes plays Hank McCain, a tough, mysterious bank robber newly released from prison, out on the town alone, hungry for company; hungry for something (in one scene, he's hungry for a hot dog, which he enjoys like a guy fresh from the joint: "Looks like you haven't seen one of these in years" the hot dog vendor says. Cassavetes looks back annoyed). He skulks around the San Francisco Red Light district circa late 1960s with its enticing topless bars and sex shows, men milling about searching for a screw or a look, marquees blazing temptations like: "The Original Nude on the Swing, Hippie, Or a Fun Risqué Show!" He doesn't look happy on this quest, more unsettled, uncomfortable. Not because he's a square (a square he is not) but because that's how a guy stuck in the slammer for over a decade would look and act upon release – uneasy, distrustful. You can see it on his face as he observes the changed world around him: He's dissatisfied, lonely and a little awkward.
He walks into the bar promising that Nude on the Swing and immediately spies luscious Britt Ekland (Irene) at a table with two men. He wants her. The two men who do look like squares are sleazing on her (what else would they be doing?) and she appears disgusted. She excuses herself to the powder room while the two guys mutter "She got hang-ups or something?" Eyeing all of this, Cassavetes moves over to her seat at the bar, sits right between the two men and orders a scotch and soda. The men inform him the seat is taken but he ignores this and lights a smoke. Annoyed and amused ("What's the matter? You that lonesome?" – he is), they move to a table where Irene returns. What does Cassavetes do? He once again moves, pausing and standing for a moment, before sitting down right at their table directly across from Irene. He stares at her. It's so intense he needn't say anything. One guy rather oddly says, "You know a guy once followed me from Union Square all the way to North Beach? You know what he wanted? To sell me retirement properties!" The other says, angry, "Well, that's not what this guy's after, not by a long shot." Spitting at Irene that she's having a "turn on" for this weird, good-looking stranger, Cassavetes punch/ smacks the one guy and orders the other to stay put. He then mumbles, barely looking at his object of lust, "Come on. Let's get out of here." They leave, get in her car and look at each other. He says, "I've been in prison. 12 years. Armed robbery. I, uh, I'm looking for someone. I need someone." They go to her place. Done.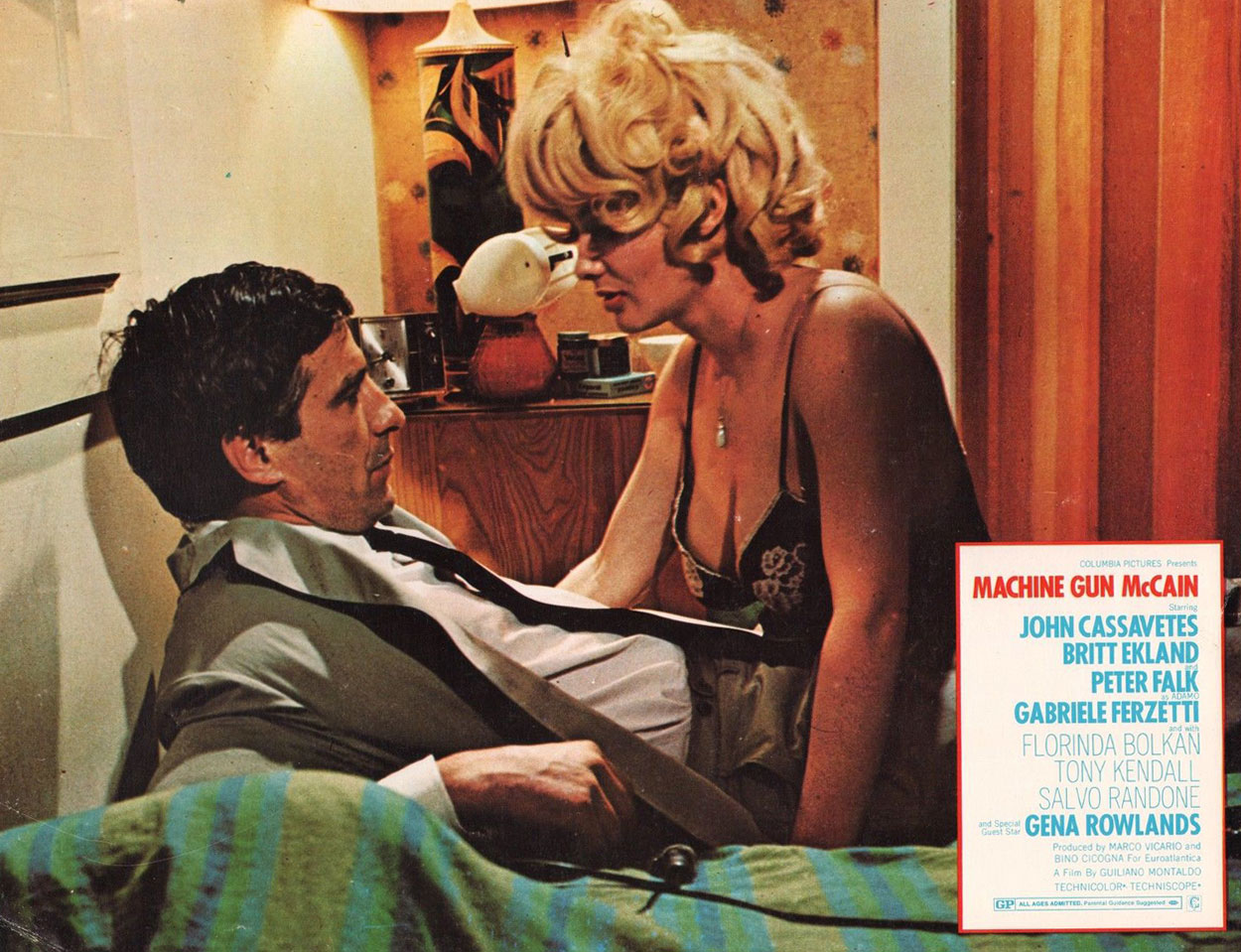 Why is this scene so good? Because, as stated, Cassavetes, that's why. In another actor's hands, it could have played simply studly – look at this big, bad criminal hooking in this hot mama. Score. There's some of that unabashed cool here of course, but Cassavetes imbues the scene with enough longing and angst, even a kind of hatred for the drooling men (is this tough guy gallantry or self hatred?), that you roll with the instinct and curiosity of her going home with him. It helps that he looks like John Cassavetes and she's whatever she's supposed to be (she seems more miserable and lost than a good-time-girl), but the scene feels more interesting than that. Her rather clueless role in the movie is helped shaped by how good his acting is and by following his lead; he's already defining how strange she is as his future accomplice. Even his potentially offensive rough lovemaking once they get down to it is more human than anything else: aggressive and scary, hungry and vulnerable, weird and real. Cassavetes moves through these varied states throughout the movie – a lone wolf, but a man in some kind of existential dilemma, fighting to maintain his own self in a fucked-up world. And, as cool as he is, he's not gonna win that fight.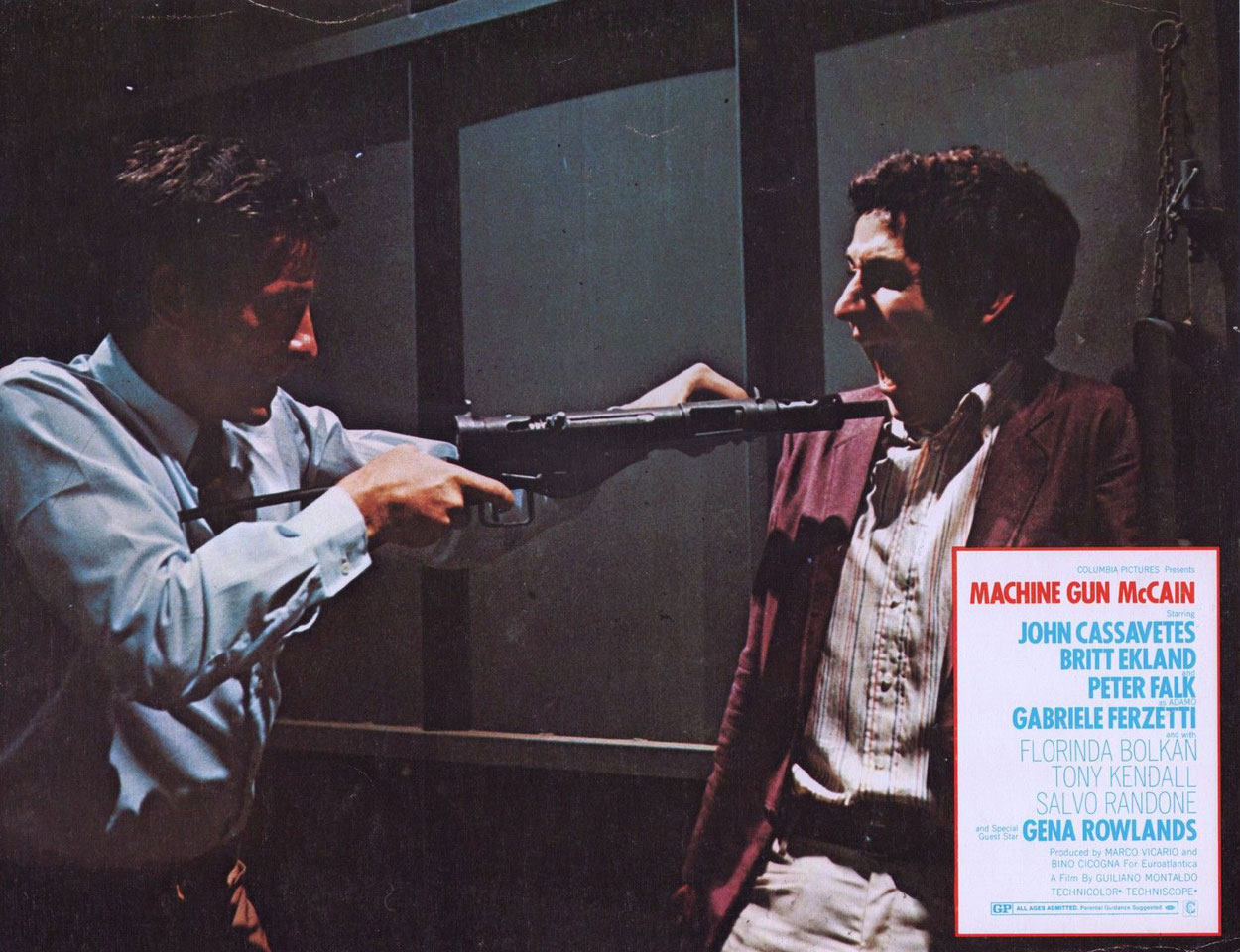 Italian director Montaldo knew to work this from his lead or he knew to allow Cassavetes to work this simultaneous enigmatic character with bursts of feeling, while making a lean crime picture (often shot beautifully by Erico Menczer and memorably scored by the great Ennio Morricone). Cassavetes did this movie for the money, like a lot of movies he acted in (and some incredible, The Killers, The Dirty Dozen, Rosemary's Baby, just to name a few around this time period), but he never sleepwalked through a role. ("I'm a professional actor out of defense," Cassavetes said to Ray Carney. "I'd prefer to be an amateur actor. But I've got to have money to make films. Unfortunately, it's an extremely expensive hobby.") The B-picture feels a lot tonier than one would think, that of Hank McCain let out of prison to help rob a Las Vegas casino with a Mafioso (played by Peter Falk) who is actually robbing a rival mob run casino which then causes a gangland war which then makes fearlessly independent McCain think, screw this (he's already been doubled-crossed by his son), and pull the heist on his own (Irene helps him. She also marries him). It could be a standard sluggish crime picture with moments of garish flare but there's a nervous energy here – it buzzes along with Cassavetes' anti-hero, jiving with his internal struggles and intelligence, his rightful paranoia and feral anger. Though the two clashed at times, Montaldo admired Cassavetes as a filmmaker and was a fan of his debut, Shadows, and Cassavetes charmed the film's young millionaire producer, Bino Cicogna, to help finance Husbands. Cigogna, who produced Once Upon a Time in the West, would later be found dead in Rio de Janeiro, his head wrapped in a plastic bag and shoved into an oven, an apparent suicide but rumored to be a murder. He was apparently having money problems, but also allegedly (as written in Dedee Panesar's "In Gold We Trust: The True Story of the Papalia Twins and Their Battle for Truth and Justice") suffered a serious cocaine problem, was rumored to know too many people in the drug trade (something) and took off, which seems like a story Timothy Carey might tell as one-part of a Cassavetes' monologue (or a story he'd just tell). Jesus. Thankfully the poor bastard helped along one of Cassavetes' greatest films.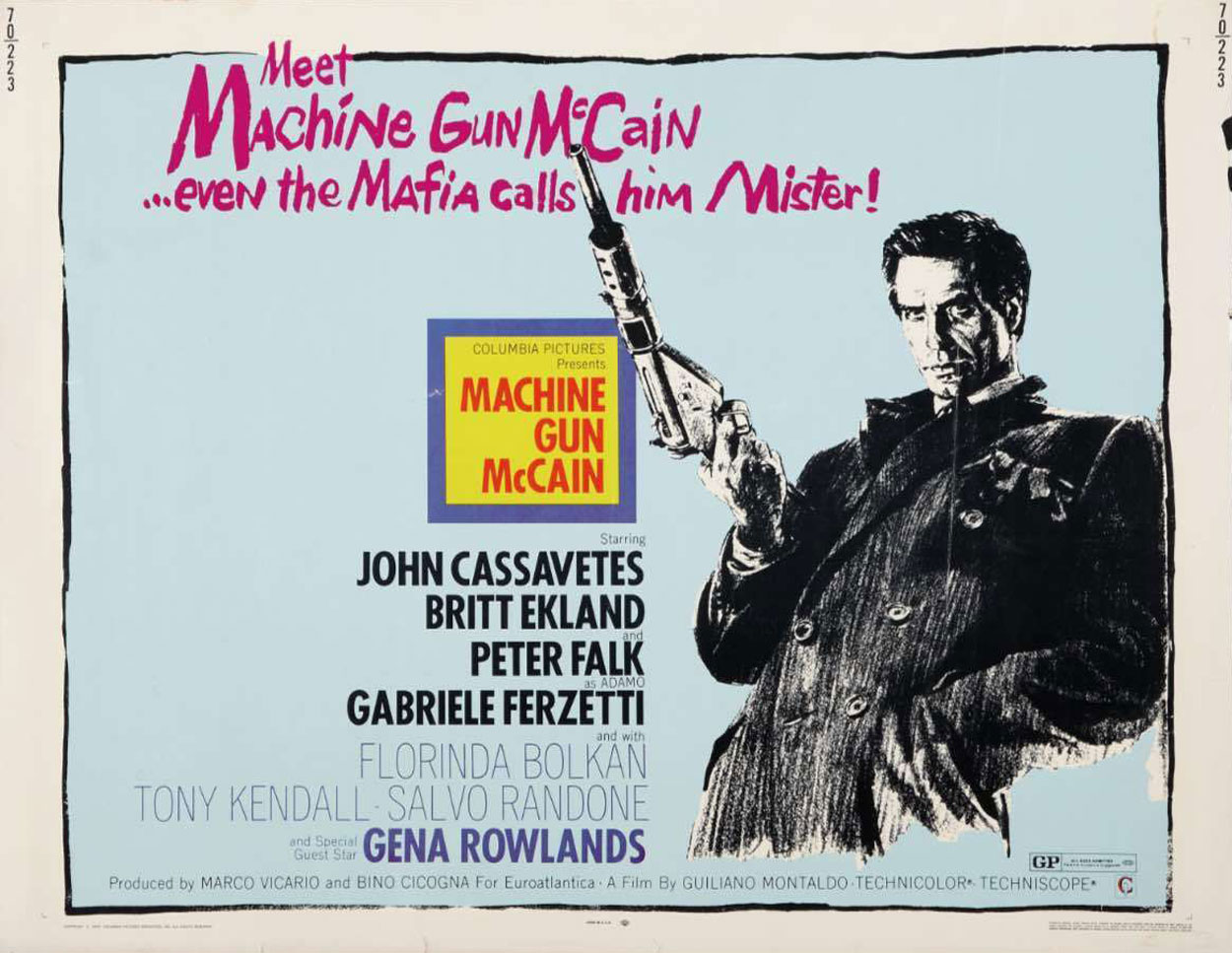 And thankfully Cassavetes brought along some of his clan to Machine Gun McCain: Falk, Val Avery and his wife Gena Rowlands in a small but wonderfully realized role as his old girlfriend. In opposition to his compellingly starved and strange pick-up of Ekland, his reunion with Rowlands is warm and lovely, loaded with sexual chemistry and a shared history. He slaps her on the ass and actually smiles as they hug each other. You get why he says she's the only woman he trusts. She's so beautifully gritty and world-weary touching with him, and they are both so spectacular together (they both know each other's hard lives inside and out) that Hank McCain becomes much more moving by her mere presence. She reminded me a little of Marlene Dietrich in Orson Welles' Touch of Evil – no nonsense and loyal to the bitter end (she does not get a nice end, alas). I only wish she'd have closed the movie like Dietrich did and, what the hell, why not? Steal the last line: "He was some kind of man." That he was.