Thunderbolt and Lightfoot screens in 35mm September 11 & 12 as part of our tribute to writer / director Michael Cimino.
The year 1974 was an embarrassment of riches in the history of American cinema. Not just in the sheer number of films regarded as classics, or critically lauded achievements, but also in terms of the number of filmmakers that were at the top of their game. Aside from the eagerly anticipated release of Copolla's Godfather II, 1974 gifted us some under the radar classics that arrived with much less fanfare: The Conversation, Chinatown, Blazing Saddles, Bring Me the Head of Alfredo Garcia, Lenny, A Woman Under the Influence, and Michael Cimino's Thunderbolt and Lightfoot.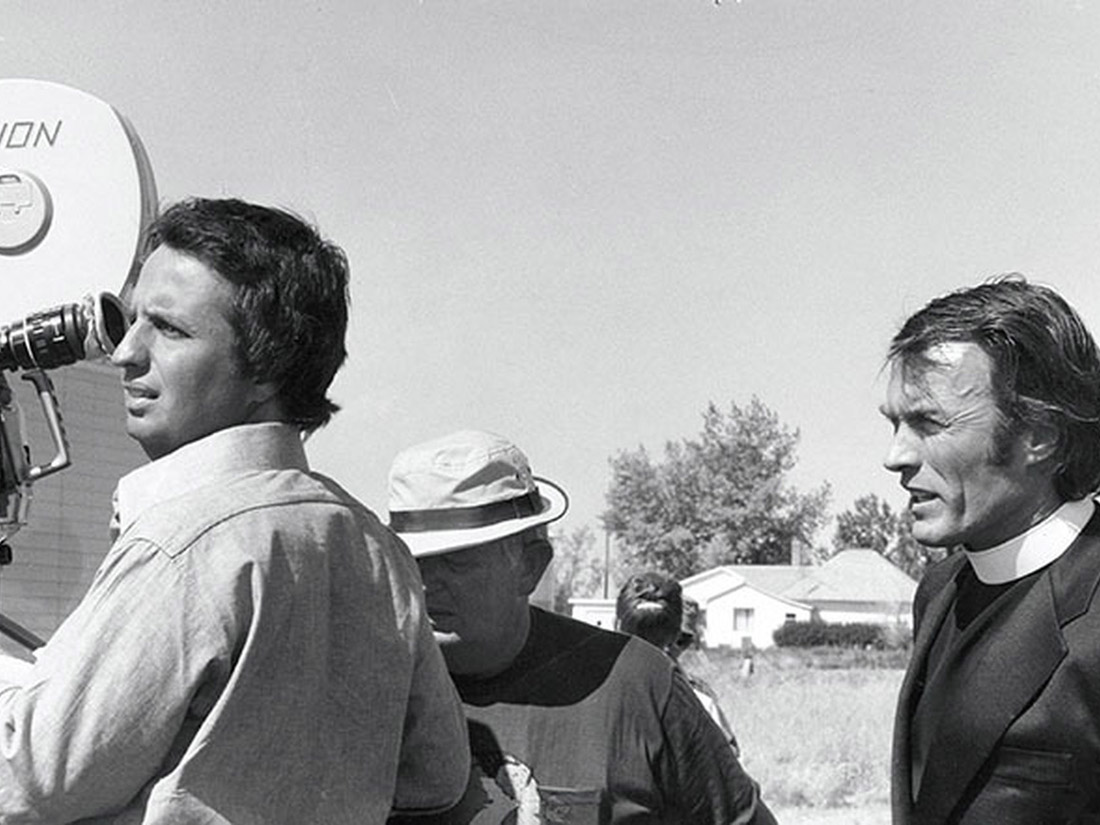 After moving to Los Angeles in 1971 to pursue screenwriting, Cimino wasted little time getting his name on the silver screen, with co-writing credits in Silent Running (1972) and Magnum Force (1973). Clint Eastwood had his eye on directing Cimino's spec script for Thunderbolt and Lightfoot, and slated it to be his 12th picture under the umbrella of the Malpaso Company (later changed to Malpaso Productions). Upon meeting Cimino, however, Eastwood decided to step aside and turn over the reigns to the first time director. This was a monumental show of trust from Eastwood, who was enjoying the prime of his career and Cimino takes full advantage of the opportunity afforded him.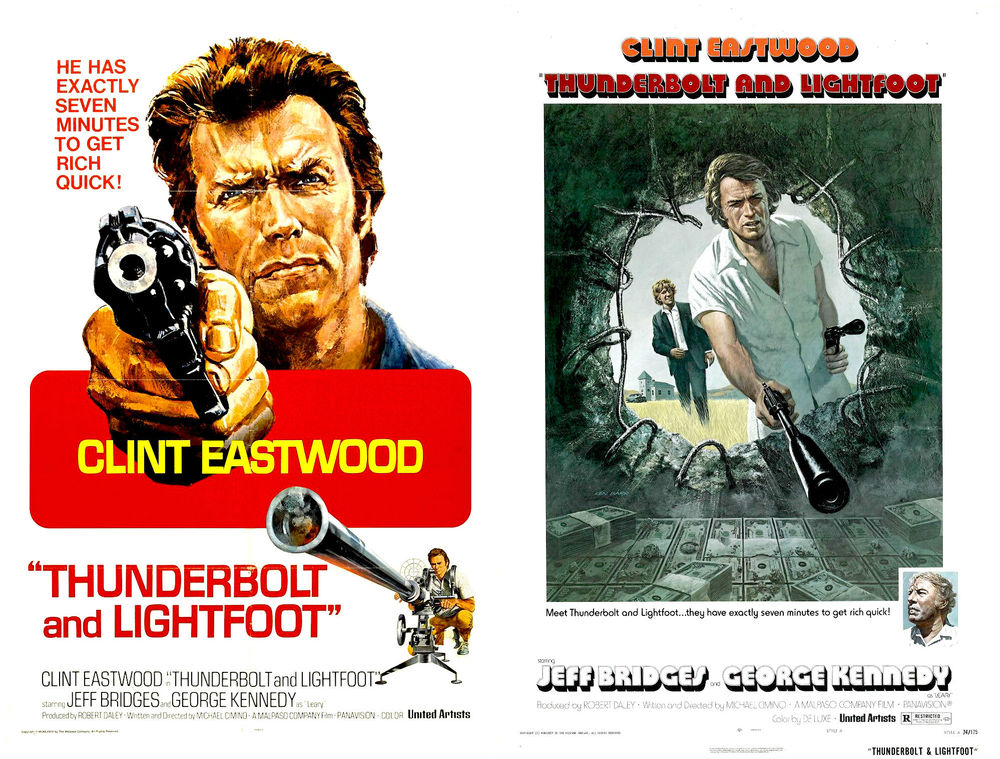 Marketed by United Artists as a heist film – "Clint Eastwood has exactly seven minutes to get rich quick!" – with a trailer cut to depict an action packed thrill ride, Cimino subverts the traditional heist film genre, and instead gives us a heist film in the visage of a buddy road trip movie. The film opens with a bespectacled Eastwood as Thunderbolt, masquerading as a preacher in a small town church, who's hiding out after a previous heist ended with the money being stashed in a school house and not recovered. Standing behind a podium with slicked over hair, his soft spoken demeanor lends credence to the scripture he recites, "the wolf shall dwell with the lamb, and the leopard shall lie down with the kid," a bible verse that foreshadows events to come later. This first character reveal of Eastwood's Thunderbolt, is closer to Henry Fonda in Young Mr. Lincoln, than the Man With No Name.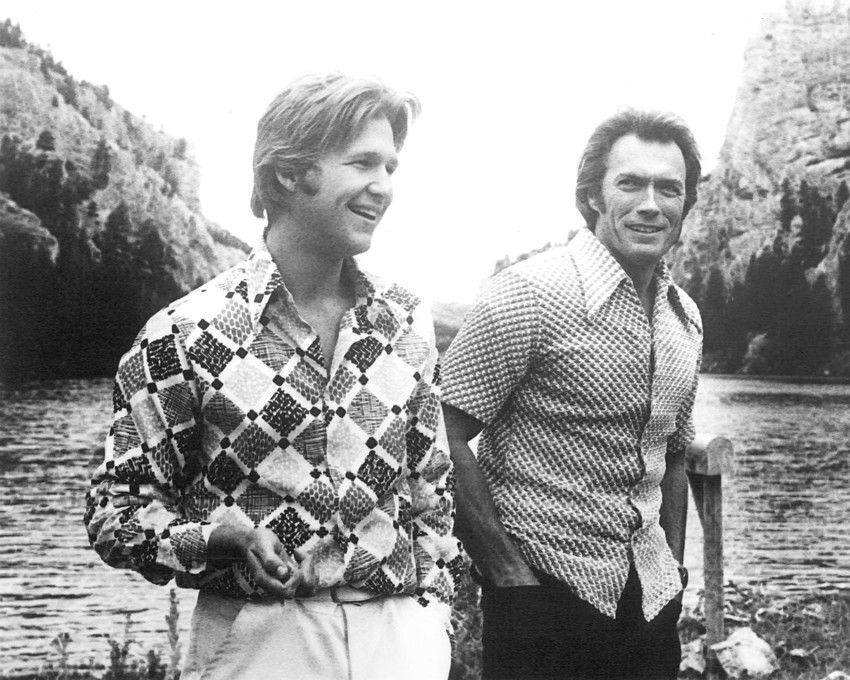 After being shot at from the back of the church by a member of his crew that's convinced Thunderbolt has double crossed him and kept the money for himself, Thunderbolt flees out a side door and through a wheat field. There's no return fire, or tough guy one liners from Eastwood here, just a man running for his life and from his past. Cimino has put the audience on notice that we are in for a different kind of Clint Eastwood film, and we have barely had enough time to process this by the time Eastwood ends up on a dirt road, directly in the path of a stolen car that's being driven like a bat out of hell by Jeff Bridges as Lightfoot – a breakout role that earned him an Academy Award nomination for Best Supporting Actor. In Lightfoot, Bridges creates a fast talking, cocksure, up for anything "Billy the Kid" – who is taking life for a joy ride. This is a stark contrast from the low profile, Korean War veteran of Eastwood's Thunderbolt. The head on collision of these two men, shows off Cimino's ability to take a nuanced scene like Eastwood preaching in the small town church, have it erupt into violence, and then deftly maneuver the characters through a gauntlet and out the other side. It's a skill that Cimino had honed to near perfection by the release of The Deer Hunter (1978).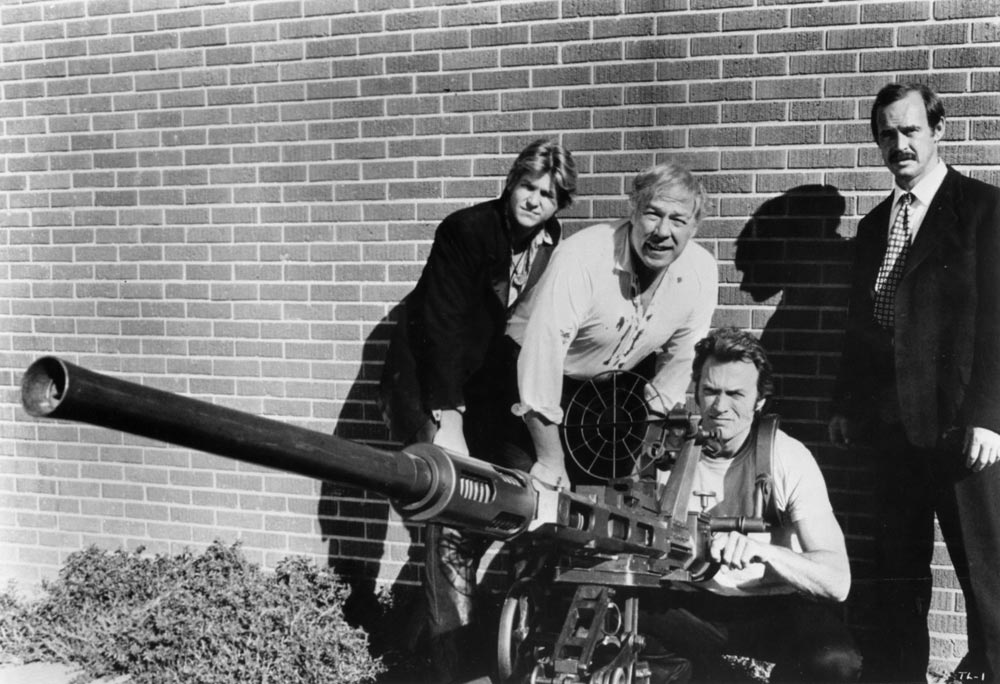 The chemistry from not just the title characters, but the supporting cast as well, is as immediate, as it appears effortless. Jeff Bridges is like an Alka-Seltzer tablet that's dropped into Eastwood's drinking water by Cimino. There's an effervescence that Bridges lights up the screen with, reminding Thunderbolt of the possibilities of youth, before the hardness of the world takes more than it's going to give you. George Kennedy takes an already well-written character and elevates it with one of his finest performances as the impatient, untrusting, bitter, malcontent packed in a powder keg – Red Leary. The perfect Yin to the Yang of his travelling partner, Geoffrey Lewis as the likeable – Goody.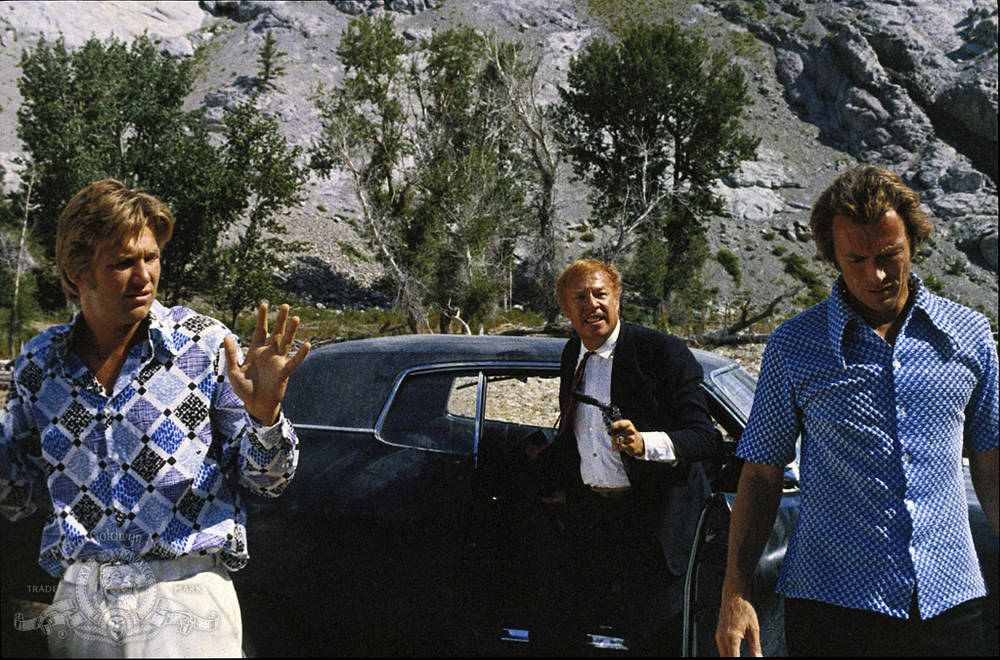 These two former crew members of Thunderbolt's have been looking for him and the Armory job money, and when they finally catch up with one another, Thunderbolt and Red have to settle some unfinished business with their fists. The end result of the fight leaves an underlying sense of tension with Red – least of which is his growing disdain for the wisecracking Lightfoot. While the perpetually enthusiastic Lightfoot's confidence and energy has been growing on Thunderbolt, it has had the opposite effect on Red, and when Lightfoot suggests the four men team up and go after the Montana Armory again, "Hey, they'd never expect it." Eastwood has to not only plan the heist, but worry about Red imploding in the process. Red – "When this is over, I'm gonna get that kid." Thunderbolt – "Yeah? Well, you'll have to come by me first."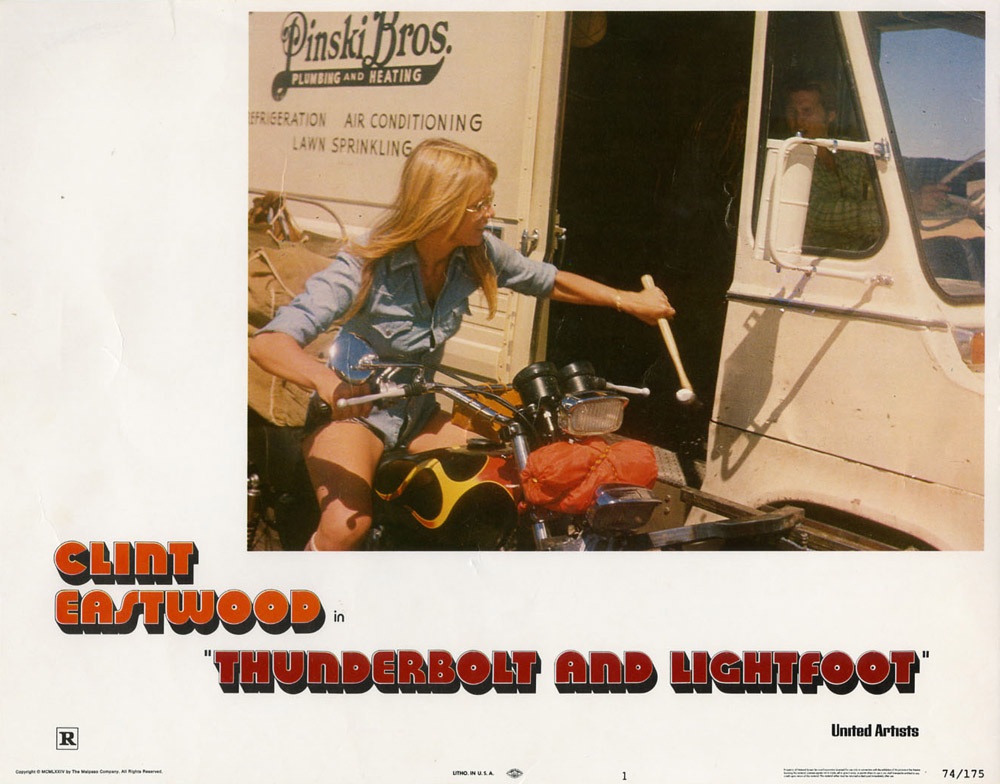 While other heist films usually find the crew sufficiently supplied with the proper tools to pull the job off, Cimino has this road weary crew get jobs to earn enough money to buy the gear they need – specifically the anti-tank gun needed to blast through the Armory walls. This pays off in a laugh out loud scene with Geoffrey Lewis as a bow-tied Good Humor man type, with George Kennedy riding shotgun in the little ice cream cart. This comedic shift in tone depicts the two men as almost hapless criminal interlopers, a style that could've well influenced the Cohen Brothers, with actors like John Goodman and Steve Buscemi taking the torch for this quirky genre bend.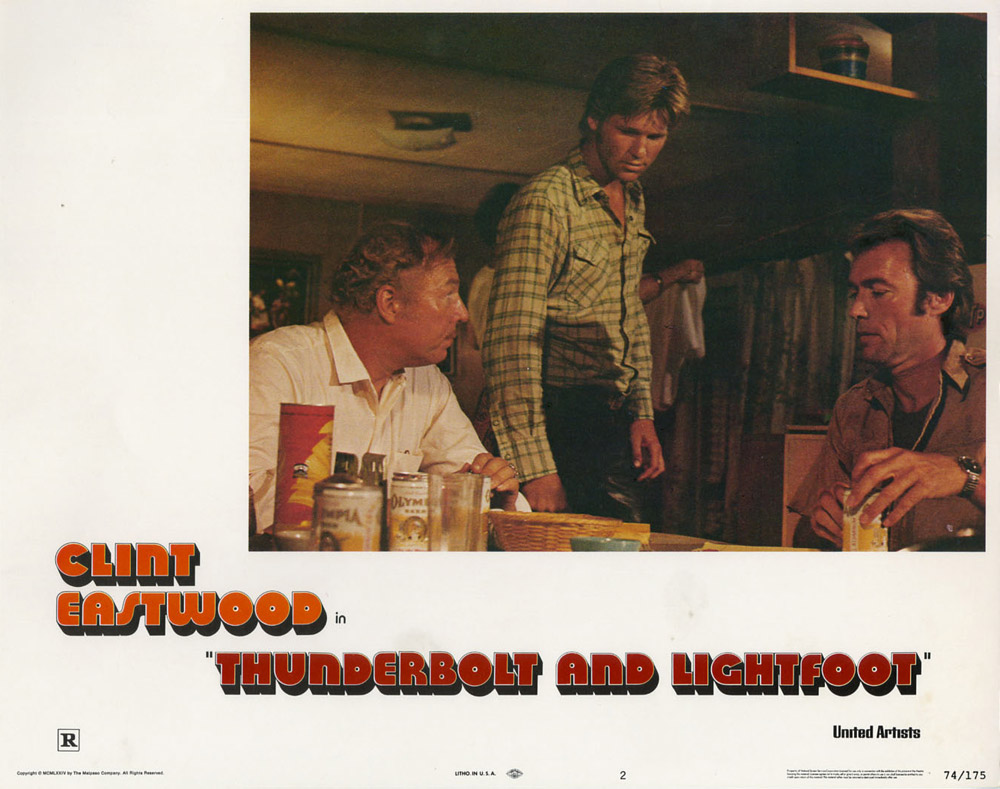 Cimino coaxes the kind of ensemble performances here that not only keeps the journey fresh, but makes it hard to imagine any other actors bringing these characters to life. The first time director finds moments that allow the cast to shine both collectively and individually, and it's a tribute to the late actors – George Kennedy and Geoffrey Lewis, that Eastwood went right back to work with Kennedy in the Eiger Sanction (1975) and continued to rely on Lewis in future films as the perfect Eastwood celluloid side kick. There is a murderers' row of cameos spread throughout the film – Roy Jenson, Bill McKinney, Burton Gilliam, Vic Tayback, Gary Busey, Jack Dodson ("Not again."), the always engaging Dub Taylor as a philosophizing gas station attendant, and a gorgeous pre-Dukes of Hazzard Catherine Bach. It's been written that Thunderbolt and Lightfoot was influenced by Cimino's favorite film from the 1950's – Captain Lightfoot and while that may be true, the influence of Easy Rider seems filtered throughout. Even the film's theme song "Where Do I Go From Here?" written and sung by Paul Williams, could be the B side to the Byrds' – "I Wasn't Born To Follow" the free wheeling song that plays during an Easy Rider montage.
There are a number of "easter eggs" if you will, that appear in the film. When Red Leary violently knocks Lightfoot to the ground, he practically double dog dares him when he taunts: "Say something funny now, smart ass!" rendering him unconscious with a kick to the head that reverberates all the way to Samuel L. Jackson's "Say what one more God damn time!" in Pulp Fiction. When Eastwood and Kennedy are having a bare knuckle fist fight in a clearing next to a river, it's hard not to see the seeds of Every Which Way But Loose as Geoffrey Lewis peeks over Eastwood's shoulder. Then there's the hippy logic of Jeff Bridges – "I don't want your watch, man. I want your friendship." This might as well be time capsuled and sent to his future self, for his iconic performance as "The Dude". Much has been written about homosexual undertones between Thunderbolt and Lightfoot through the years and since film is subjective, you can find it if you look hard enough, in the same way you can see it with Sherlock Holmes and Dr. Watson, or Bert and Ernie from Sesame Street. The sexuality does have an early 1970's ambiguity to it, but the film is more interested in exploring the complexities of male bonding, and the loss of youth and friendship. A theme that Cimino revisits with much more depth in The Deer Hunter.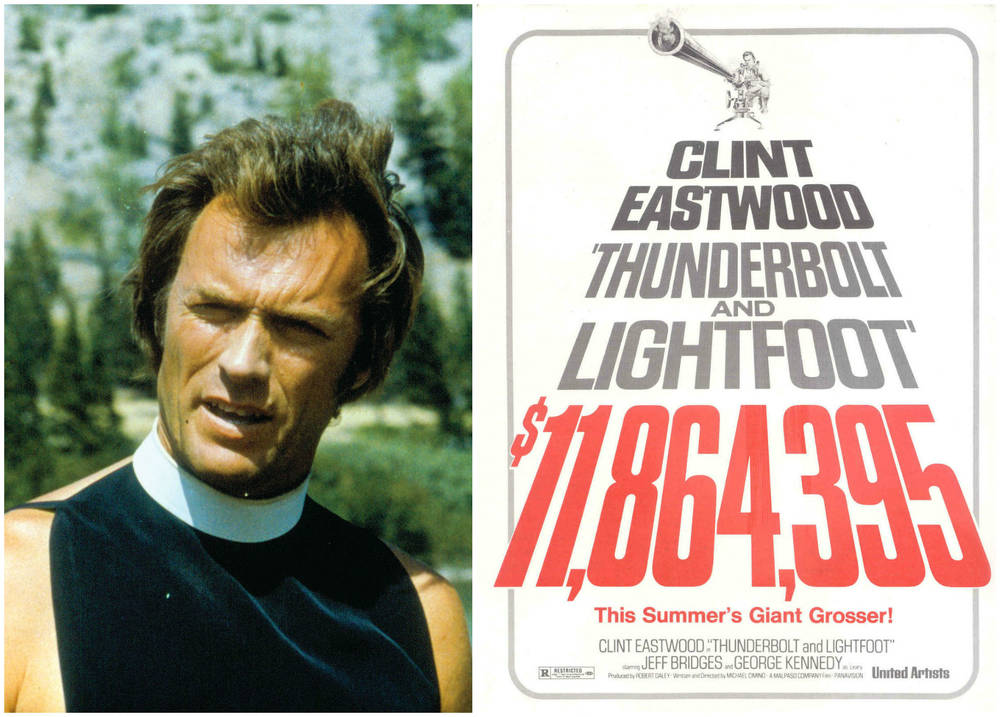 With the benefit of having the canon of Eastwood's work to look back on, Thunderbolt is perhaps his most accessible performance. Sure, Cimino captures Eastwood's traditional economy of emotions, suspicious glances, and measured responses, but when Lightfoot finds out where the smell is coming from inside the 1973 Plymouth Fury, the third car Thunderbolt and Lightfoot have stolen up to this point, Eastwood actually breaks out in laughter as he drives the muscle car down the road. Cimino finds a lighter, less guarded side to the star we rarely get to see on film and in that moment, behind the wheel of that car, there's no doubt you are seeing one of the all time great movie stars.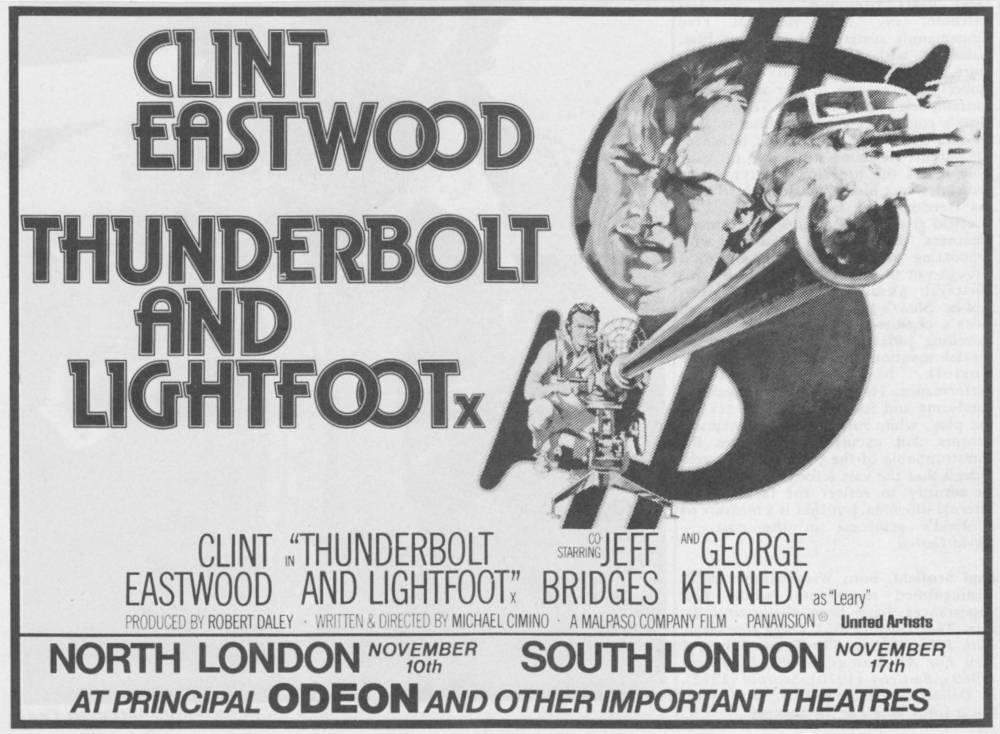 Thunderbolt is a film with a far reaching influence that is a must see for aspiring writers and directors, because it does so many things well – action, comedy, dialogue, acting, and cinematography. With the passing of Geoffrey Lewis last year, George Kennedy in February of this year, and the death of the talented enigma that was Michael Cimino this past June, the closing scene between Eastwood and Bridges out on the open road should resonate as much today as it ever has. "Thunderbolt and Lightfoot. That sounds like something." It sure as hell does.