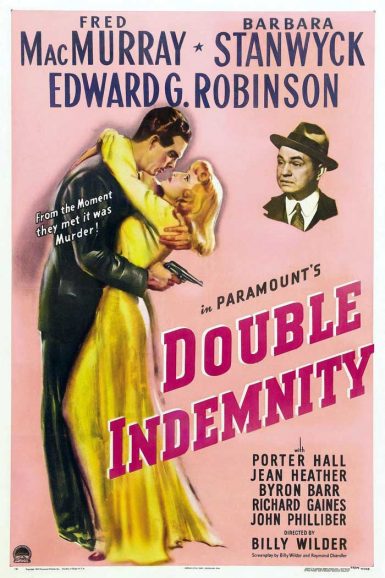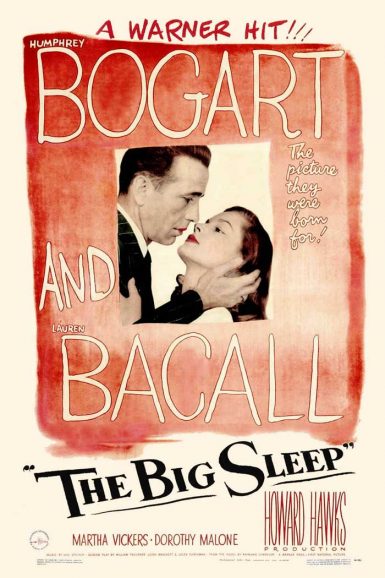 Double Indemnity
The Big Sleep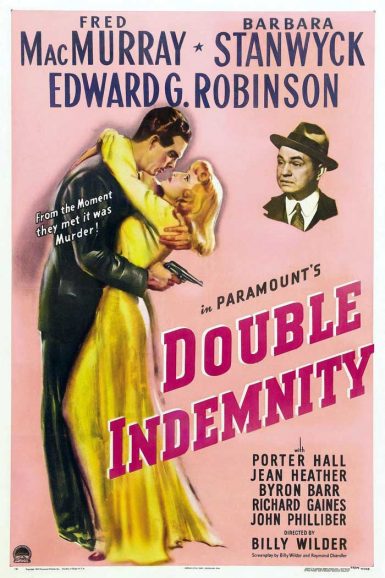 Double Indemnity
While our allotment of advance tickets has sold out online, some additional tickets will be available to purchase at the door on a first come, first served basis on the night of the show. Box office & doors open roughly one hour before the first film. For shows that have sold out online, in-person ticket purchases are limited to 2 tickets per person.
Although director Billy Wilder is perhaps better known for comedies, he also made several noir films (including the iconic Sunset Boulevard and the bleak Ace in the Hole) that rank among the genre's best. Arguably his most famous was his first hardboiled opus, an amor fou tale of a cynical insurance salesman, Walter Neff (Fred MacMurray), being seduced by an upper middle class housewife, Phyllis Dietrichsen (Barbara Stanwyck, in ultra-blonde femme fatale mode), into murdering her heavily insured husband for a big payout. But Walter's supervisor at the office, Keynes (Edward G. Robinson), smells something fishy along the way, and the waiting game for the couple plays out in an agonizing maze of suspenseful twists before the wrap-up. Wilder enlisted famed hardboiled scribe Raymond Chandler to adapt the James M. Cain bestseller for the screen. And even though Chandler reportedly reviled Cain's nihilistic crime novels as trash, with Wilder's help, he turned out an exceptional script surprisingly faithful to the book (though with a more conventional ending).
"This is the gold standard of '40s noir, straight down the line." – Jessica Winter, Time Out
"Few other directors have made so many films that were so taut, savvy, cynical and, in many different ways and tones, funny. Wilder's Double Indemnity was one of the earlier films noir. The photography by John Seitz helped develop the noir style of sharp-edged shadows and shots, strange angles and lonely Edward Hopper settings." – Roger Ebert
Director

Billy Wilder
Writer

Billy Wilder and Raymond Chandler based on the novel by James M. Cain
Starring

Fred MacMurray, Barbara Stanwyck, Edward G. Robinson, Porter Hall, Jean Heater, Tom Powers
Year

1944
Country

USA
Format

35mm
Running Time

107 minutes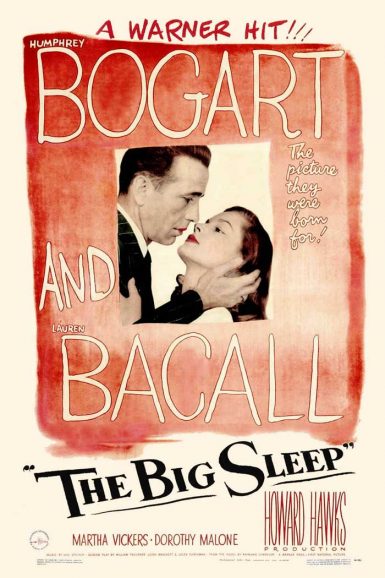 The Big Sleep
Humphrey Bogart & Lauren Bacall in 35mm! Howard Hawks' atmospheric mystery masterpiece casts the iconic Bogart as Raymond Chandler's legendary gumshoe Philip Marlowe, the coolest private dick ever on screen and always ready with a clever comeback. Tasked with solving a new case, he'll soon find himself up against deception, blackmail and murder… as well as the divorced daughter (Bacall) of the man who hired him. Featuring a legendary screenplay by William Faulkner, Leigh Brackett & Jules Furthman, The Big Sleep remains a towering film noir triumph fueled by the incendiary chemistry between its leads.
"It is one of the great film noirs, a black-and-white symphony that exactly reproduces Chandler's ability, on the page, to find a tone of voice that keeps its distance, and yet is wry and humorous and cares" – Roger Ebert
Director

Howard Hawks
Writer

William Faulkner, Leigh Brackett & Jules Furthman based on the novel by Raymond Chandler
Starring

Humphrey Bogart, Lauren Bacall, John Ridgely, Martha Vickers, Dorothy Malone
Year

1946
Country

USA
Format

35mm
Running Time

114 minutes