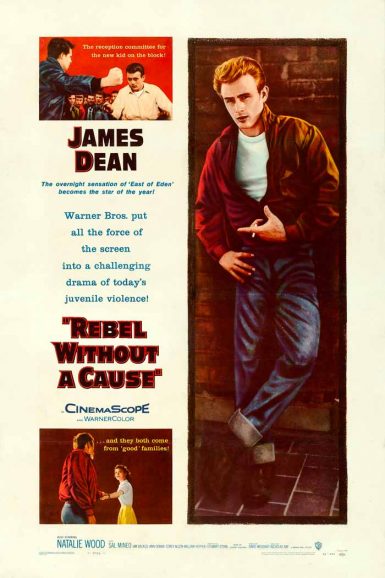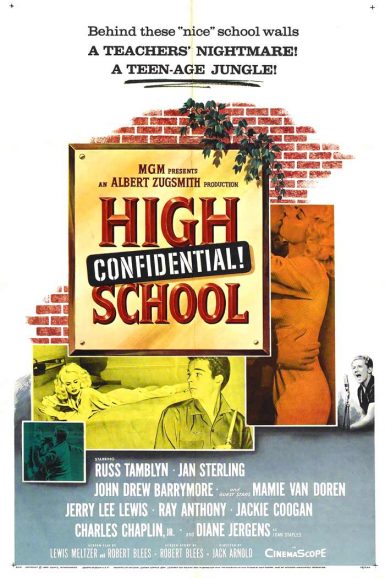 Rebel Without A Cause
High School Confidential!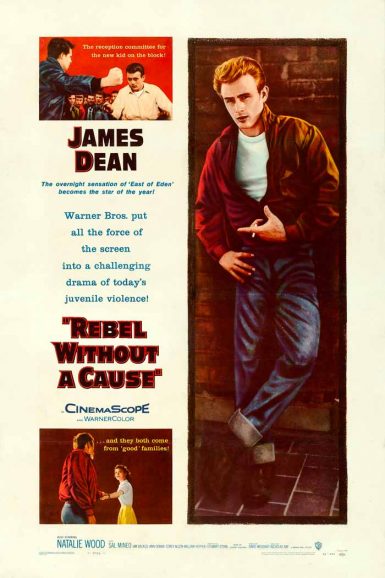 Rebel Without A Cause
While our allotment of advance tickets has sold out online, some additional tickets will be available to purchase at the door on a first come, first served basis on the night of the show. Box office & doors open roughly one hour before the first film. For shows that have sold out online, in-person ticket purchases are limited to 2 tickets per person.
Hollywood royalty James Dean is the lonely new kid in town, trying to make sense of the alienation he suffers from his parents, authority, and his new high school's in-crowd clique, in Nicholas Ray's watershed film Rebel Without a Cause (1955). The entire story takes place in a 24-hour period with Dean, Wood and Mineo drawn together as kindred spirits, and forever changed by tragedy. Natalie Wood is Judy, a young woman who's taken by Dean's vulnerability and quiet cool, as he accepts the "Chickie Run" challenge offered by Buzz – the school's main leader and tough guy. Sal Mineo's Plato is the most at risk teen of the group, as he seemingly struggles with his sexuality, and is quick to cast Dean in a father figure role. Filmed in vivid color and wide screen Cinemascope, the ensemble cast keeps pace with the method acting Dean, whose tragic death just a month before the film opened, forever solidified the legend of an acting giant.
"Enormously influential at the time, a milestone in the creation of new idea about young people. 4 Stars" – Roger Ebert
"This tale of tempestuous kids and their weird ways of conducting their social relations is tense with explosive incidents." – Bosley Crowther, The New York Times
"Almost free of mannerisms under Ray's pacing, Dean is very effective as a boy groping for adjustment to people. As a 'farewell' performance he leaves behind, with this film, genuine artistic regret, for here was a talent which might have touched the heights. His actor's capacity to get inside the skin of youthful pain, torment and bewilderment is not often encountered." – Variety
Garret Mathany discusses Rebel Without A Cause on the New Beverly blog.
Director

Nicholas Ray
Starring

James Dean, Natalie Wood, Sal Mineo, Jim Backus, Ann Doran, Corey Allen, Dennis Hopper
Year

1955
Country

USA
Format

35mm
Running Time

111 minutes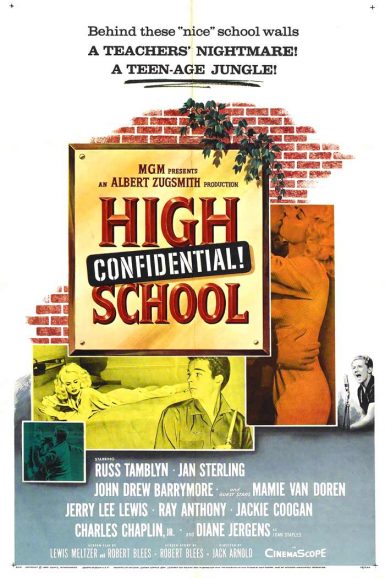 High School Confidential!
The jolting story of a teenage world no adult knows! Behind these "nice" school walls lies a teacher's nightmare: packs of troubled toughs out for kicks, fueled by the juvenile delinquent dream of sex, drugs, hot rods and rock 'n roll. Russ Tamblyn plays the new switchblade-wielding, slang-talking hipster in town, whose weed-dealing prowess quickly wins over the local gang. But is everything truly as it seems in this parable of pop-culture paranoia? Featuring an unforgettable Jerry Lee Lewis theme song, memorable supporting performances, and juicy slang-filled dialogue, High School Confidential! is a '50s teen exploitation classic!
Director

Jack Arnold
Starring

Russ Tamblyn, Jan Sterling, John Drew Barrymore, Mamie Van Doren, Diane Jergens, Michael Landon, Jerry Lee Lewis, Jackie Coogan
Year

1958
Country

USA
Format

35mm
Running Time

85 minutes