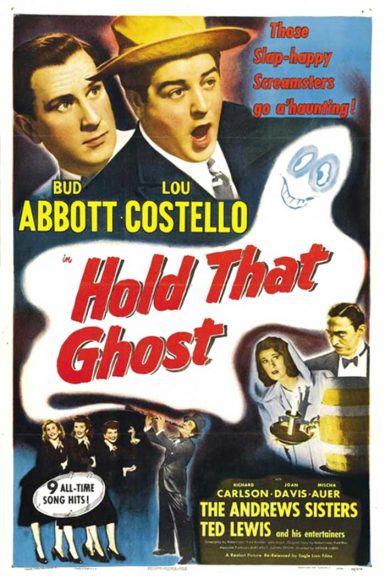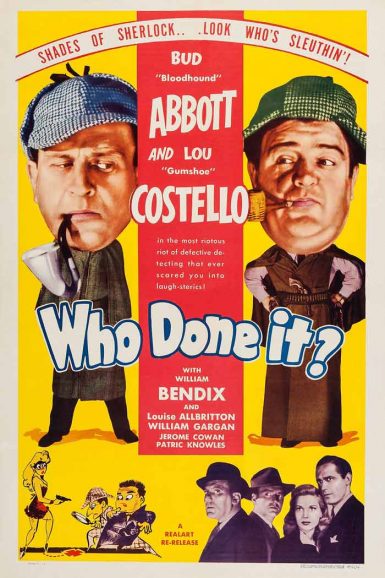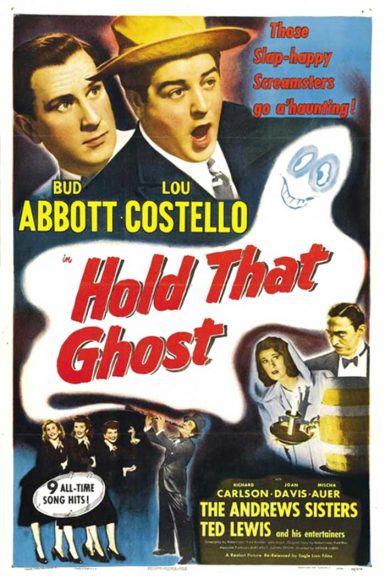 Hold That Ghost
Those slap-happy screamsters go a'haunting in Hold That Ghost when legendary duo Bud Abbott and Lou Costello inherit a mysterious house in which a mobster was murdered. Ghostly pranks, gut-busting gags & other hilarious shenanigans ensue in this comedy classic!
"The arrival of Hold That Ghost makes it three straight hits in a row for Abbott and Costello, judging by the gales of laughter which greeted their every turn, an accomplishment that is all the more remarkable because their present caper is freighted with practically all of the whiskered antics that go with a ghost-house setting." – Thomas M. Pryor, The New York Times
Director

Arthur Lubin
Writer

Screenplay by Robert Lees & Fred Rinaldo & John Grant
Starring

Bud Abbott, Lou Costello, Richard Carlson, Joan Davis, Mischa Auer, The Andrews Sisters
Year

1941
Country

USA
Format

35mm
Running Time

86 minutes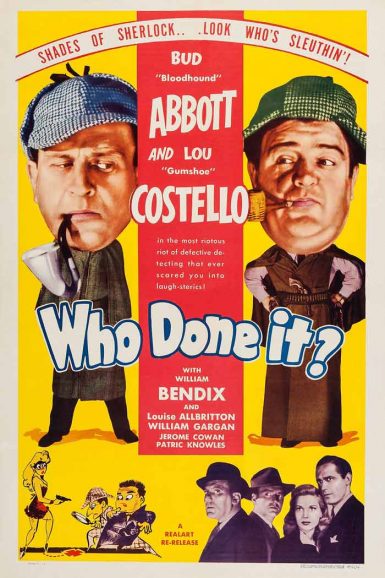 Who Done It? (1942)
Loose clues! Stupor sleuths! Guns! Gags! Gals! and Gumshoes! A corpse on their hands… killers on their trail… and cops in every corner! It's the most riotous riot of defective detecting that ever took you into laugh-sterics! Two soda jerks with big dreams of writing for the radio find themselves in the middle of a real murder mystery when the station owner is mysteriously killed. Abbott & Costello star in a hilarious send-up.
Director

Erle C. Kenton
Writer

Screenplay by Stanley Roberts and Edmund Joseph and John Grant
Starring

Budd Abbott, Lou Costello, Patric Knowles, William Gargan, Louise Allbritton, Thomas Gomez, William Bendix
Year

1942
Country

USA
Format

35mm
Running Time

77 minutes
Upcoming Showtimes
9:25 pm
Who Done It? (1942)