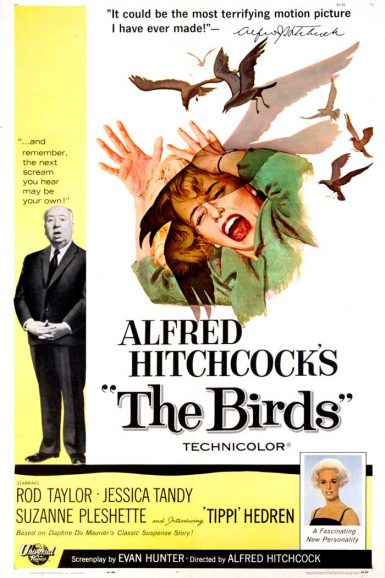 The Birds (IB Tech Print)
Vibrant I.B. Technicolor 35mm Print!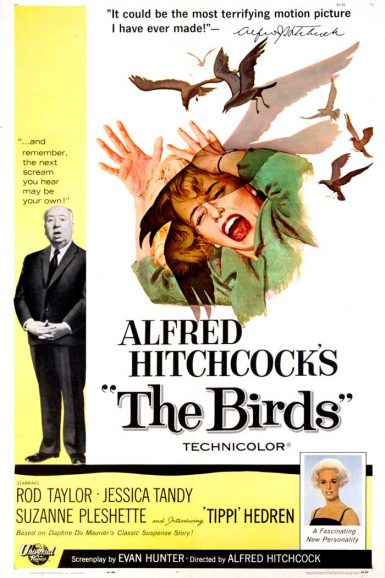 The Birds (IB Tech Print)
While our allotment of advance tickets has sold out online, some additional tickets will be available to purchase at the door on a first come, first served basis on the night of the show. Box office & doors open roughly one hour before showtime. For shows that have sold out online, in-person ticket purchases are limited to 2 tickets per person.
"It could be the most terrifying motion picture I have ever made" exclaims the master of suspense Alfred Hitchcock on the poster for his avian horror classic. When a young socialite (Tippi Hedren) heads to Bodega Bay in pursuit of an eligible bachelor (Rod Taylor), they soon find their budding romance threatened by feathered flocks in a frenzy, mysteriously preying on the town residents. As the tension builds and the seagulls shockingly start swooping, no one is safe from The Birds!
"A horror film that should raise the hackles on the most courageous and put goose-pimples on the toughest hide." – Bosley Crowther, The New York Times
"I haven't had this kind of merriment since King Kong toppled from the Empire State Building." – Richard L. Coe, The Washington Post
"[The Birds] is fierce and Freudian as well as great cinematic fun, with ample fodder for the amateur psychologist following up on Hitch's tortuous involvement with his leading ladies." – Tom Milne, Time Out
Director

Alfred Hitchcock
Starring

Rod Taylor, Tippi Hedren, Jessica Tandy, Suzanne Pleshette, Veronica Cartwright
Year

1963
Country

USA
Format

I.B. Technicolor 35mm
Running Time

119 minutes