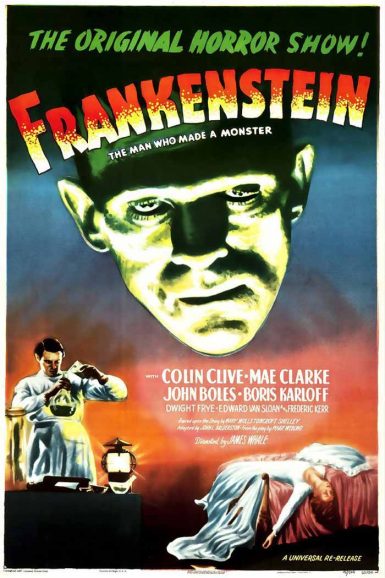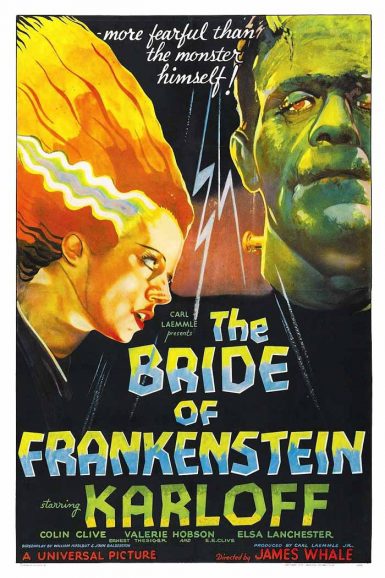 Frankenstein
The Bride of Frankenstein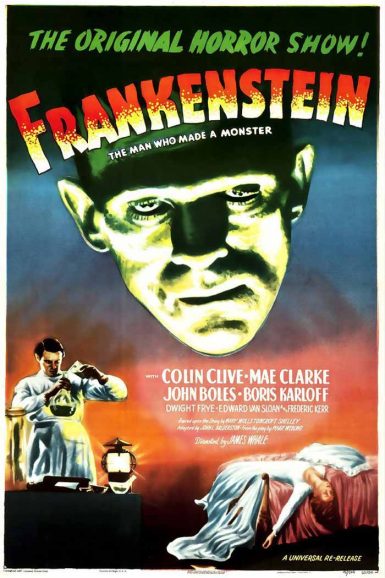 Frankenstein
While our allotment of advance tickets has sold out online, some additional tickets will be available to purchase at the door on a first come, first served basis on the night of the show. Box office & doors open approximately 1 hour before showtime. For shows that have sold out online, in-person ticket purchases are limited to 2 tickets per person.
An unforgettable masterpiece, the original Frankenstein stars Boris Karloff as the screen's most tragic and iconic monster in what many consider to be the greatest horror film ever made. Tampering with life and death, Dr. Frankenstein (Colin Clive) pieces together salvaged body parts to bring a human monster to life. The mad scientist's dreams are shattered by his creation's violent rage as the monster awakens to a world in which he is unwelcome. Featuring groundbreaking makeup by Jack Pierce, director James Whale's adaptation of Mary Shelley's masterpiece novel blends themes of horror, isolation, and compassion, and remains one of the most shocking movies of all time. (Universal Studios)
Director

James Whale
Writer

Screen play by Garrett Fort & Francis Edward based upon the story by Mary Wollstonecraft Shelley, adapted by John L. Balderston from the play by Peggy Webling
Starring

Colin Clive, Mae Clarke, John Boles, Boris Karloff, Dwight Frye, Edward van Sloan, Frederick Kerr
Year

1931
Country

USA
Format

35mm
Running Time

70 minutes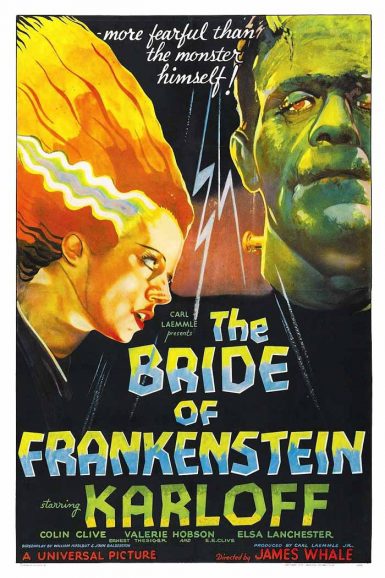 The Bride of Frankenstein
Picking up where the first film left off, Boris Karloff reprises his role as the misunderstood Monster in one of the greatest horror films ever made, The Bride of Frankenstein! Goaded by Dr. Pretorius, a scientist even madder than himself, Dr. Frankenstein sets out to make a mate for his creation, with tragic results. Director James Whale's masterpiece is a mix of shocking imagery, wry humor, surprising empathy and pure terror, a film that still feels as fresh today as when it was made in 1935.
"A must for anyone with even a passing interest in horror, this not only confirms Karloff as a master of the genre, but also shows, more than any of Whale's subsequent films, the influence of his vision." – Film4
"Whale's erudite genius brings it all together. He sculpts every nuance of self-parody, social satire, horror, humour, wit and whimsy into a dazzling whole, keeping every one of his fantastical plates spinning until the tragic, inevitable finale." – Simon Braund, Empire
"The best of the Frankenstein movies – a sly, subversive work that smuggled shocking material past the censors by disguising it in the trappings of horror. Some movies age; others ripen. Seen today, Whale's masterpiece is more surprising than when it was made because today's audiences are more alert to its buried hints of homosexuality, necrophilia and sacrilege. But you don't have to deconstruct it to enjoy it; it's satirical, exciting, funny, and an influential masterpiece of art direction." – Roger Ebert
Director

James Whale
Writer

Screenplay by William Hurlbut & John Balderston
Starring

Boris Karloff, Elsa Lanchester, Colin Clive, Valerie Hobson, Ernest Thesiger, Gavin Gordon, Douglas Walton
Year

1935
Country

USA
Format

35mm
Running Time

75 minutes
Upcoming Showtimes
9:10 pm
The Bride of Frankenstein