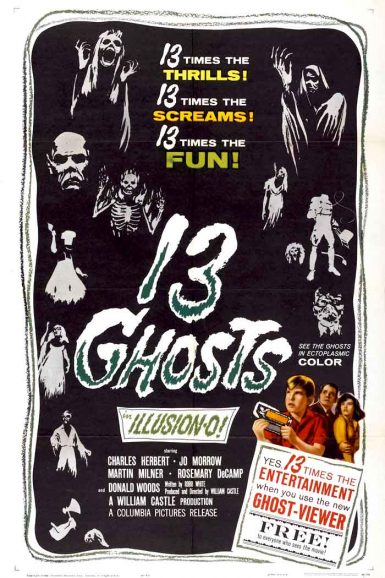 House on Haunted Hill
13 Ghosts
House on Haunted Hill
While our allotment of advance tickets has sold out online, some additional tickets will be available to purchase at the door on a first come, first served basis on the night of the show. Box office & doors open roughly one hour before the first film. For shows that have sold out online, in-person ticket purchases are limited to 2 tickets per person.
In William Castle's spine-tingling super-shocker, an eccentric millionaire (a delightfully devilish Vincent Price) invites a group of strangers to the party of a lifetime in the most horrifying house in the world. With a promise of a fortune if they can survive the night, the only way these house guests will leave is rich or dead. Do you dare enter?
Director

William Castle
Writer

Robb White
Starring

Vincent Price, Carol Ohmart, Richard Long, Alan Marshal, Carolyn Craig, Elisha Cook Jr.
Year

1959
Country

USA
Format

35mm
Running Time

75 minutes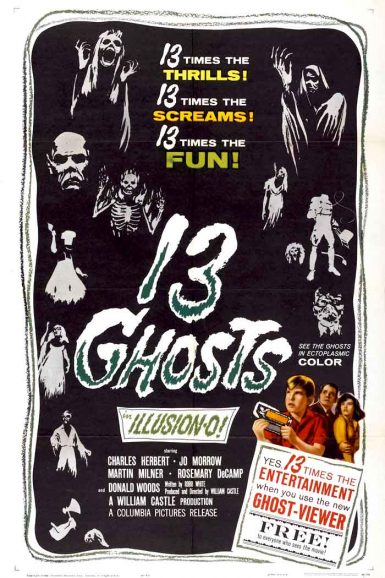 13 Ghosts
13 times the thrills! 13 times the scares! 13 times the fun! William Castle's supernatural scarefest is a spectacularly entertaining spookshow packed with ghostly glee and paranormal pleasures. When the reclusive Dr. Zorba dies, he leaves his mansion to his nephew's family. But with the property comes the late doctor's chilling collection of spectral inhabitants… as well as the promise of a hidden fortune.
Director

William Castle
Writer

Robb White
Starring

Charles Herbert, Jo Morrow, Martin Milner, Rosemary DeCamp, Donald Woods, Margaret Hamilton
Year

1960
Country

USA
Format

35mm
Running Time

84 minutes
Upcoming Showtimes
6:30 pm
House on Haunted Hill