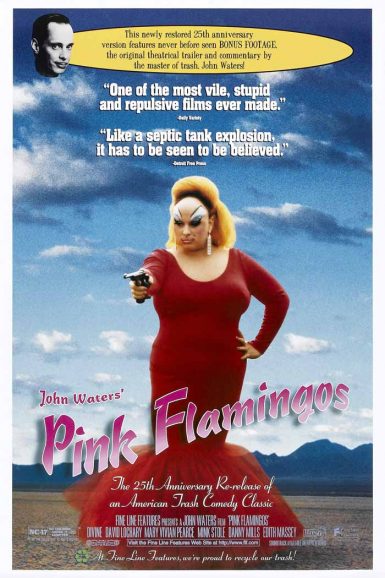 Pink Flamingos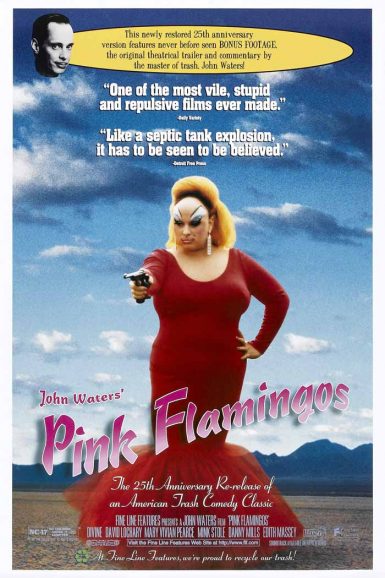 Pink Flamingos
While our allotment of advance tickets has sold out online, some additional tickets will be available to purchase at the theater on a first come, first served basis on the night of the show. For screenings that have sold out online, in-person ticket purchases are limited to 2 tickets per person.
An undiluted assault on taste and decency, John Waters' landmark midnight movie masterpiece Pink Flamingos is the most outlandishly outré, gloriously funny slice of Baltimore trash ever committed to film! Divine and the Dreamlanders irregulars, including David Lochary, Mary Vivian Pearce, Mink Stole, and Edith Massey, put on a parade of perversity to be crowned the Filthiest Person Alive.
"One of the most vile, stupid and repulsive films ever made." – Daily Variety
"Like a septic tank explosion, it has to be seen to be believed." – Detroit Free Press
"Written and directed with pure joy and a new kind of nonsense." – Robert Downey Sr.
"Pink Flamingos is the sickest movie ever made. And one of the funniest." – Interview Magazine
Director

John Waters
Writer

John Waters
Starring

Divine, David Lochary, Mary Vivian Pearce, Mink Stole, Danny Mills, Edith Massey
Year

1972
Country

USA
Format

35mm
Running Time

107 minutes