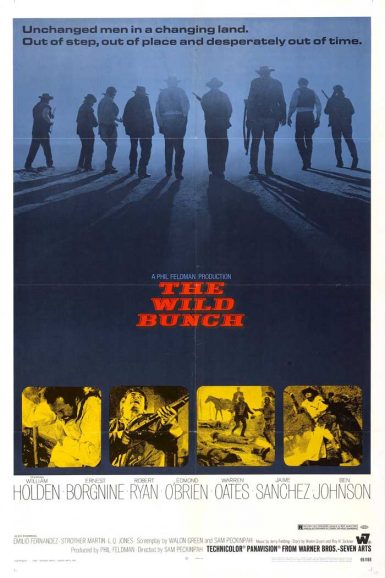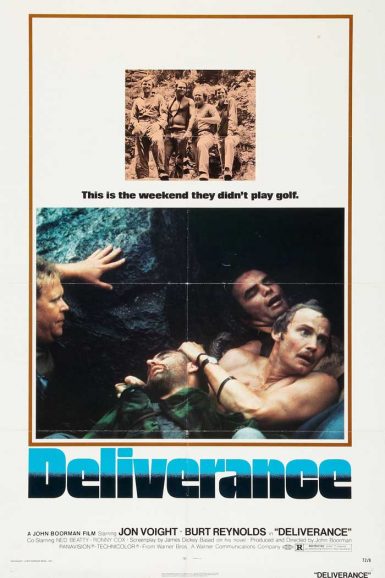 The Wild Bunch (IB Tech Print)
Vibrant IB Technicolor 35mm print!
Deliverance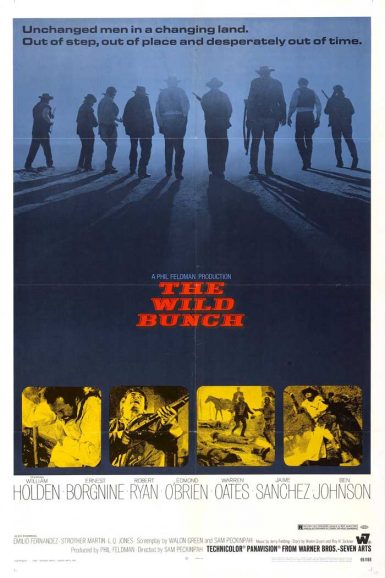 The Wild Bunch (IB Tech Print)
While our allotment of advance tickets has sold out online, some additional tickets will be available to purchase at the door on a first come, first served basis on the night of the show. Box office & doors open roughly one hour before the first film. For shows that have sold out online, in-person ticket purchases are limited to 2 tickets per person.
Director Sam Peckinpah redefines the western genre by moving it away from the old tropes of cattle rustlers, showdowns at high noon, land grabbing barons with hired guns, and Indians shooting arrows at circled wagons, with an unrelenting look into the future of violence on the cinematic horizon with The Wild Bunch. A ridden-hard-and-put-away-wet looking crew of grizzled character acting legends (William Holden, Ernest Borgnine, Ben Johnson and Warren Oates), in all their hung over looking, guts teaming over belt buckles, tequila swilling, Mexican prostitute loving glory – who live by a code of loyalty to each other that they'll defend in blood, are tracked by a greedy posse (Strother Martin and L.Q. Jones) led by a former member of their crew, the begrudged Robert Ryan. Ultimately, The Wild Bunch are "Nine Men Who Came Too Late and Stayed Too Long."
"It's a traumatic poem of violence, with imagery as ambivalent as Goya's." – Pauline Kael
"At once strongly metaphoric and shamelessly visceral, Peckinpah's saga of outlaws on the lam is arguably the strongest Hollywood movie of the 1960s—a western that galvanizes the clichés of its dying genre with a shocking jolt of delirious carnage." – J. Hoberman, Village Voice
Director

Sam Peckinpah
Starring

William Holden, Ernest Borgnine, Robert Ryan, Edmond O'Brien, Warren Oates, Jaime Sánchez, Ben Johnson, Emilio Fernández, Strother Martin and L.Q. Jones
Year

1969
Rated

R
Country

USA
Format

IB Technicolor 35mm
Running Time

141 minutes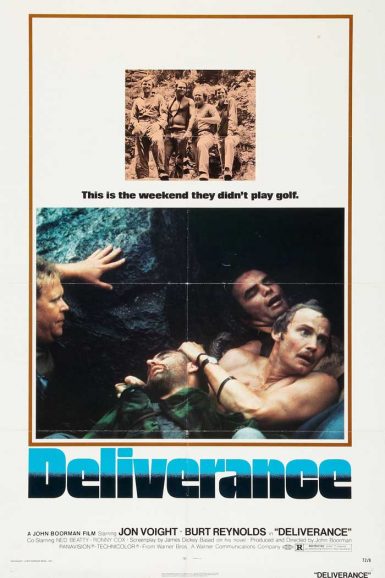 Deliverance
The river may be full of secrets, but they always wash up. A weekend of adventure and bonding makes a grim turn into a fight for survival in Deliverance. Featuring one of the most infamous scenes in cinema history, production of the film notoriously saw director John Boorman and screenwriter James Dickey brawl over script changes, while the actors performed their own death-defying stunts in the water. Jon Voight, Ned Beatty, Burt Reynolds, and Ronny Cox were the men who didn't go golfing that weekend.
"It is a gripping horror story that at times may force you to look away from the screen, but it is so beautifully filmed that your eyes will eagerly return." – Gene Siskel, Chicago Tribune
"Each of the four lead performances is exceptional, none more so than Burt Reynolds' beefy, supercilious Lewis." – TIME Magazine
"An engrossing adventure, a demonstrable labor of love whose pains have largely paid off in making us empathize with stirring deeds in a setting of cruel beauty. Reynolds suggests that given the right material he is more than just another pretty hand and Voight, in the most substantial role he has had since Midnight Cowboy proves again what a versatile actor he is. Ned Beatty and Ronny Cox are excellent in the briefer roles as the other voyagers." – Charles Champlin, Los Angeles Times
Kim Morgan interviews the cast of Deliverance on the New Beverly blog.
Director

John Boorman
Writer

James Dickey
Starring

Jon Voight, Burt Reynolds, Ned Beatty, Ronny Cox
Year

1972
Rated

R
Country

USA
Format

35mm
Running Time

109 minutes