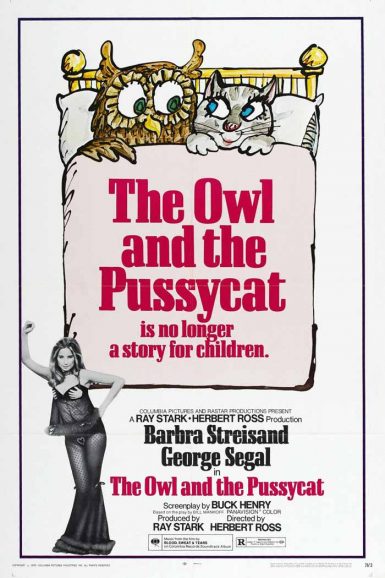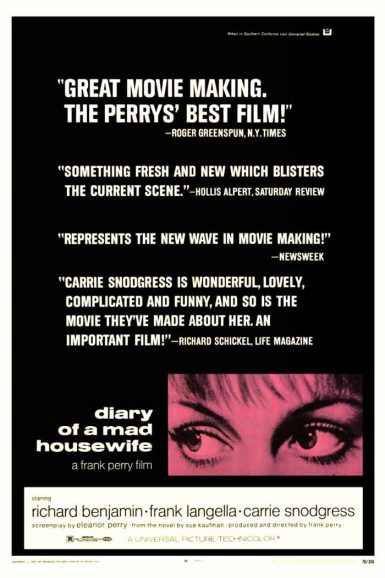 The Owl and the Pussycat
Diary of a Mad Housewife
Buy Tickets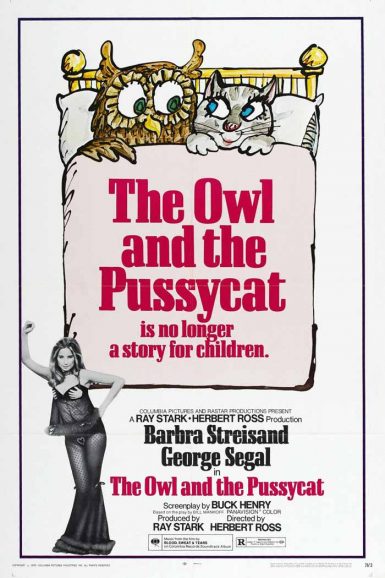 The Owl and the Pussycat
Original R-Rated Theatrical Release Version!
Opposites attract in this outrageously funny farce! When a stuffy aspiring author inadvertently gets his fast-talking actress-model neighbor evicted, it will hysterically turn their living situations topsy turvy, while they embark on a rapid-fire romantic rollercoaster of abrasive annoyance and explosive adoration. A radiant Barbra Streisand and a deadpan George Segal star, while Buck Henry's sharp screenplay adapts the Bill Manhoff play.
Director

Herbert Ross
Writer

Screenplay by Buck Henry based on the play by Bill Manhoff
Starring

Barbra Streisand, George Segal, Robert Klein, Allen Garfield
Year

1970
Rated

R
Country

USA
Format

35mm
Running Time

95 minutes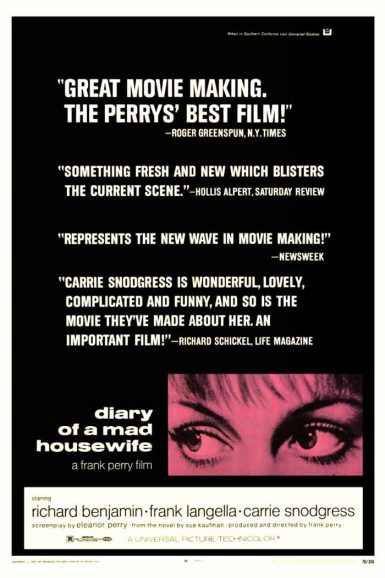 Diary of a Mad Housewife
Frank Perry once again directs an Eleanor Perry script adaptation, this time from Sue Kaufman's eponymous novel. Richard Benjamin (Portnoy's Complaint, the original Westworld) is an ambitious lawyer grabbing for the top rung of the corporate ladder in New York's high society. His mission reaches fetishized heights as he dominates his beleagured wife (Carrie Snodgress) and two daughters, so much so that Snodgress takes a secret lover (Frank Langella), a man as egocentric as her hubby, in a misguided attempt to blow off steam. This cinematic dissection of big city, middle class family life is expertly balanced between merciless satire and heartrending drama, never losing its moorings. Snodgress received a Best Actress Oscar nomination and won a Golden Globe in the same category. Keep your eyes peeled for a startling, early appearance by Alice Cooper in a wild party scene. In an unrelated musical footnote, Neil Young reportedly was so smitten by Snodgress' performance, he penned his song "A Man Needs a Maid" after seeing the film, and it led to several years of romance between the two.
"Diary of a Mad Housewife escapes its genre, its understanding of relationships and motives, and becomes the kind of present and lucid mystery that signifies great movie making." – Roger Greenspun, The New York Times
Director

Frank Perry
Writer

Screenplay by Eleanor Perry from the novel by Sue Kaufman
Starring

Richard Benjamin, Frank Langella, Carrie Snodgress, Lorraine Cullen
Year

1970
Rated

R
Country

USA
Format

35mm
Running Time

95 minutes