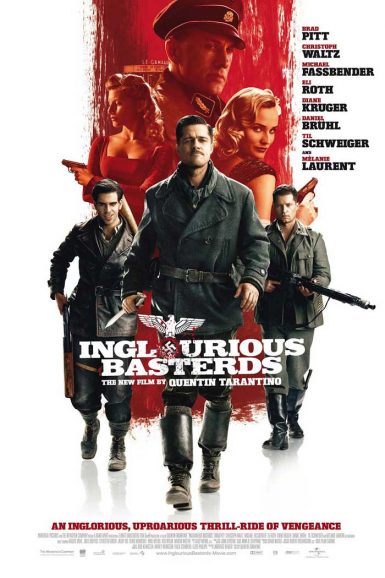 Inglourious Basterds
Gorgeous 35mm print from Quentin Tarantino's personal archive!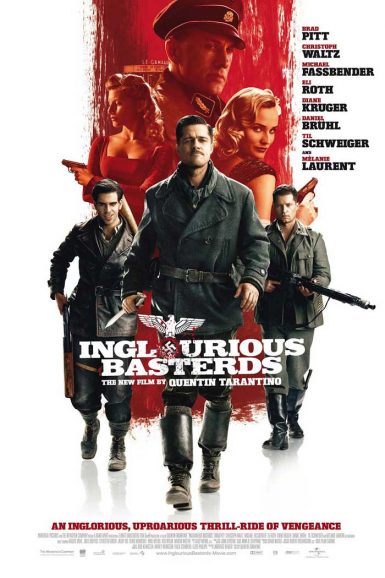 Inglourious Basterds
While our allotment of advance tickets has sold out online, some additional tickets will be available to purchase at the door on a first come, first served basis on the night of the show. For shows that have sold out online, in-person ticket purchases are limited to 2 tickets per person.
Once upon a time in Nazi occupied France… You haven't seen war until you've seen it through the eyes of the Basterds, a team of Jewish-American soldiers on a thrill-ride of vengeance killing Nazis and spreading fear throughout the Third Reich, whose path crosses with a young Parisian theater owner in Quentin Tarantino Oscar-winning and action-packed epic!
"Quentin Tarantino's Inglourious Basterds is a big, bold, audacious war movie that will annoy some, startle others and demonstrate once again that he's the real thing, a director of quixotic delights. 4 Stars." – Roger Ebert
"Energetic, inventive, swaggering fun, Quentin Tarantino's Inglourious Basterds is a consummate Hollywood entertainment—rich in fantasy and blithely amoral." – J. Hoberman, Village Voice
"It's not enough to say that Inglourious Basterds is Quentin Tarantino's best movie. It's the first movie of his artistic maturity, the film his talent has been promising for more than 15 years. The picture contains all the things his fans like about Tarantino – the wit, the audacity, the sudden violence – but this movie's emotional core and bigness of spirit are new." – Mick LaSalle, SF Gate
Read a Kim Morgan interview with Quentin Tarantino on the New Beverly blog.
Director

Quentin Tarantino
Writer

Quentin Tarantino
Starring

Brad Pitt, Christoph Waltz, Michael Fassbender, Eli Roth, Diane Kruger, Daniel Brühl, Til Schweiger, Mélanie Laurent
Year

2009
Rated

R
Country

USA
Format

35mm
Running Time

153 minutes