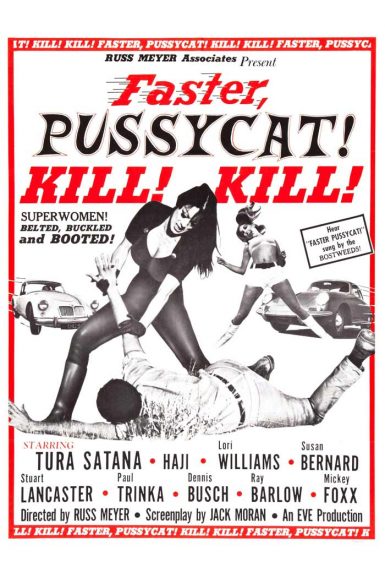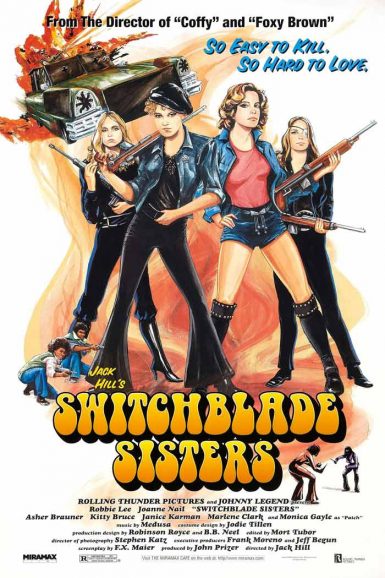 Faster, Pussycat! Kill! Kill!
Switchblade Sisters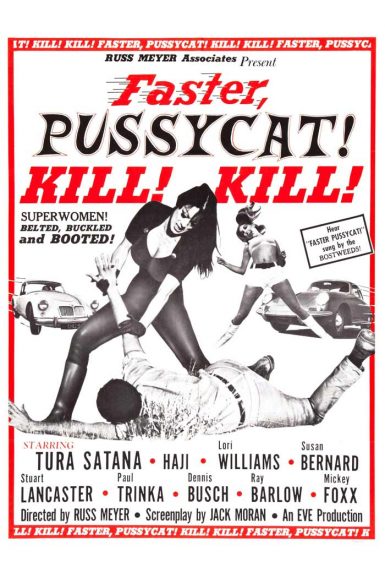 Faster, Pussycat! Kill! Kill!
While our allotment of advance tickets has sold out online, some additional tickets will be available to purchase at the door on a first come, first served basis on the night of the show. Box office & doors open approximately 1 hour before showtime. For shows that have sold out online, in-person ticket purchases are limited to 2 tickets per person.
Ladies and gentlemen – welcome to violence! Celebrate the greatest girl-power grindhouse explosion to ever ignite the screen as well as pay tribute to the legendary sexploitation maestro and breastman extraordinaire behind it all, the King of the Nudies himself, Russ Meyer! Go-Go for a wild ride with three buxom, larger-than-life superwomen, Tura Satana, Haji & Lori Williams, as they Watusi across the Mojave Desert destroying every man who dares stand in their way. These outlaw hellcats drive fast, kick ass and look great while pushing the boundaries of being bad. Full of pop imagery, exuberant action and kinetic excitement, Faster, Pussycat! Kill! Kill! is one of the most iconic cult films EVER! Don't miss it!
"Faster, Pussycat! Kill! Kill! is, beyond a doubt, the best movie ever made. It is possibly better than any film that will be made in the future." – John Waters
Director

Russ Meyer
Starring

Tura Satana, Haji, Lori Williams, Susan Bernard, Stuart Lancaster, Paul Trinka, Dennis Busch, Ray Barlow, Mickey Foxx
Year

1965
Country

USA
Format

35mm
Running Time

83 minutes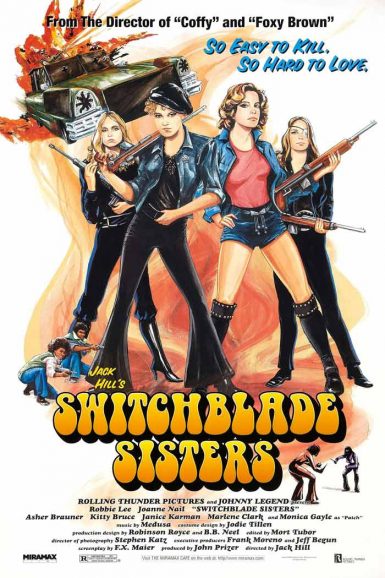 Switchblade Sisters
Jack Hill's Switchblade Sisters is the outlandish, action-packed story of a tough gang of teenage girls – the all-female Dagger Debs – who are looking for love and fighting for turf on the mean streets of the city. Bad girls to the core, these impossibly outrageous high school hoodlums go where they want… and create mayhem wherever they go! A riotously entertaining mix of sex, jealousy and massive firepower that critics loved – don't miss your chance to see one of the wildest films ever made! (Rolling Thunder Pictures)
Director

Jack Hill
Starring

Robbie Lee, Joanne Nail, Asher Brauner, Kitty Bruce, Janice Karman, Marlene Clark, Monica Gayle
Year

1975
Rated

R
Country

USA
Format

35mm
Running Time

90 minutes