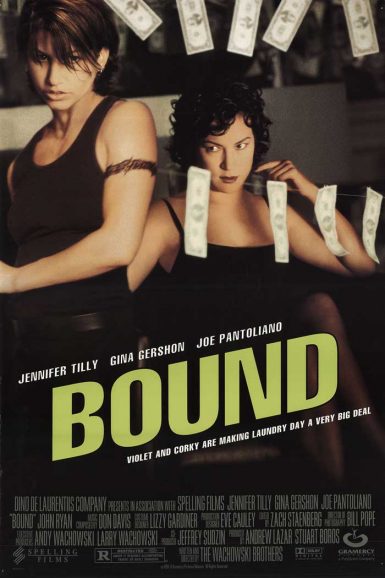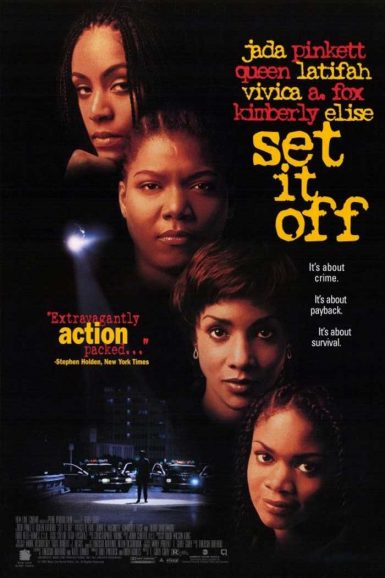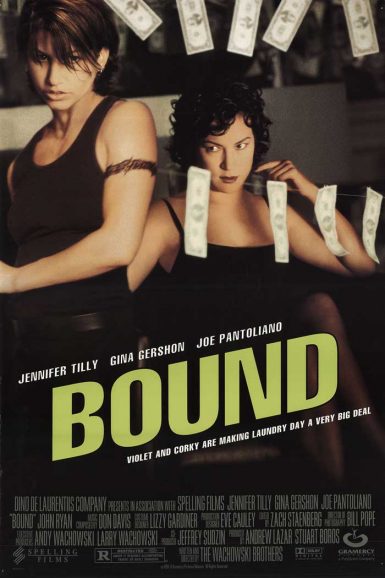 Bound
When Corky (Gina Gershon) and Violet (Jennifer Tilly) lock eyes in their apartment elevator, it ignites a red-hot romance between the tough ex-con and the mobster's moll. Now the passionate pair will try to pull off an elaborate scheme to steal two million dollars in mafia money. But Violet's psychotic mafioso beau (Joe Pantoliano) stands between the couple and their chance at new lives. The Wachowskis' directorial debut, Bound, is a stunner, a stylishly directed, cleverly scripted neo-noir thrill ride.
"Bound is one of those movies that works you up, wrings you out and leaves you gasping. It's pure cinema, spread over several genres." – Roger Ebert
Director

The Wachowskis
Writer

The Wachowskis
Composer

Don Davis
Starring

Jennifer Tilly, Gina Gershon, Joe Pantoliano, John Ryan, Christopher Meloni
Year

1996
Rated

R
Country

USA
Format

35mm
Running Time

109 minutes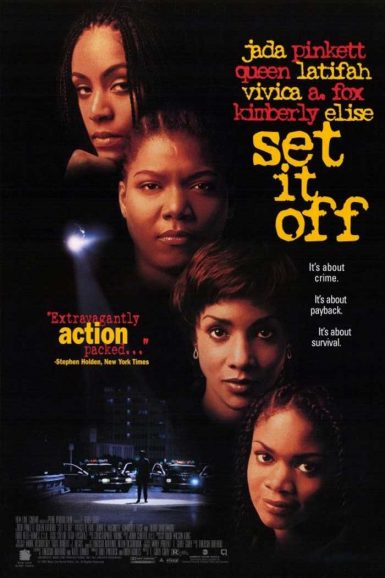 Set It Off
The only breaks you get are the ones you take. Jada Pinkett, Queen Latifah, Vivica A. Fox, and Kimberly Elise star in a searing story about four friends who push back against the racial, gender and class divides of a still smoldering Los Angeles by embarking on a series of bank robberies. Carefully crafting well-detailed characters while balancing the tightrope of heist film thrills, the sophomore feature from Friday director F. Gary Gray is one of the great, unheralded genre classics of the '90s.
"Set It Off is advertised as a thriller about four black women who rob banks. But it's a lot more than that. It creates a portrait of the lives of these women that's so observant and informed; it's like Waiting to Exhale with a strong jolt of reality. The movie surprised and moved me: I expected a routine action picture and was amazed how much I started to care about the characters." – Roger Ebert
"You can hear echoes of Boyz N the Hood, Thelma & Louise, and even Butch Cassidy and the Sundance Kid in Set It Off, but none of those influences account for the very particular, very engaging dark and loose qualities of this fresh piece of work from 27-year-old F. Gary Gray." – Lisa Schwarzbaum, Entertainment Weekly
Director

F. Gary Gray
Writer

Screenplay by Takashi Bufford and Kate Lanier, Story by Takashi Bufford
Starring

Jada Pinkett, Queen Latifah, Vivica A. Fox, Kimberly Elise
Year

1996
Rated

R
Country

USA
Format

35mm
Running Time

122 minutes