June 25: The Thin Red Line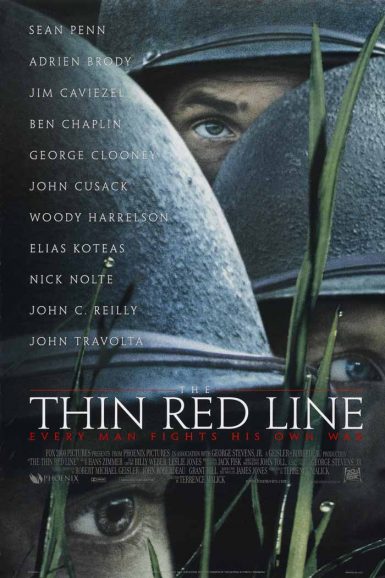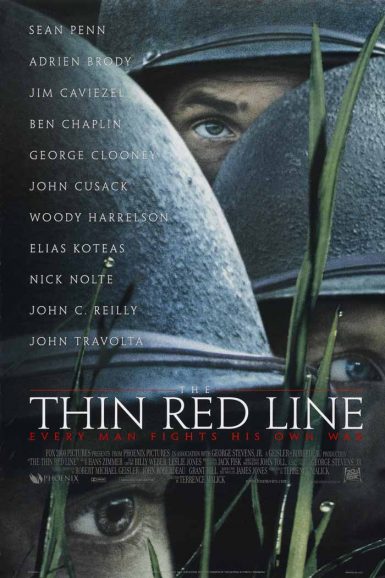 The Thin Red Line
Every man fights his own war. During the Guadalcanal campaign of WWII, the men of C Company will be forced to contemplate life and death during vicious battle and quiet reprieves, backed by the natural beauty of the South Pacific. Following his powerhouse debut in the 1970s with Badlands and Days of Heaven, writer-director Terrence Malick took a 20-year hiatus, spectacularly returning with this meditative, philosophical exploration of man and war.
Featuring a sprawling cast that includes some of its generation's greatest actors, including Sean Penn, Adrien Brody, Jim Caviezel, Ben Chaplin, George Clooney, John Cusack, Woody Harrelson, Elias Koteas, Nick Nolte, John C. Reilly, and John Travolta.
Nominated for seven Academy Awards: Best Picture, Best Director, Best Adapted Screenplay, Best Cinematography, Best Film Editing, Best Original Dramatic Score, and Best Sound.
Director

Terrence Malick
Writer

Screenplay by Terrence Malick based on the novel by James Jones
Starring

Sean Penn, Adrien Brody, Jim Caviezel, Ben Chaplin, George Clooney, John Cusack, Woody Harrelson, Elias Koteas, Nick Nolte, John C. Reilly, John Travolta
Year

1998
Rated

R
Country

USA
Format

35mm
Running Time

171 minutes
Upcoming Showtimes
6:30 pm
The Thin Red Line