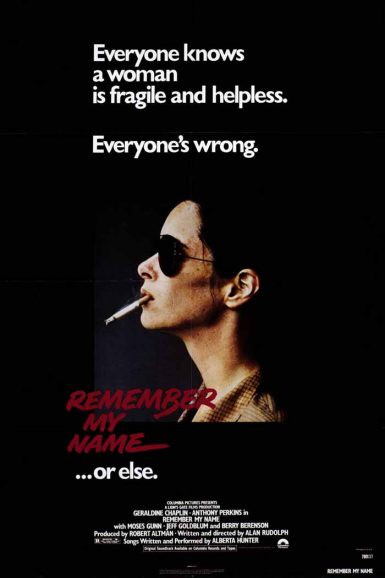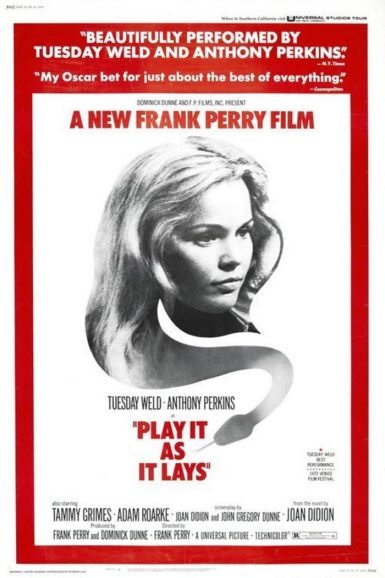 Remember My Name
Play It As It Lays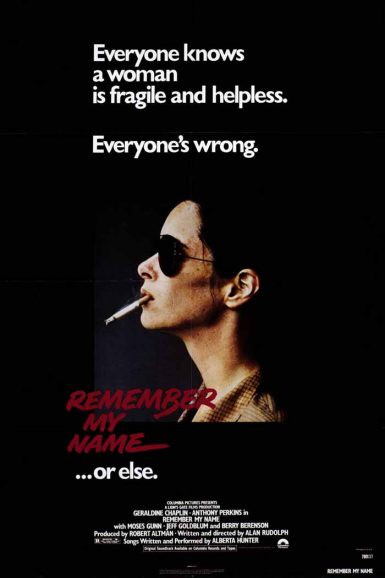 Remember My Name
While our allotment of advance tickets has sold out online, some additional tickets will be available to purchase at the door on a first come, first served basis on the night of the show. Box office & doors open roughly one hour before the first film. For shows that have sold out online, in-person ticket purchases are limited to 2 tickets per person.
A haunting, dream-like puzzle of obsession from writer/director Alan Rudolph and producer Robert Altman, Remember My Name follows an ex-con (an unsettling, absolutely mesmerizing Geraldine Chaplin) fresh out of prison who mysteriously turns life upside down for a construction worker (Anthony Perkins) and his wife (Perkin's real-life wife Berry Berenson). Featuring memorable supporting performances from Moses Gunn, Jeff Goldblum, and Alfre Woodard, plus stellar cinematography across Los Angeles by Tak Fujimoto.
Marc Edward Heuck writes about Remember My Name on the New Bev blog.
Director

Alan Rudolph
Writer

Alan Rudolph
Starring

Geraldine Chaplin, Anthony Perkins, Moses Gunn, Berry Berenson, Jeff Goldblum, Tim Thomerson, Alfre Woodard
Year

1978
Rated

R
Country

USA
Format

35mm
Running Time

94 minutes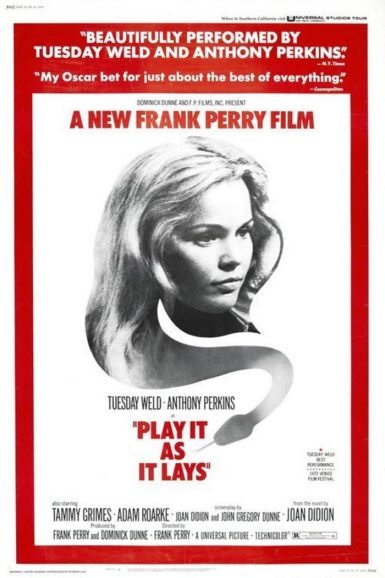 Play It As It Lays
Frank Perry adapts Joan Didion's acclaimed debut novel Play It As It Lays, crafting a lyrical ode to an American angel of death and desire. Maria Wyeth's built a successful acting career from humble small town root, but her life falls apart behind the scenes. Her abusive husband is also her director (Adam Roarke), she's pregnant with an unwanted child pre-Roe V. Wade, and the 4-year-old daughter she does have is institutionalized. She can't help but aimlessly drive L.A. freeways, bitch casually with depressed, gay best friend, B.Z. (Anthony Perkins), and lounge, lethargic and lilting, everywhere in between. A scathing scream into the bitter, dizzying emptiness of it all, this film is as beautiful as it is cruel.
Kim Morgan discusses Play It As It Lays on the New Beverly blog.
Director

Frank Perry
Writer

Joan Didion and John Gregory Dunne based on the novel by Joan Didion
Starring

Tuesday Weld, Anthony Perkins, Tammy Grimes, Adam Roarke
Year

1972
Rated

R
Country

USA
Format

35mm
Running Time

99 minutes
Upcoming Showtimes
9:35 pm
Play It As It Lays