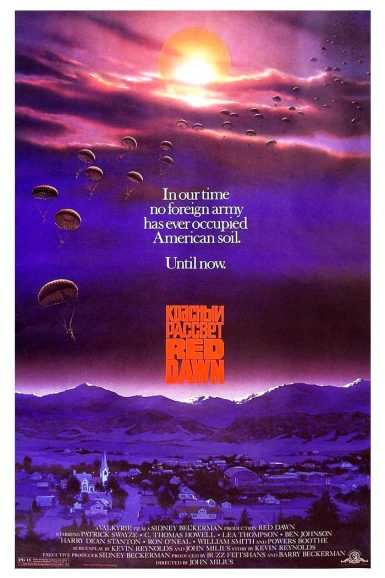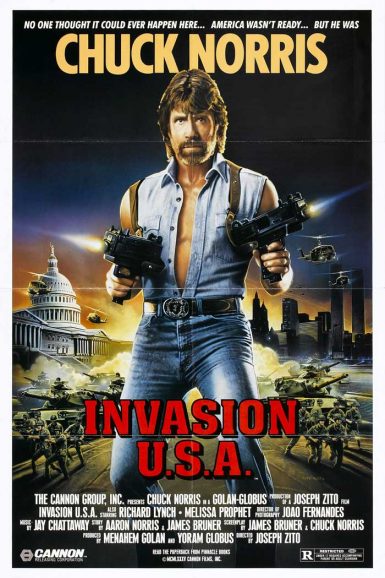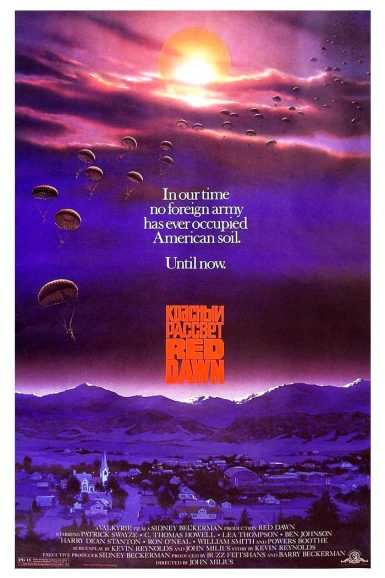 Red Dawn
A Red Dawn rises when Russian and Cuban paratroopers descend from the sky and occupy the small town of Calumet, Colorado. A stellar cast of young-adult, 1980's acting-juggernauts (Patrick Swayze, C. Thomas Howell, Charlie Sheen, Lea Thompson and Jennifer Grey), form a small guerrilla resistance known as "The Wolverines," named after their high-school mascot. The men in town are interned at the drive-in, some of which are executed in retaliation for the havoc and casualties the Wolverines are causing. Harry Dean Stanton plays father to both Swayze and Sheen, imploring them through the drive-in fence to avenge his impending death. The brilliant Hollywood barbarian John Milius pulls the pin on some explosive combat sequences – directing a script that he co-wrote with Kevin Reynolds. Acting legends Ben Johnson, and the late Powers Boothe, shine as they provide key information and sage advice for the teenage freedom fighters that won't go down without a fight.
"The film survives better today than such relics of the '80s as the Rambo movies, mainly due to the visceral force with which the director imbues his characters, young actors (including the still-green Charlie Sheen, Lea Thompson, and Jennifer Grey), and James Fenimore Cooperish antics." – Fernando F. Croce, Slant
"To any sniveling lily-livers who suppose that John Milius, having produced Uncommon Valor, directed Conan the Barbarian and written Apolcalypse Now, has already reached the pinnacle of movie-making machismo, a warning: Mr. Milius's Red Dawn is more rip-roaring than anything he has done before. Here is Mr. Milius at his most alarming, delivering a rootin'-tootin' scenario for World War III." – Janet Maslin, The New York Times
Director

John Milius
Writer

John Milius and Kevin Reynolds
Starring

Patrick Swayze, C. Thomas Howell, Lea Thompson, Charlie Sheen, Jennifer Grey, Harry Dean Stanton, Ron O'Neal, William Smith, Powers Boothe
Year

1984
Rated

PG-13
Country

USA
Format

35mm
Running Time

114 minutes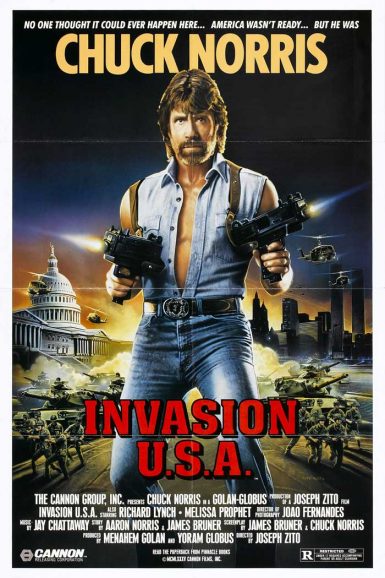 Invasion USA
America wasn't ready… but HE was. As a horde of Christmas-hating communist terrorists hit the shores of Florida just in time for the holidays, retired CIA operative Matt Hunter (Chuck Norris) is called back to duty to battle an old foe, their Soviet leader Mikhail Rostov (Richard Lynch). Co-written by Chuck himself, this explosion of patriotic cheer is one of the greatest gifts Cannon Films ever gave to the '80s, a ridiculously entertaining slice of full-blooded cinematic machismo.
"The ultimate Chuck Norris movie. The only way for this movie to get made was for it to be directed by Joseph Zito (Missing in Action, The Prowler), and for it to be released by Cannon in 1985. Any other director, and any other studio and year, and this movie would not exist." – David J. Moore, The Good the Tough & the Deadly
Director

Joseph Zito
Writer

James Bruner & Chuck Norris
Starring

Chuck Norris, Richard Lynch, Melissa Prophet, Alexander Zale, Billy Drago
Year

1985
Rated

R
Country

USA
Format

35mm
Running Time

107 minutes