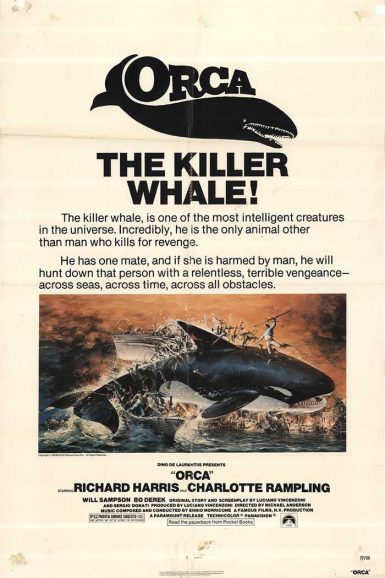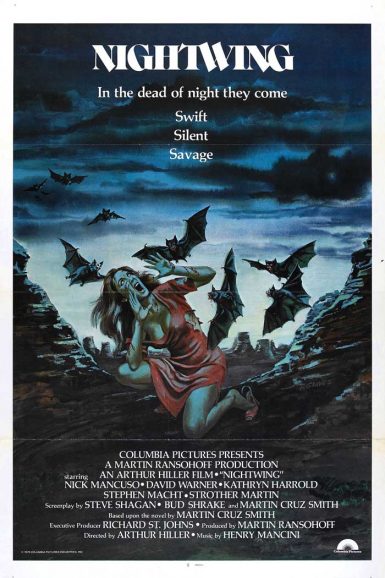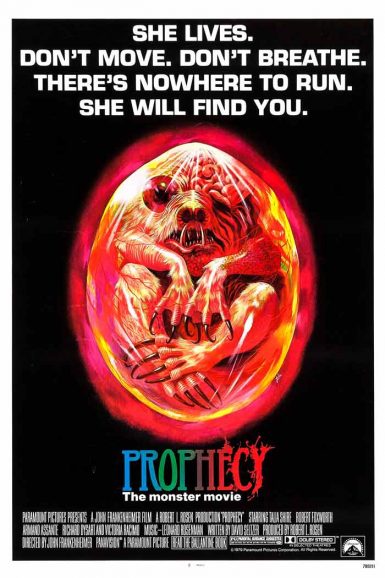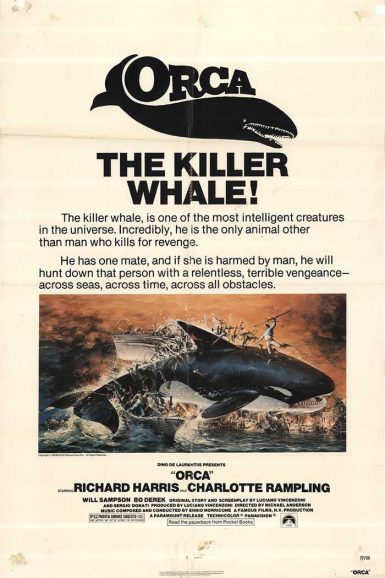 Orca
The killer whale is one of the most intelligent creatures in the universe. Incredibly, he is the only animal other than man who kills for revenge. He has one mate, and if she is harmed by man, he will hunt down that person with a relentless, terrible vengeance – across seas, across time, across all obstacles. Dino De Laurentiis presents an all-star aquatic adventure that pits man vs. beast in a Moby-Dick-meets-Jaws duel to the death about an Orca seeking vengeance for the death of its mate. Richard Harris, Charlotte Rampling, Will Sampson, and Bo Derek star, while Ennio Morricone provides the rousing score.
Director

Michael Anderson
Writer

Luciano Vincenzoni and Sergio Donati
Composer

Ennio Morricone
Starring

Richard Harris, Charlotte Rampling, Will Sampson, Bo Derek, Keenan Wynn, Robert Carradine
Year

1977
Rated

PG
Country

USA/Netherlands/Italy/UK
Format

35mm
Running Time

92 minutes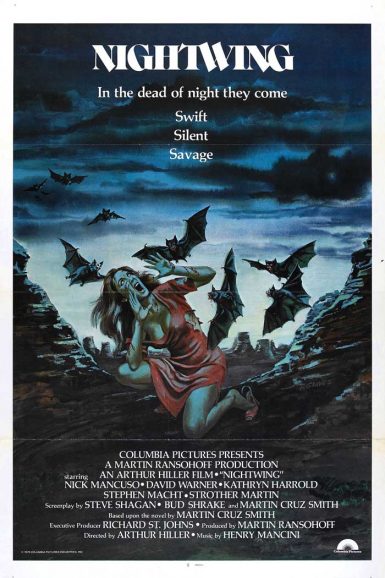 Nightwing
The day belongs to man but the night is theirs. Arthur Hiller directs an atmospheric creature feature that dives into the dead of night as a swarm of vampire bats turn their fangs toward an Indian reservation in New Mexico. As the winged killers spread terror, a policeman (Nick Mancuso), his girlfriend (Kathryn Harrold) and a scientist (David Warner) desperately try to stop them.
Quentin Tarantino writes about Nightwing for Tarantino's Reviews.
Director

Arthur Hiller
Composer

Henry Mancini
Starring

Nick Mancuso, David Warner, Kathryn Harrold, Stephen Macht, Strother Martin
Year

1979
Rated

PG
Country

USA
Format

35mm
Running Time

105 minutes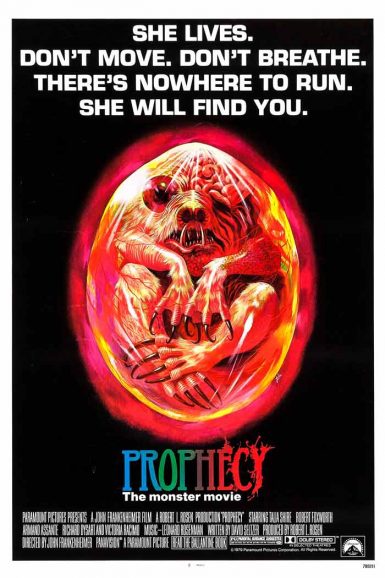 Prophecy
The nightmare of man's disregard for Mother Nature rears its head for revenge! In John Frankenheimer's environmentally conscientious, outrageously bonkers monster movie, the toxic waste from a paper mill's pollutants poisons the water supply and creates a towering mutant bear-beast that's totally pissed off. An EPA agent, his pregnant wife, and a local Native American tribe must unite to stop the terror. Talia Shire, Robert Foxworth, and Armand Assante star.
Quentin Tarantino writes about Prophecy on Tarantino's Reviews.
Director

John Frankenheimer
Writer

David Seltzer
Composer

Leonard Rosenman
Starring

Talia Shire, Robert Foxworth, Armand Assante, Richard Dysart, Victoria Racimo
Year

1979
Country

USA
Format

35mm
Running Time

102 minutes