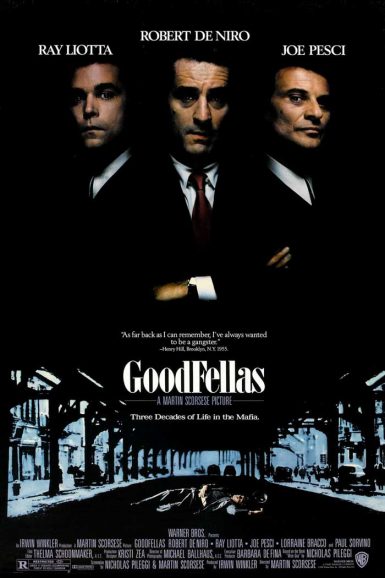 GoodFellas (Sold Out)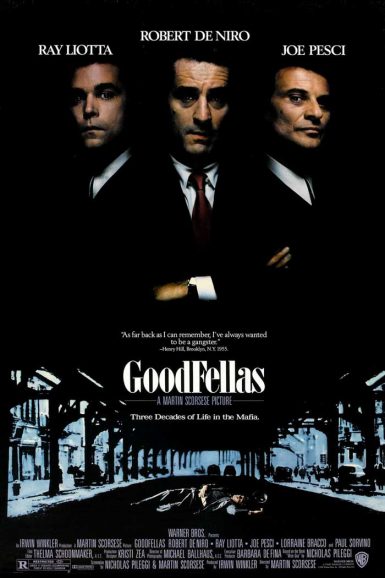 GoodFellas (Sold Out)
This show is now SOLD OUT. Unlike other New Beverly events, please note that we are not holding aside tickets to sell at the door for this screening. However, we will have a standby line for any seats that may open up at showtime.
Martin Scorsese's electrifying adaptation of Nicholas Pileggi's true crime bestseller Wiseguy: Life in a Mafia Family is a shot of cinematic adrenaline that charts the rise and fall of real-life mobster Henry Hill (Ray Liotta), his wife Karen (Lorraine Bracco), and his partners Jimmy (Robert De Niro) and the violent, unpredictable Tommy (Joe Pesci). Told over three decades of life in the mafia, GoodFellas is a stylish, sharply-detailed masterpiece fueled by a propulsive period soundtrack, razor-sharp editing by Thelma Shoonmaker, and unforgettable performances by its pitch-perfect cast. Scorsese has never been better.
"A triumphant piece of filmmaking" – Pauline Kael, New Yorker
"No finer film has ever been made about organized crime." – Roger Ebert
"GoodFellas, which somehow mixes its horrors with a deep vein of mordant humor, flows with the exuberance of a filmmaker who has every detail nailed and a few new lovely moves he wants to show us." – Sheila Benson, Los Angeles Times
Kim Morgan writes about GoodFellas on the New Beverly blog.
Director

Martin Scorsese
Writer

Nicholas Pileggi & Martin Scorsese
Starring

Robert De Niro, Ray Liotta, Joe Pesci, Lorraine Bracco, Paul Sorvino
Year

1990
Rated

R
Country

USA
Format

35mm
Running Time

146 minutes