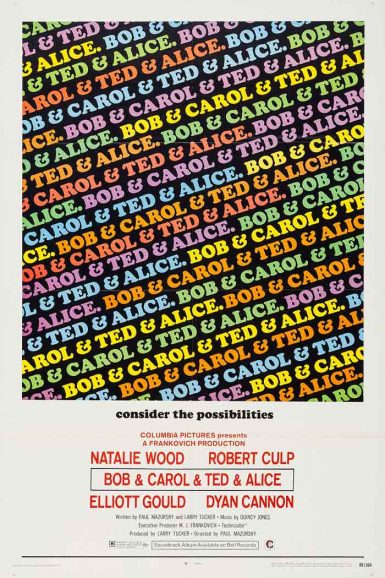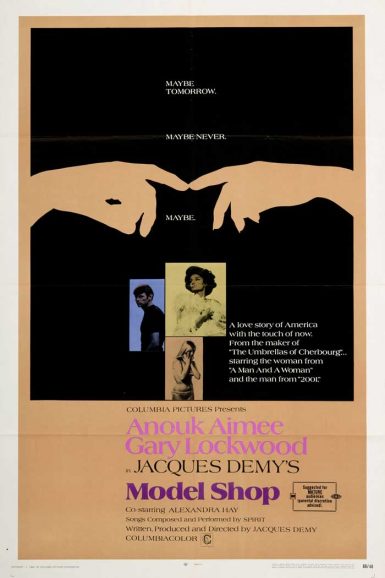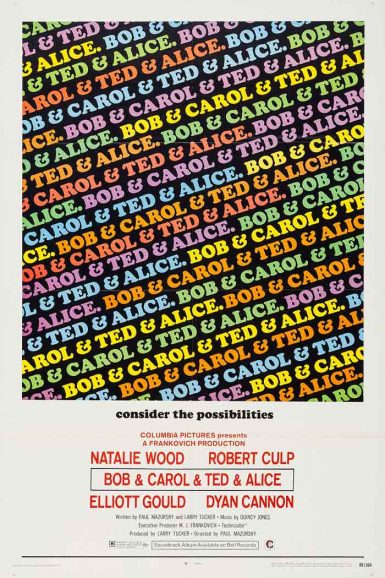 Bob & Carol & Ted & Alice
In an age of revolution, this timely human story straddles the line between comedy and drama with energy and elegance. Bob & Carol (Robert Culp and Natalie Wood) are a married couple who find a new lease on honesty after attending an Esalen-like new age therapy retreat. Their earnestness profoundly affects best friends Ted & Alice (Elliott Gould and Dyan Cannon, both in Oscar-nominated performances) who cautiously explore this new kind of vulnerability too. Affairs and dalliances come to the fore as they all start acknowledging their sexual wants/desire/neuroses. A refreshing, steamy, nonjudgmental take on marriage and honesty, Bob & Carol & Ted & Alice is perfect movie about couples who were too old to be hippies but too young to have old-fashioned hangups.
"The genius of Bob & Carol & Ted & Alice is that it understands the peculiar nature of the moral crisis for Americans in this age group, and understands that the way to consider it is in a comedy. What is comedy, after all, but tragedy seen from the outside?" – Roger Ebert
Kim Morgan discusses Bob & Carol & Ted & Alice on the New Beverly blog.
Director

Paul Mazursky
Starring

Natalie Wood, Robert Culp, Elliott Gould, Dyan Cannon
Year

1969
Rated

R
Country

USA
Format

35mm
Running Time

105 minutes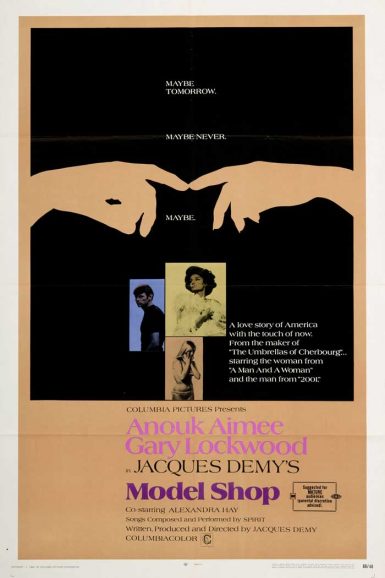 Model Shop
Like a traveler who falls in love with a place without really knowing why, Jacques Demy's first and only American film, Model Shop, lilts around late-sixties Los Angeles looking for beauty and connection in some simple, profound ways. An emotionally lost young man (Gary Lockwood) follows a weary European model (Anouk Aimee) into the amateur studio where she gets paid to let customers take boudoir photos of her. Voyeurism, consumerism, and war are all discussed as the long smoggy day and endless auto trips across town begin to shift the course of their alienated, wistful lives. Demy captured Angelino locations galore for this heavy-hearted romance, and following his gaze across the newly minted city (the real star of the film) has all the swooning nostalgia of an old hippie travelogue from the peak of an era.
Kim Morgan writes about Model Shop on the New Beverly blog.
Director

Jacques Demy
Starring

Anouk Aimée, Gary Lockwood, Alexandra Hay
Year

1969
Country

France/USA
Format

35mm
Running Time

97 minutes