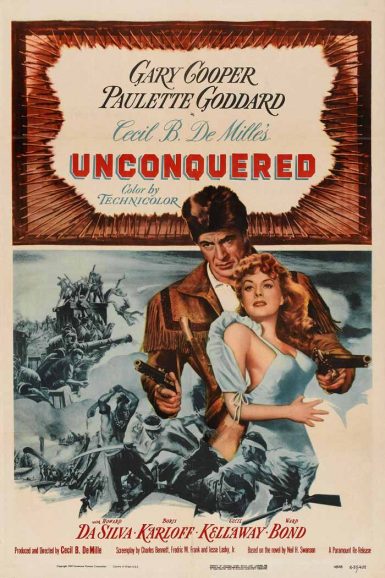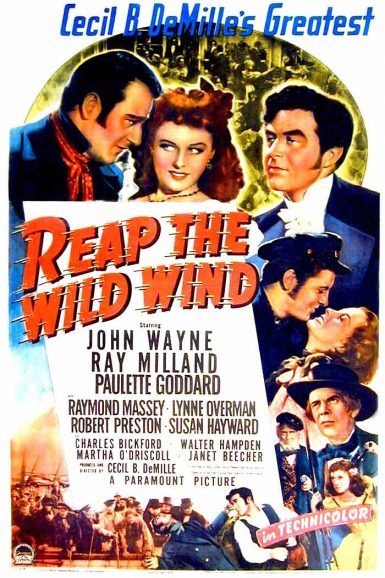 Unconquered (IB Tech Print)
Vibrant I.B. Technicolor 35mm Print!
Reap the Wild Wind (IB Tech Print)
Vibrant I.B. Technicolor 35mm print!
Buy Tickets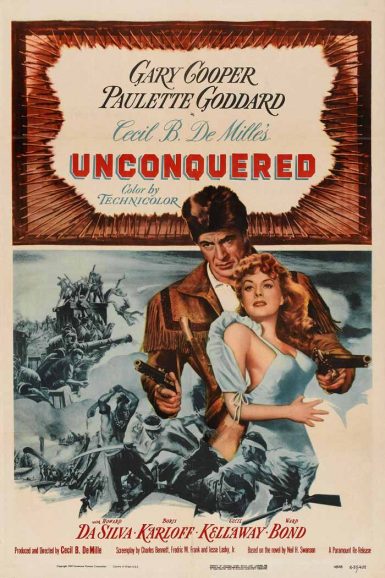 Unconquered (IB Tech Print)
Cecil B. DeMille's lavish spectacle of sizzling romance and thrilling frontier drama! Unjustly accused of a crime against the Crown in 1760s England, Abigail Martha Hale (Paulette Goddard) chooses indentured servitude in North America instead of execution. On the auction block, she ignites a bidding war between Virginian militiaman Chris Holden (Gary Cooper) and the treacherous Martin Garth (Howard da Silva). But when Holden sets her free, she's kidnapped by Garth and forced west, where her abductor is plotting an Indian uprising so he can gain control of the region. Through a series of narrow escapes and wild adventures, it will be up to Holden to save the day in DeMille's epic Unconquered.
"Primitive in its passion; exciting in its action; colorful and spectacular in its pageantry" – Hollywood Reporter
Director

Cecil B. DeMille
Starring

Gary Cooper, Paulette Goddard, Howard Da Silva, Boris Karloff, Cecil Kellaway, Ward Bond
Year

1947
Country

USA
Format

I.B. Technicolor 35mm
Running Time

146 minutes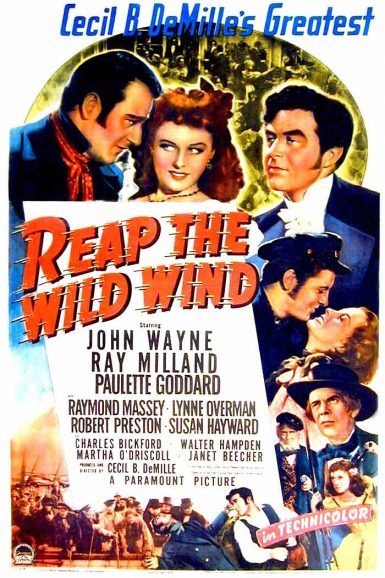 Reap the Wild Wind (IB Tech Print)
Spectacle specialist Cecil B. DeMille (The Ten Commandments) directed this seagoing adventure yarn set in the 1840s with a customary all-star cast, including Paulette Goddard as the owner of a marine salvage business on the Gulf Coast. She falls in love with a wrecked ship's captain (John Wayne), who has possible ties to a villainous shipwrecker, Raymond Massey. Shipping line manager, Ray Milland, has his suspicions not only about Massey, but Wayne as well, and Goddard seduces Milland to positively influence him on Wayne's behalf. A series of misunderstandings between Milland and Wayne forces Wayne to secretly plot with villain Massey to wreck his next ship. Catastrophic events escalate, the boat sinks and when Wayne returns, he's put on trial. Testimony reveals Goddard's sister (Susan Hayward), who was in love with Massey's brother (Robert Preston), may have been on board and drowned. To confirm this, Wayne and Milland form an uneasy alliance to dive to investigate the wreckage but don't count on meeting up with a giant squid, which leads to a battle to the death. Only one man will return alive. The film was a huge box office smash and was nominated for three Oscars, winning for Best Visual Effects.
"The apogee of his art and as jam-full a motion picture as has ever played two hours upon a screen. It definitely marks a DeMillestone. It is the master turned loose, with no holds barred." – Bosley Crowther, The New York Times
"It is a film possessing the spectacular sweep of colorful backgrounds which characterize the Cecil DeMille type of screen entertainment. The production is a visual triumph." – Variety
Director

Cecil B. DeMille
Starring

Ray Milland, John Wayne, Paulette Goddard, Raymond Massey, Robert Preston, Lynne Overman, Susan Hayward, Charles Bickford
Year

1942
Country

USA
Format

I.B. Technicolor 35mm
Running Time

123 minutes