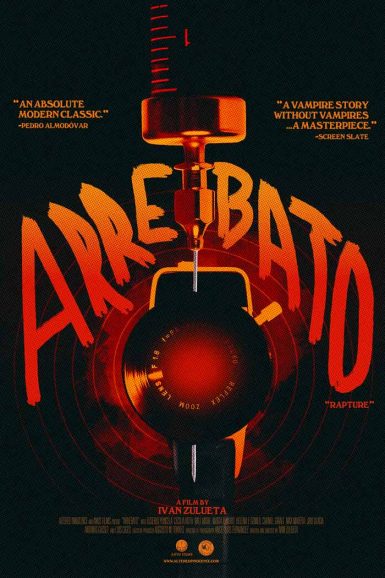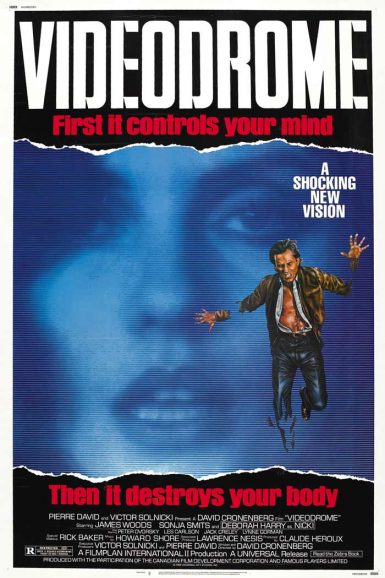 Arrebato (New 35mm Print)
Videodrome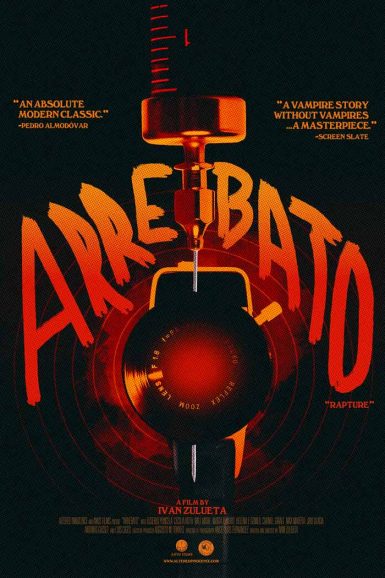 Arrebato (New 35mm Print)
While our allotment of advance tickets has sold out online, some additional tickets will be available to purchase at the door on a first come, first served basis on the night of the show. Box office & doors open roughly one hour before the first film. For shows that have sold out online, in-person ticket purchases are limited to 2 tickets per person.
Beautiful, recently-made 35mm print!
A dimension-shattering blend of heroin, sex, and Super-8, international cult film sensation Arrebato makes its long-awaited US debut, 40 years late but feeling as fresh as ever! Horror movie director José is adrift in a sea of doubt and drugs. As his belated second feature nears completion, his reclusive bubble is popped by two events: a sudden reappearance from an ex-girlfriend and a package from past acquaintance Pedro: a reel of Super-8 film, an audiotape, and a door key. From there, the boundaries of time, space, and sexuality are erased as José is once more sucked into Pedro's vampiric orbit. Together, they attempt the ultimate hallucinogenic catharsis through a moebius strip of filming and being filmed. (Altered Innocence)
Director

Iván Zulueta
Writer

Iván Zulueta
Starring

Eusebio Poncela, Cecilia Roth, Will More
Year

1979
Country

Spain
Format

English subtitled 35mm
Running Time

115 minutes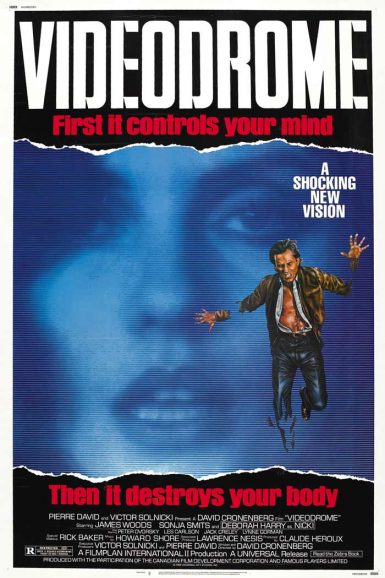 Videodrome
In writer/director David Cronenberg's visionary brain-scorcher, reality is television and television is reality. Prophetic cathode ray tube spirituality perfectly melds with the filmmaker's trademark obsessions, turning a low budget head trip into one of the decade's most audaciously original sci-fi tales. Packed with provocative ideas and hyper-stimulated video hallucinations, spectacular Rick Baker effects and a hypnotic Howard Shore score, plus a cast (James Woods, Blondie's Debbie Harry) willing to push the limits, Videodrome is a cult classic that's impossible to forget.
"A Clockwork Orange of the 1980s" – Andy Warhol
"A fascinating rumination on humanity, technology, entertainment, sex, and politics" – TV Guide
Kim Morgan discusses Videodrome on the New Beverly blog.
Director

David Cronenberg
Starring

James Woods, Debbie Harry, Sonja Smits, Peter Dvorsky, Leslie Carlson, Jack Creley
Year

1983
Rated

R
Country

Canada
Format

35mm
Running Time

89 minutes