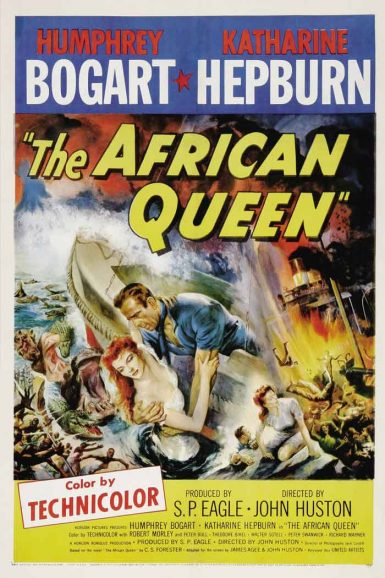 The African Queen (IB Tech Print)
Vibrant I.B. Technicolor 35mm Print!
Buy Tickets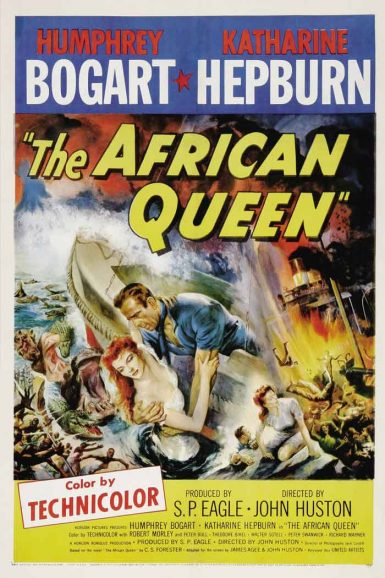 The African Queen (IB Tech Print)
Deep in the headwaters of Africa during WWI, lazy riverboat captain Charlie Allnut (Humphrey Bogart) and strait-laced missionary Rose Sayers (Katharine Hepburn) make an unlikely duo aboard The African Queen riverboat, compelled together as German forces escalate tactics against the British. Two people who could not be less alike must learn to trust one another as they navigate treacherous wilds and witness the brutality of man. Directed by celebrated filmmaker John Huston, The African Queen scoring four Academy Award nominations with Humphrey Bogart winning his sole Best Actor Oscar.
"An inspired piece of casting brought Humphrey Bogart and Katharine Hepburn together. This is a comedy, a love story, and a tale of adventure, and it is one of the most charming and entertaining movies ever made." – Pauline Kael, The New Yorker
"It is an almost perfect illustration of how much a really good movie can please… This was a movie that respected its audience and respected its genuine desire to be well and intelligently entertained." – Roger Ebert
Director

John Huston
Starring

Humphrey Bogart, Katharine Hepburn, Robert Morley, Peter Bull, Theodore Bikel, Walter Gotell
Year

1951
Country

USA/UK
Format

I.B. Technicolor 35mm
Running Time

105 minutes