January 15: Nightmare Alley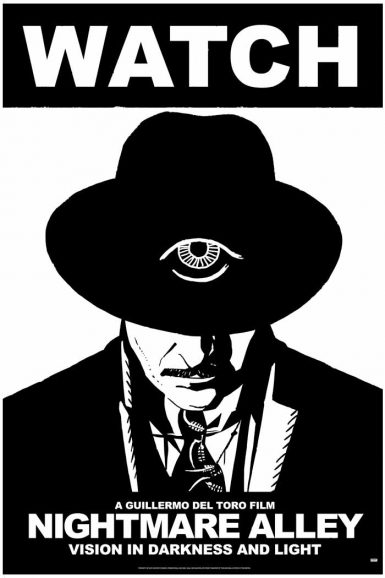 Nightmare Alley: Vision in Darkness and Light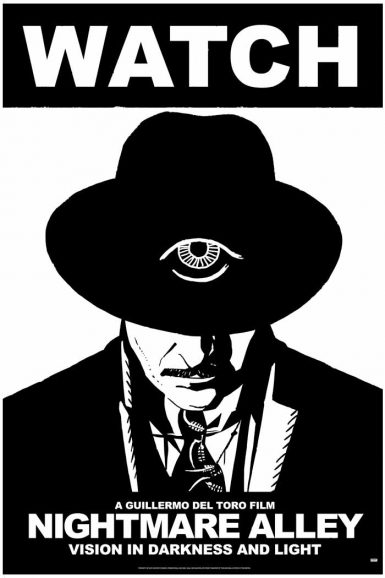 Nightmare Alley: Vision in Darkness and Light
While our allotment of advance tickets has sold out online, some additional tickets will be available to purchase at the door on a first come, first served basis on the day of the show. Box office & doors open approximately 1 hour before showtime. For shows that have sold out online, in-person ticket purchases are limited to 2 tickets per person.
Special black & white version of Guillermo del Toro's newest screens from a stunning, newly-made 35mm print!
Experience NIGHTMARE ALLEY in the classic film noir style of black and white for a limited time. NIGHTMARE ALLEY follows charismatic but down-on-his-luck Stanton Carlisle (Bradley Cooper) who endears himself to clairvoyant Zeena (Toni Collette) and her has-been mentalist husband Pete (David Strathairn) at a traveling carnival, he crafts a golden ticket to success, using this newly acquired knowledge to grift the wealthy elite of 1940s New York Society. With the virtuous Molly (Rooney Mara) loyally by his side, Stanton plots to con a dangerous tycoon (Richard Jenkins) with the aid of a mysterious psychiatrist (Cate Blanchett) who might be his most formidable opponent yet.
Director

Guillermo del Toro
Writer

Guillermo del Toro & Kim Morgan based on the novel by William Lindsay Gresham
Composer

Nathan Johnson
Starring

Bradley Cooper, Cate Blanchett, Toni Collette, Willem Dafoe, Richard Jenkins, Rooney Mara, Ron Perlman, Mary Steenburgen, David Strathairn
Year

2021
Rated

R
Country

USA/Mexico/Canada
Format

35mm
Running Time

150 minutes