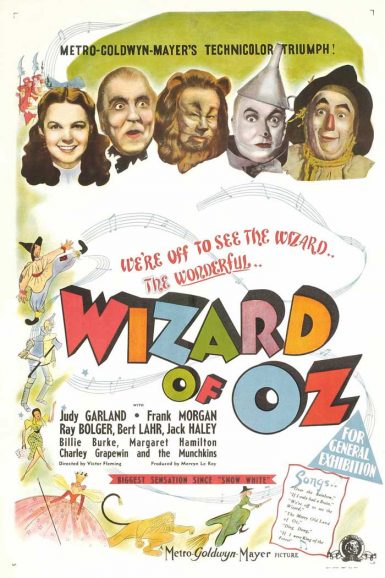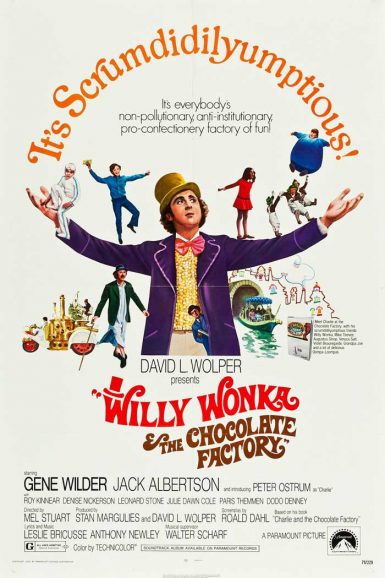 The Wizard of Oz (IB Tech Print)
Vibrant I.B. Technicolor print!
Willy Wonka & the Chocolate Factory
Buy Tickets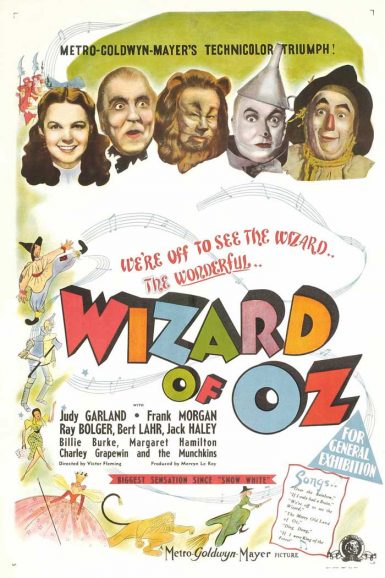 The Wizard of Oz (IB Tech Print)
In the era before home video, kids looked forward to the annual TV showings of The Wizard of Oz. It never got old and remains a timeless classic for the whole family. The film received six Academy Award nominations including a win for the song "Over the Rainbow," sung by young star Judy Garland, and is currently listed at #10 on AFI's list of the Greatest American Movies of All Time. We're delighted to present this beloved classic on 35mm and hope you join us as "we're off to see the wizard!"
"A work of almost staggering iconographic, mythological, creative and simple emotional meaning, at least for American audiences, this is one vintage film that fully lives up to its classic status." – Todd McCarthy, Variety
"The Wizard of Oz fills such a large space in our imagination. It somehow seems real and important in a way most movies don't" – Roger Ebert
"Remains the weirdest, scariest, kookiest, most haunting and indelible kid-flick-that's- really-for-adults ever made in Hollywood." – Owen Gleiberman, Entertainment Weekly
"Any reason to show your children The Wizard of Oz on a big screen seems like a good one." – Rafer Guzman, Newsday
Director

Victor Fleming
Starring

Judy Garland, Frank Morgan, Ray Bolger, Bert Lahr, Jack Haley, Billie Burke, Margaret Hamilton, Toto
Year

1939
Rated

G
Country

USA
Format

I.B. Technicolor 35mm
Running Time

102 minutes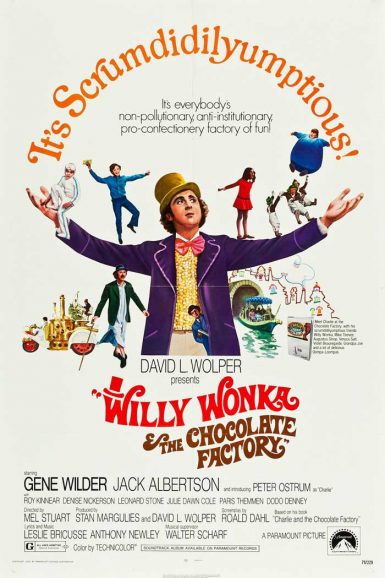 Willy Wonka & the Chocolate Factory
Indulge your cinematic sweet tooth "in a world of pure imagination," when the New Beverly screens Willy Wonka and the Chocolate Factory, featuring the brilliant Gene Wilder as the reclusive and mercurial title character. Children and adults alike the world over are desperate to get their hands on a "Golden Ticket" that Wonka has placed inside five of his chocolate Wonka Bars, that will entitle the winner and one guest to a tour of the chocolate factory (run by his diminutive but loyal Oompa Loompas), along with a lifetime supply of chocolate. When Charlie Bucket (Peter Ostrum), a young lad from a poor family lucks into one of the tickets, he takes his formerly bedridden Grandpa Joe (Jack Albertson) to accompany him, only to find the other four children who have won tickets are entitled brats with enabling parents and a selfish disregard for Wonka's factory rules. Director Mel Stuart brings to life a delightfully delicious world in vibrant colors and song, that sprinkles sugar on the film's dark undertones, which makes Wonka equally appealing for adults.
"Willy Wonka and the Chocolate Factory is probably the best film of its sort since The Wizard of Oz. It is everything that family movies usually claim to be, but aren't: Delightful, funny, scary, exciting, and, most of all, a genuine work of imagination. Willy Wonka is such a surely and wonderfully spun fantasy that it works on all kinds of minds, and it is fascinating because, like all classic fantasy, it is fascinated with itself." – Roger Ebert
Director

Mel Stuart
Writer

Roald Dahl
Starring

Gene Wilder, Jack Albertson, Peter Ostrum, Roy Kinnear, Denise Nickerson, Leonard Stone, Julie Dawn Cole, Paris Themmen, Dodo Denney
Year

1971
Rated

G
Country

USA
Format

35mm
Running Time

100 minutes