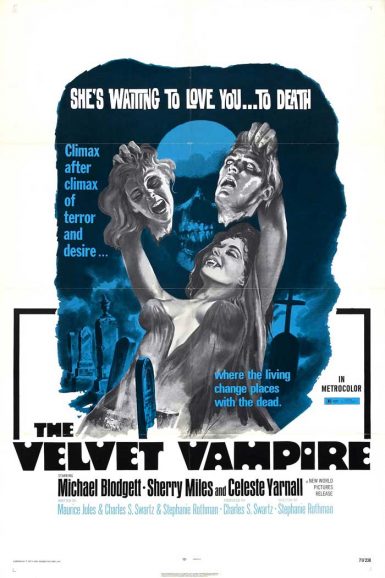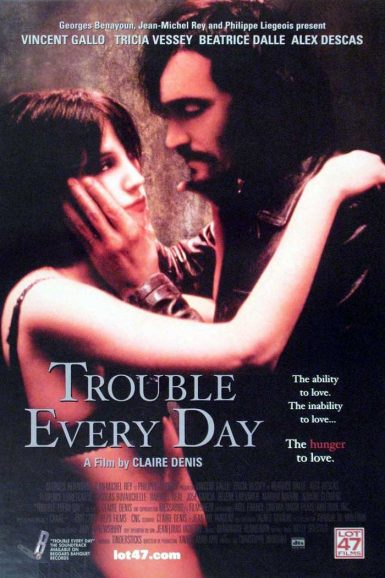 The Velvet Vampire (Stephanie Rothman In Person)
Trouble Every Day
Buy Tickets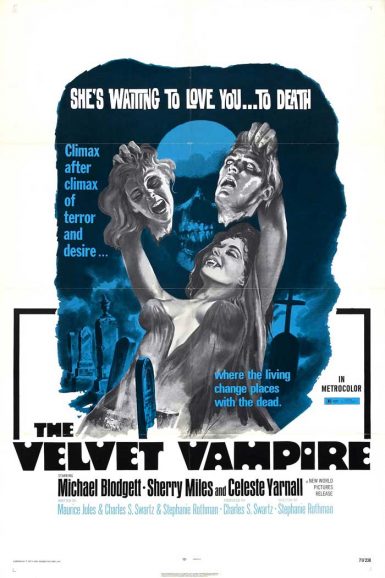 The Velvet Vampire (Stephanie Rothman In Person)
Director Stephanie Rothman will join us IN PERSON, schedule permitting, to discuss the film!
There's blood in the water in Stephanie Rothman's serpentine The Velvet Vampire. Hip newlyweds Lee & Susie go out into the desert with their pale sexy neighbor who, of course, turns out to be a thirsty vampire. For those looking for: A groovy American compliment to the arty euro-horror of Jesús Franco and Jean Rollin. This kaleidoscopic gem of cinematic psychedelia is a real horror show trip scored by some premier freak-era blues, rock, and folk. If the fantastic slow-motion sex dreams don't get you, the nightmares of blood and insatiable hunger definitely will.
Director

Stephanie Rothman
Writer

Maurice Jules & Charles S. Swartz & Stephanie Rothman
Starring

Michael Blodgett, Sherry Miles, Celeste Yarnall
Year

1971
Rated

R
Country

USA
Format

35mm
Running Time

80 mintues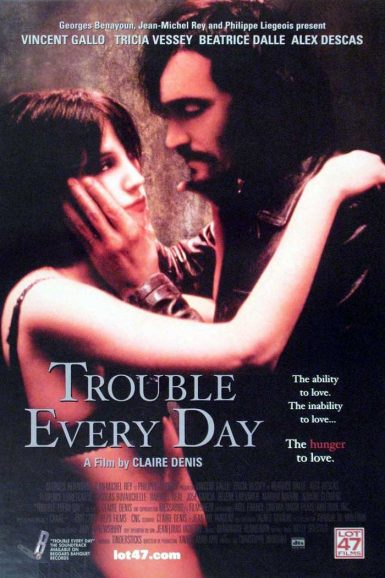 Trouble Every Day
Claire Denis' shocking arthouse horror film Trouble Every Day is a vanguard of its genre. It's a cliché to say some film pushes the boundaries, but it's as if this film passed through a membrane into a reality where no other cannibal film existed. Highly erotic, compulsive, disturbing, and taboo, gaze into the intimate abyss shared between lovers Shane & June (Vincent Gallo and Tricia Vassey) as they honeymoon in Paris. Unbeknownst to June, Shane is on the trail of a disgraced doctor who may have afflicted him with his flesh-hungry sickness. Visceral and gruesome, this film feels as feral and dangerous as its monsters. Sex and violence sit uncomfortable close here.
"A hypnotic, unsettling work by one of the most sensuous filmmakers of the past 25 years" – Melissa Anderson, Village Voice
"Claire Denis' carnal masterpiece (starring Béatrice Dalle) incisively dissects love, desire and hunger – in this case, for flesh" – Keith Uhlich, TimeOut NY
Director

Claire Denis
Starring

Vincent Gallo, Tricia Vessey, Béatrice Dalle, Alex Descas
Year

2001
Country

France
Format

35mm
Running Time

101 minutes