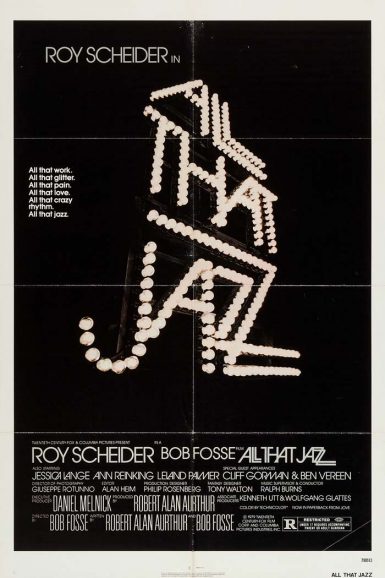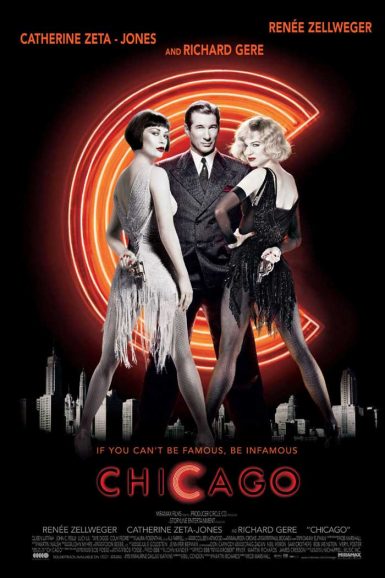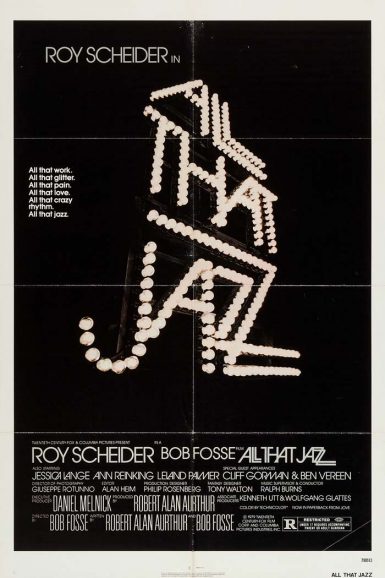 All That Jazz (3-Track Mag Print)
Incredibly rare original 35mm print with spectacular 3-Track Mag sound. Please note that this film print has fading color.
In All that Jazz, director Bob Fosse brings to life a musical-drama-fantasy-ride, based loosely on Fosse's own breakneck pace of a schedule while editing the film Lenny and simultaneously staging the Broadway debut of Chicago. Roy Scheider is Joe Gideon, an artist in search of perfection, who is juggling the stress of completing a film while directing a Broadway play – with a genius that is out of step with his body. Fueled by nicotine, pills, alcohol, the company of beautiful women who compete for his attention, and a monstrous ego, Gideon pushes his heart to its limit and beyond, while courted by Angelique (Jessica Lange) an Angel of Death who is both therapist for Joe's chaotic personal life, and a flirtation from the hereafter. Nominated for nine Academy Awards including Best Picture, Best Director, Best Actor and Best Original Screenplay – All that Jazz is a fascinating portrait of the toll it takes on an entertainer to create high-art, while his vices and demons trespass on his mortality.
Director

Bob Fosse
Starring

Roy Scheider, Jessica Lange, Leland Palmer, Ann Reinking, Ben Vereen, Cliff Gorman, Michael Tolan
Year

1979
Rated

R
Country

USA
Format

35mm
Running Time

123 minutes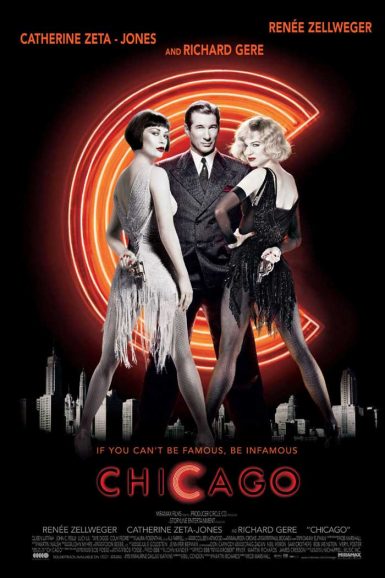 Chicago
Chicago is a throwback to the grand musicals of "Old Hollywood," but with the "razzle-dazzle" star power of Renee Zellweger, Catherine Zeta-Jones and Richard Gere, with sparkling direction from Rob Marshall in his directorial film debut. Driven by a passion for fame, Roxy Hart (Zellweger) finds herself in Chicago's Cook County Jail in 1924 for murder, where her idol Velma Kelly (Zeta-Jones) and a chorus line of other incarcerated women – "he had itcoming!" – sing about the rage of their injustices. Richard Gere is the slick but effective lawyer Billy Flynn, who transforms Roxy into a victim cause celebre – while Zeta-Jones smolders as her thunder gets stolen. John C. Reilly is a cellophane sap who stands by his wife Roxy, and Queen Latifah kills as the jailhouse matron "Mama" Morton, who lays down the rules Etta James style. Based on the successful Broadway show of the same name, Chicago sends up and strips down our country's fascination with celebrity culture and how the media can shape a narrative with spectacle over substance, and revived the Hollywood musical with a killer 13 Academy Award nominations.
"Isn't just the most explosively entertaining movie musical in a couple of decades. It's going to be the most influential: the one that inspires the rebirth of the Hollywood musical." – David Edelstein, Slate
"Sophisticated, brash, sardonic, completely joyful in its execution. It gives anyone who ever loved movie musicals, and lamented their demise, something to live for." – Stephanie Zacharek, Salon
Director

Rob Marshall
Starring

Renée Zellweger, Catherine Zeta-Jones, Richard Gere, Queen Latifah, John C. Reilly, Lucy Liu, Taye Diggs, Colm Feore
Year

2002
Rated

PG-13
Country

USA/Germany/Canada
Format

35mm
Running Time

113 minutes