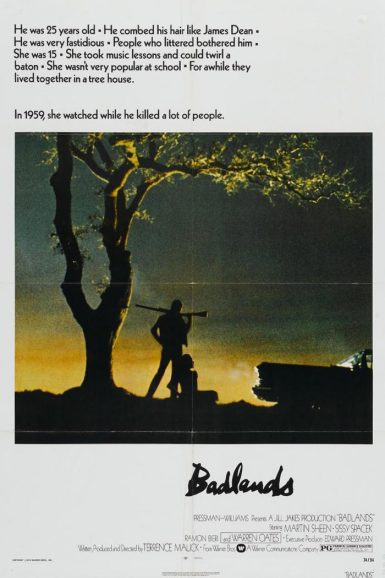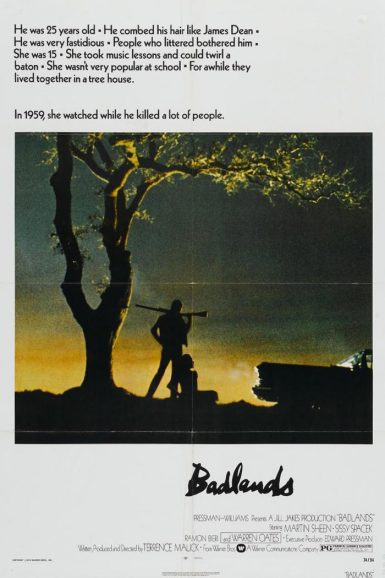 Badlands
Renowned auteur Terrence Malick made his directorial debut with 1973's Badlands. In it, Kit Carruthers (Martin Sheen) is a twentysomething disaffected garbage man who meets and falls in love with a 15 year old naive schoolgirl, Holly Sargis (Sissy Spacek). Holly's dad doesn't approve of their union, though, and is summarily shot by Kit, who then takes Holly on an interstate crime spree, leaving a trail of bodies along the way. Based on the same real life Starkweather / Fugate crime spree of the 1950s that inspired Natural Born Killers, Kalifornia and many other movies, Malick gives a gentler treatment to this story of two lonely people brought together by happenstance and whose union is forged in blood. Its use of voiceover, gorgeous, naturalistic cinematography and sensitive lead performances presage what would later become signatures of the director's work.
"Among the great American crime movies, 1973's Badlands stands alone." – Peter Stack, San Francisco Chronicle
"This first, magnificent, outpouring of the sporadic genius of cinema's equivalent to JD Salinger, Terrence Malick, still seems terrifically modern." – Wally Hammond, Time Out
"Kit is played by Martin Sheen, in one of the great modern film performances. He looks like James Dean, does not have bowlegs, and plays the killer as a plain and simple soul who has somehow been terribly damaged by life… 4 Stars" – Roger Ebert
Kim Morgan discusses Badlands on the New Beverly blog.
Director

Terrence Malick
Starring

Martin Sheen, Sissy Spacek, Warren Oates, Ramon Bieri, Alan Vint, Gary Littlejohn
Year

1973
Country

USA
Format

35mm
Running Time

94 minutes