February 1: What's Up, Doc?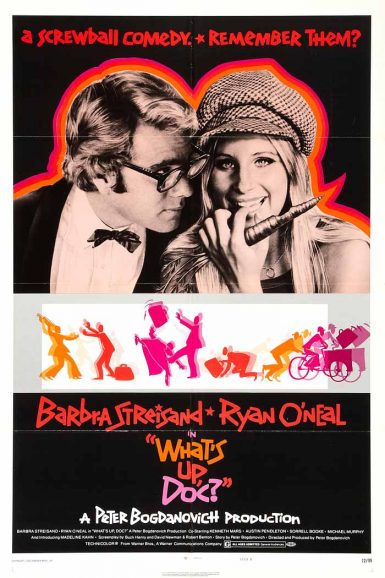 What's Up, Doc? (IB Tech Print)
Vibrant I.B. Technicolor 35mm Print!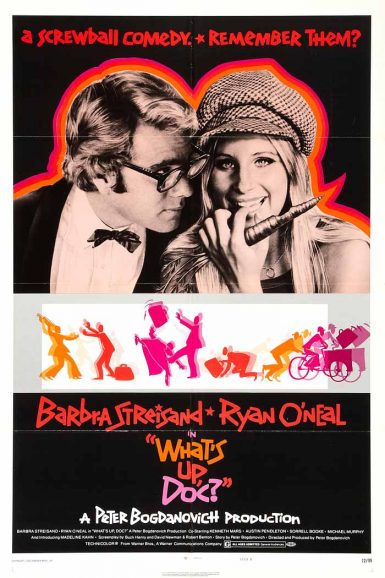 What's Up, Doc? (IB Tech Print)
While our allotment of advance tickets has sold out online, some additional tickets will be available to purchase at the door on a first come, first served basis on the day of the show. Box office & doors open approximately 1 hour before showtime. For shows that have sold out online, in-person ticket purchases are limited to 2 tickets per person.
Producer-director-cinephile Peter Bogdanovich and whipsmart screenwriters Buck Henry and David Newman & Robert Benton unleash a side-splittingly hilarious homage to the classic screwball chaos of the 1930s is an energetic & fast-moving fun-a-thon featuring igneous rocks, stolen jewels, top secret government documents, mistaken identities, and the irrepressible chemistry between a stuffy musicologist (Ryan O'Neal, never better) and a charming loose cannon (a luminous Barbra Streisand). As four identical plaid bag MacGuffins get handed off, stolen, and mixed up, comedy careens across the screen like a live action Looney Tunes, leading to a jaw-droppingly funny chase across the hilly streets of San Francisco. Plus, an incredible Madeline Kahn in her big screen debut!
"[What's Up, Doc?] is a total smash.The script and cast are excellent; the direction and comedy staging are outstanding; and there are literally reels of pure, unadulterated and sustained laughs." – Variety
Director

Peter Bogdanovich
Writer

Buck Henry and David Newman & Robert Benton
Starring

Barbra Streisand, Ryan O'Neal, Madeline Kahn, Kenneth Mars, Austin Pendleton, Michael Murphy
Year

1972
Country

USA
Format

I.B. Technicolor 35mm
Running Time

94 minutes