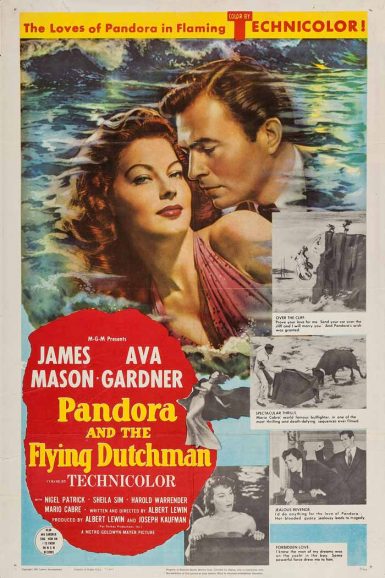 Pandora and the Flying Dutchman
A lushly lensed Technicolor dream, Pandora and the Flying Dutchman is a timeless romantic fantasy that remains one of the most gorgeous films in the history of cinema. A radiant Ava Gardner is Pandora, a seductive American nightclub singer who ignites fiery obsession in all those who surround her but who has never experienced true love herself. But while vacationing in Spain, she encounters a series of admirers, including a dashing but mysterious ship's captain (James Mason). A haunting, moody and visually inventive stunner featuring cinematography by the great Jack Cardiff.
35mm print courtesy of the George Eastman Museum. Preservation funded by Film Foundation and Franco-American Cultural Fund.
"Watching this film is like entering a strange and wonderful dream." – Martin Scorsese
Director

Albert Lewin
Starring

James Mason, Ava Gardner, Nigel Patrick, Sheila Sim
Year

1951
Country

UK
Format

35mm
Running Time

124 minutes
Upcoming Showtimes
7:30 pm
Pandora and the Flying Dutchman