Christmas at the New Beverly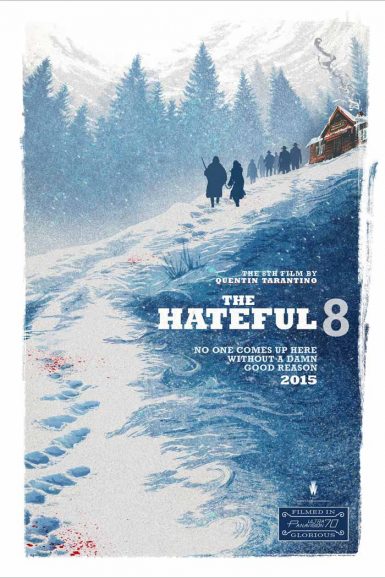 The Hateful Eight (Roadshow Version)(Sold Out)
Gorgeous 35mm print from Quentin Tarantino's personal archive!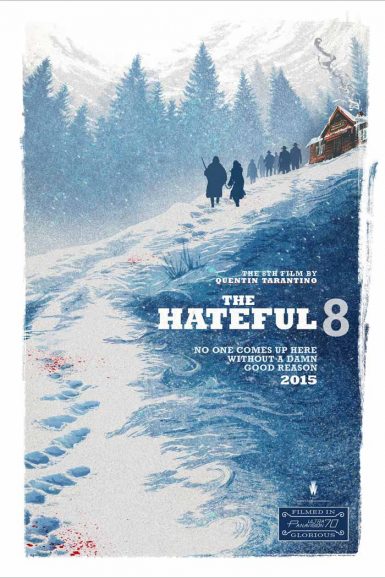 The Hateful Eight (Roadshow Version)(Sold Out)
This show is now SOLD OUT. Unlike other New Beverly events, please note that we are not holding aside tickets to sell at the door for this screening. However, we will have a standby line for any seats that may open up at showtime.
During a deadly snowstorm, a bounty hunter (Kurt Russell) rushes to bring his fugitive (Jennifer Jason Leigh) to justice. But losing their lead on the blizzard, they must seek refuge at Minnie's Haberdashery where the mysterious strangers inside may not be who they seem. Written & directed by Quentin Tarantino and co-starring a stunning ensemble of QT favorites and pitch-perfect additions to his troupe: Samuel L. Jackson, Walton Goggins, Demián Bichir, Tim Roth, Michael Madsen and Bruce Dern round out The Hateful Eight.
"Tarantino writes like a flamethrower in this western whodunit. He brings the war home, baby, with all the political, geographical, social, sexual and racial implications we're still wrangling with today." – Peter Travers, Rolling Stone
"The Hateful Eight is a big, shambling, audacious inversion of the Western, held together by Tarantino's sincere conviction that beyond his high juvenilia, American audiences might recognize their own fractious nation." – Scott Tobias, NPR
"The movie absolutely delivers on the sheer moment-to-moment pleasures fans have come to expect, from dynamite dialogue to powder-keg confrontations." – Peter Debruge, Variety
Quentin Tarantino joins Bret Easton Ellis' popular podcast for a nearly two hour discussion on The Hateful Eight. Find out more in Tarantino's Vault.
Director

Quentin Tarantino
Starring

Samuel L. Jackson, Kurt Russell, Jennifer Jason Leigh, Walton Goggins, Demián Bichir, Tim Roth, Michael Madsen and Bruce Dern
Year

2015
Rated

R
Country

USA
Format

35mm
Running Time

187 minutes