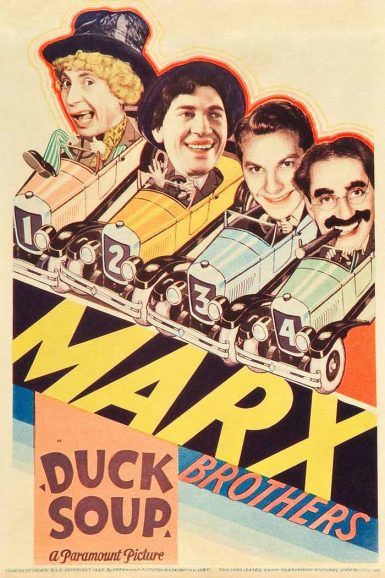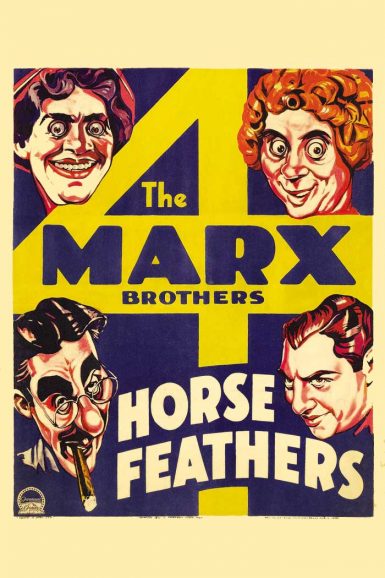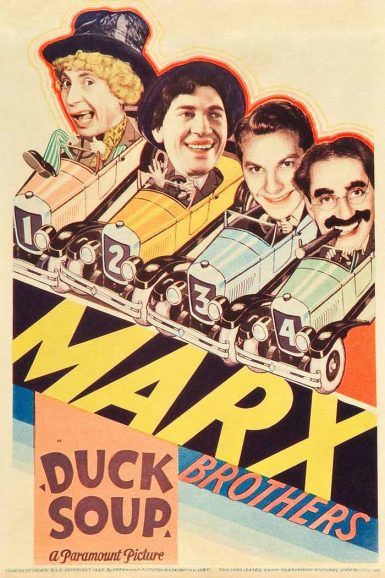 Duck Soup
This Christmas come enjoy a bowl of Duck Soup, hilariously served by the genius of The Marx Brothers – Groucho, Harpo, Chico, and Zeppo. Grouch plays Rufus T. Firefly, who at the behest of the wealthy widow Mrs. Gloria Tisdale (Margaret Dumont), becomes the leader of Freedonia, a country that is about to be taken over by neighboring Sylvania and its scheming Ambassador. There are plenty of quotable one liners and delightfully choreographed physical gags when spies Chicolini (Chico) and Pinky (Harpo) are sent over to spy on Firefly – "You know this means war!" Groucho relishes in the absurdity of it all, and you'll recognize The Marx Brothers' vaudevillian influences in countless comedies such as Bananas, Blazing Saddles, Airplane! and Monty Python's Flying Circus, to name a few. Duck Soup features the famous "mirrorscene" and the dizzying exchange of hats between Chico and Harpo with Edgar Kennedy victimized as a Lemonade Stand vendor, but the key ingredient in Soup, is its political satire,putting it in the rarefied air of The Great Dictator and Dr. Strangelove.
"The Marx Brothers in their greatest movie." – Pauline Kael, The New Yorker
"The Four Marx Brothers – Groucho the Gabber, Harpo the Honker, Chico the Chiseler and Zeppo the Zero – were the wildest, most anarchically funny movie comedians of their era. (Of any era.) And this is the high water mark of their unique cinematic insanity: a ferocious satire on government, war and diplomacy that leaves no propriety or pretension unpricked, no sacred cow unslaughtered." – Michael Wilmington, Chicago Tribune
Director

Leo McCarey
Starring

The Marx Brothers
Year

1933
Country

USA
Format

35mm
Running Time

68 minutes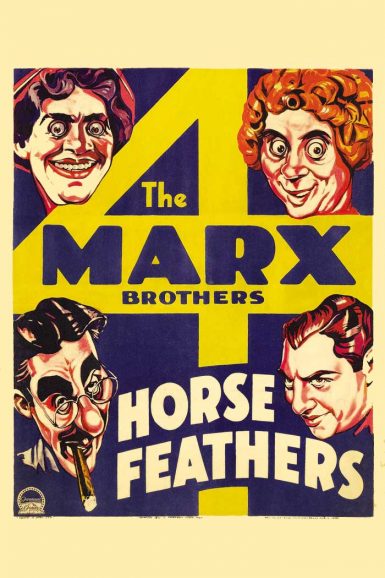 Horse Feathers
In the madcap comedy classic Horse Feathers, the Marx Brothers get a hilarious lesson in higher education. When the new president of Huxley College (Groucho) schemes to bring in professional football players to help win the big game, the ringers turn out to be bumbling bootleggers (Chico & Harpo) and uproarious havoc breaks out across campus.
"The madcap Marxes in one of their maddest screen frolics." – Variety
"The Brothers have never been so chaotic or so aggressively funny." – Time Out
Director

Norman Z. McLeod
Starring

The Marx Brothers, Thelma Todd, David Landau
Year

1932
Country

USA
Format

35mm
Running Time

68 minutes