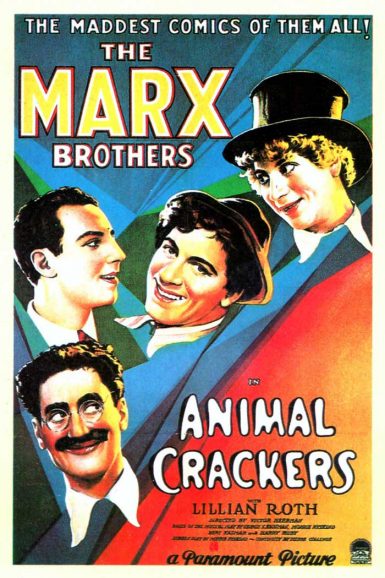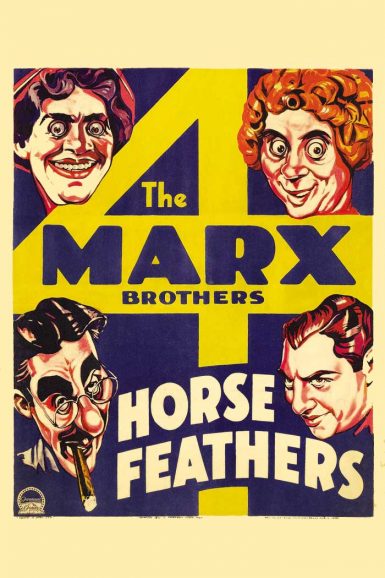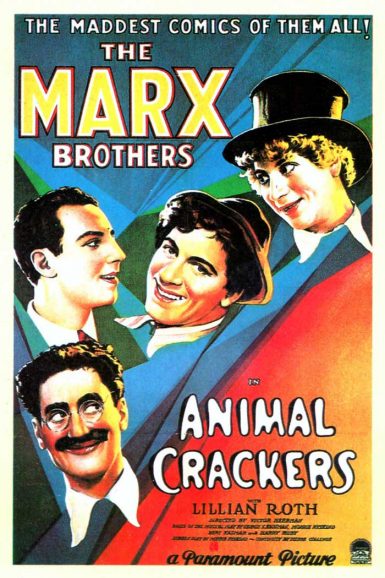 Animal Crackers
In perhaps their most frequently quoted film, Animal Crackers, the Marx Brothers transform their smash-hit Broadway musical to the big screen with uproarious results. An aristocratic house party in honor of famed explorer Captain Spaulding (Groucho) may have met its match when the Brothers unleash their trademark brand of wordplay, musical comedy and slapstick.
"Groucho shines; Harpo remains a pantomimic clown who ranks with the highest; Chico adds an unusual comedy sense to his dialog as well as business and piano playing; and Zeppo, if in on a split, is lucky." – Variety
Director

Victor Heerman
Starring

Groucho Marx, Harpo Marx, Chico Marx, Zeppo Marx, Lillian Roth, Margaret Dumont
Year

1930
Country

USA
Format

35mm
Running Time

97 minutes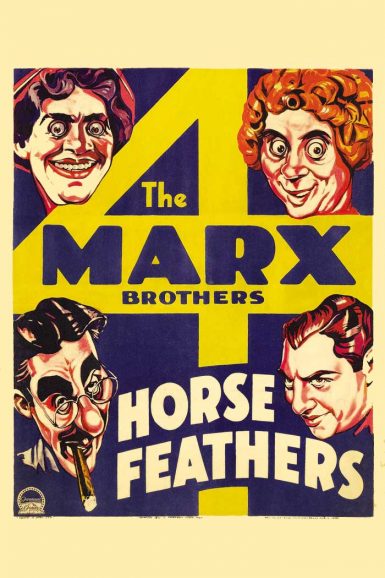 Horse Feathers
In the madcap comedy classic Horse Feathers, the Marx Brothers get a hilarious lesson in higher education. When the new president of Huxley College (Groucho) schemes to bring in professional football players to help win the big game, the ringers turn out to be bumbling bootleggers (Chico & Harpo) and uproarious havoc breaks out across campus.
"The madcap Marxes in one of their maddest screen frolics." – Variety
"The Brothers have never been so chaotic or so aggressively funny." – Time Out
Director

Norman Z. McLeod
Starring

The Marx Brothers, Thelma Todd, David Landau
Year

1932
Country

USA
Format

35mm
Running Time

68 minutes