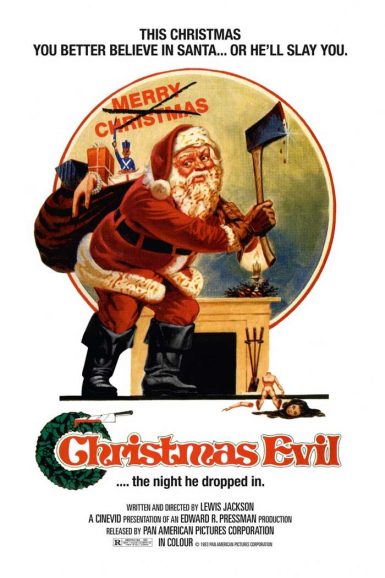 Christmas Evil
Have yourself a deadly little Christmas with a psycho slasher treat! Traumatized as a young boy upon learning the truth about St. Nick, a depressed toy-maker tries to recapture the holiday spirit. But after years of ridicule and abuse, he dons a Santa suit to finally cross the names off his naughty list in a Yuletide reign of terror. Lewis Jackson's legendary holiday horror hit is filled with icy chills and pitch-black humor, making it mandatory annual viewing for all midnight movie maniacs!
"The best seasonal film of all time. I wish I had kids. I'd make them watch it every year and, if they didn't like it, they'd be punished!" – John Waters
Marc Edward Heuck talks to Christmas Evil writer / director Lewis Jackson for the New Beverly blog.
Director

Lewis Jackson
Starring

Brandon Maggart, Jeffrey DeMunn, Dianne Hull, Andy Fenwick
Year

1980
Rated

R
Country

USA
Format

35mm
Running Time

94 minutes