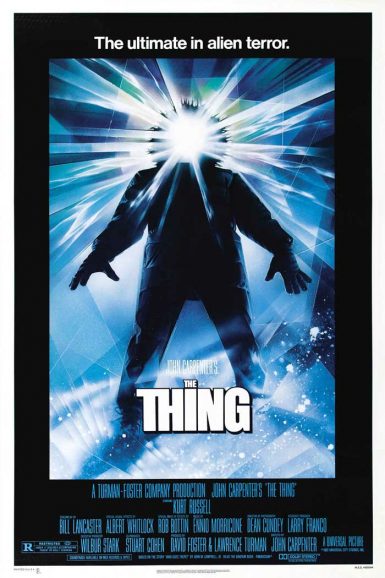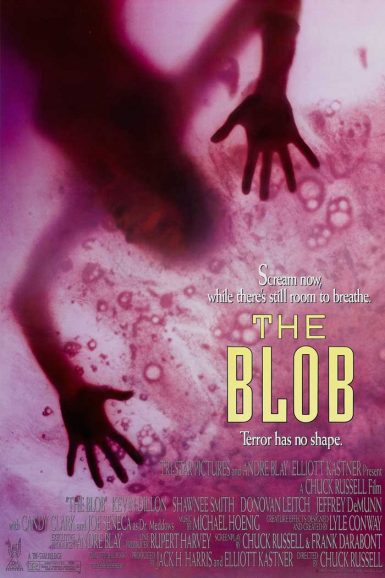 The Thing
The Blob (1988)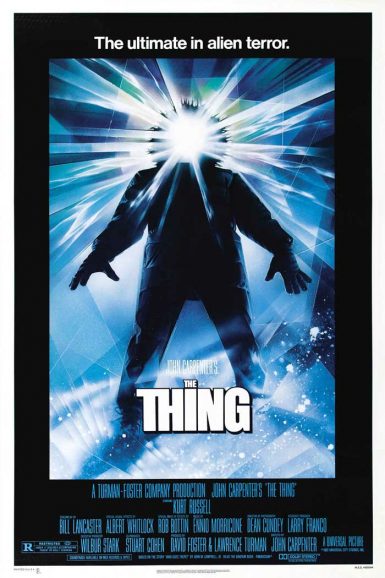 The Thing
While our allotment of advance tickets has sold out online, some additional tickets will be available to purchase at the door on a first come, first served basis on the night of the show. Box office & doors open roughly one hour before the first film. For shows that have sold out online, in-person ticket purchases are limited to 2 tickets per person.
As a beautiful black and white Malumute sprints through the pristine snow towards a research station, a Norwegian helicopter fires at it from above in John Carpenter's deliberation on paranoia and trust (or lack thereof), in his horror-thriller-monster-movie remake The Thing, both the cast and the audience get to reconcile in real time – "Who in the hell would shoot at that beautiful dog and why?" The answers come soon enough, and they are as gruesome as they are terrifying, as Kurt Russell leads a strong ensemble cast (Wilford Brimley, David Clennon, Keith David, Richard Dysart, Ricahrd Masur, Peter Maloney, T.K. Carter, Joel Polis, Charles Hallahan, Donald Moffat and Thomas Waites) that fight for their survival against an alien life form that has assimilated into the dog's DNA, and remains alive on a cellular level, even after the dog is incinerated – searching for a living host. With its in-camera special effects that moved the needle forward in that art form, while raising the bar on what remakes should aspire to, The Thing stands as Carpenter's masterpiece, and continues to influence filmmakers both young and old, in this claustrophobic whodunit.
"A great barf-bag movie" – Roger Ebert
"The scariest movie I ever saw was John Carpenter's The Thing" – John Sayles
"The Thing is a peerless masterpiece of relentless suspense, retina-wrecking visual excess and outright, nihilistic terror." – Adam Smith, Empire Magazine
"Shows more originality, wit and invention than possibly any other film you might call a remake… as influential as Alien for its blend of action, sci-fi and chilling horror." – Film4
Kim Morgan discusses The Thing on the New Beverly blog.
Garret Mathany interviews actor Thomas G. Waites for the New Beverly blog.
Director

John Carpenter
Writer

Screenplay by Bill Lancaster based on the story "Who Goes There?" by John W. Campbell Jr.
Starring

Kurt Russell, Keith David, Wilford Brimley, Donald Moffat, Richard Masur, David Clennon, Charles Hallahan,Richard Dysart, T. K. Carter, Peter Maloney, Joel Polis, Thomas G. Waites
Year

1982
Rated

R
Country

USA
Format

35mm
Running Time

109 minutes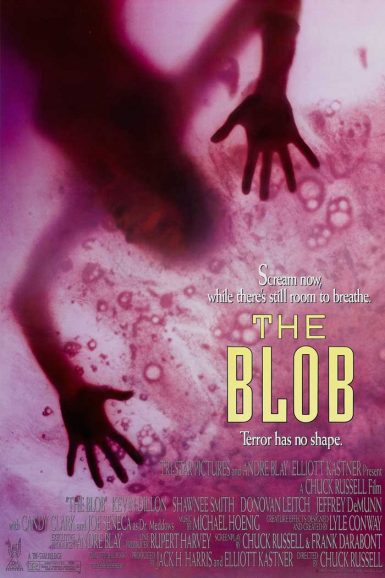 The Blob (1988)
Scream now while there's still room to breathe! A gelatinous goop is on the loose and hungry for human flesh in this energetic effects extravaganza. The writer / director team behind A Nightmare on Elm Street 3: Dream Warriors, Chuck Russell and Frank Darabont, reunite to bring the ickiest, stickiest, gooiest substance in the universe back to the big screen in this slime-filled update of the '50s favorite.
"More violent than the original, more spectacular, more cynical, more patently commercial and more attentive to detail" – Janet Maslin, The New York Times
"Improves on the original cult classic with inventive, gracefully repulsive special effects and an agreeable post-Watergate anti-authoritarian message" – Chuck Bowen, Slant Magazine
Director

Chuck Russell
Writer

Screenplay by Chuck Russell & Frank Darabont based on an earlier screenplay by Theodore Simonson and Kate Phillips from a story by Irvine H. Millgate
Starring

Kevin Dillon, Shawnee Smith, Donovan Leitch Jr, Jeffrey DeMunn, Candy Clark, Joe Seneca, Del Close
Year

1988
Rated

R
Country

USA
Format

35mm
Running Time

95 minutes