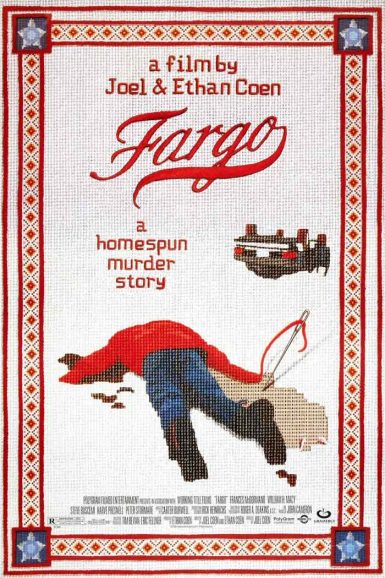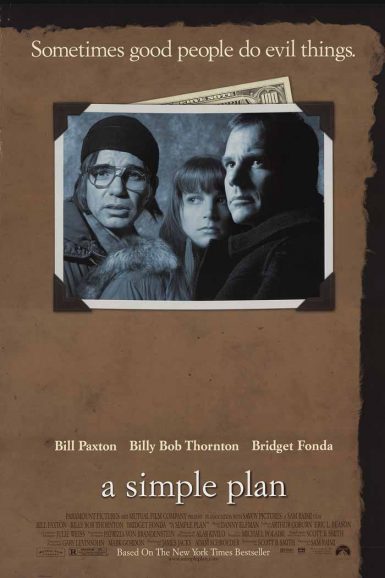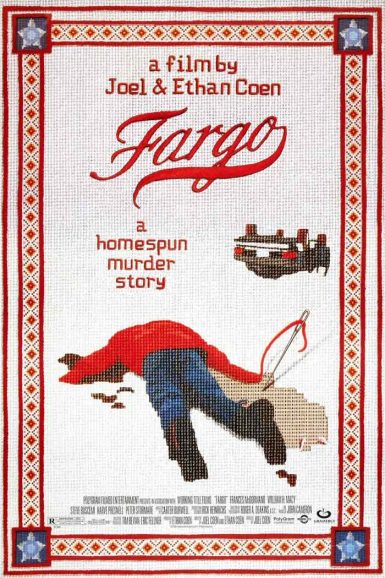 Fargo
The iconic Midwestern dark comedy Fargo showcases the Coen Brothers at the height of their deft skills. Desperate, indebted car salesman Jerry Lundegaard (William H.Macy, in an Academy-Award nominated performance) hires two lowlifes (Steve Buscemi and Peter Stormare) to kidnap his wife so Jerry can fleece his rich father-in-law (HarvePresnell) for the "ransom." Things go wrong on a blizzardy Minnesota night and three bodies end up frozen in the snow. In comes the more-than-capable, warm-hearted, and especially pregnant local police chief Marge Gunderson (Frances McDormand, in an Academy-Award winning performance) to look into the oddest string of violence to hither quiet town. The Coens and company made the preeminent homespun murder story, replete with the everyday friendliness, humility, and irreverence, which gives this underrepresented region of the country its particular color.
"4 Stars. To watch [Fargo] is to experience steadily mounting delight, as you realize the filmmakers have taken enormous risks, gotten away with them and made a movie that is completely original, and as familiar as an old shoe." – Roger Ebert
"[Fargo] is another daring black comedy by one of the most consistently inventive moviemaking teams of the last decade, brothers Joel and Ethan Coen." – Gene Siskel
Director

Joel & Ethan Coen
Starring

Frances McDormand, William H. Macy, Steve Buscemi, Harve Presnell, Peter Stormare
Year

1996
Country

USA/UK
Format

35mm
Running Time

98 minutes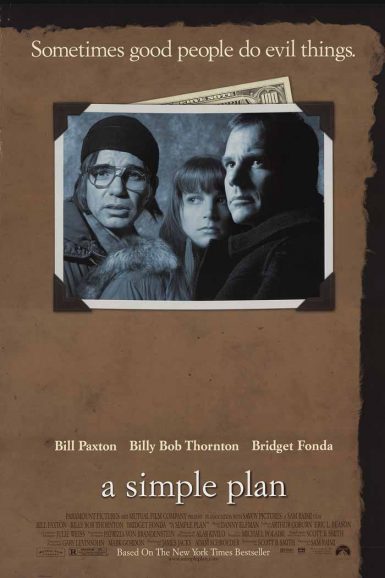 A Simple Plan
The beloved 90's gem A Simple Plan combines Sam Raimi's masterful grasp of tension with engrossing moral themes about greed, family, and class to craft this enduring snowy thriller. A tough decision in the backwoods outside their hometown on New Year's Eve places brothers Hank and Jacob (Bill Paxton and Billy Bob Thornton, in an Academy Award-nominated performance) in possession of a mysterious cache of over four million dollars. Desperation and delusions of grandeur push them to extraordinary lengths to cover their tracks. Idiosyncratic and emotional, this small-town crime fable was also Academy Award nominated for Scott B. Smith's adaptation of his own novel.
"When you get the shivers watching this wintry tale unfold, it won't be from the cold." – Elvis Mitchell, The New York Times
"One of the year's best films for a lot of reasons, including its ability to involve the audience almost breathlessly in a story of mounting tragedy." – Roger Ebert
"With elegant, clockwork construction, Smith has transplanted his novel of greed, betrayal and getting what you deserve to the screen, where it is told by director Sam Raimi with a spareness befitting the whiteness of its snowed-in setting." – Michael O'Sullivan, The Washington Post
Director

Sam Raimi
Writer

Scott B. Smith
Composer

Danny Elfman
Starring

Bill Paxton, Billy Bob Thornton, Bridget Fonda
Year

1998
Rated

R
Country

USA
Format

35mm
Running Time

121 minutes