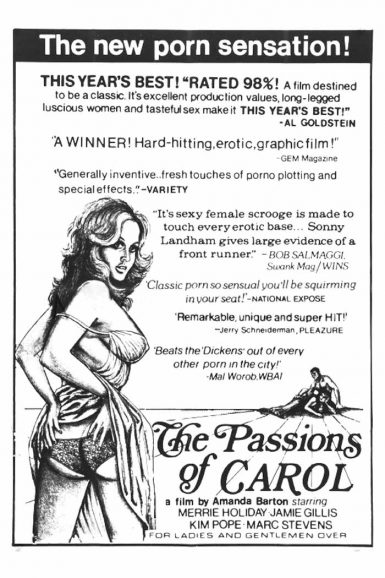 The Passions of Carol (Adults Only)
ADULTS ONLY! Must be 18+ with ID for admission.
A funny, filthy XXX adaptation of Charles Dickens' beloved novella unleashed by NYC adult film auteur Shaun Costello! When Carol Scrooge, the miserly owner of a skin mag, forces her employees to work on Christmas, she'll be visited by a trio of ghosts who present lurid visions of holidays past, present, and future. Featuring a host of porn legends, plus Playgirl model and future Predator co-star Sonny Landham.
Director

Shaun Costello
Writer

Shaun Costello
Starring

Mary Stuart, Kim Pope, Jamie Gillis, Alan Marlow, Day Jason, Marc Stevens, Sonny Landham
Year

1975
Country

USA
Format

35mm
Running Time

77 minutes
Upcoming Showtimes
11:59 pm
The Passions of Carol (Adults Only)