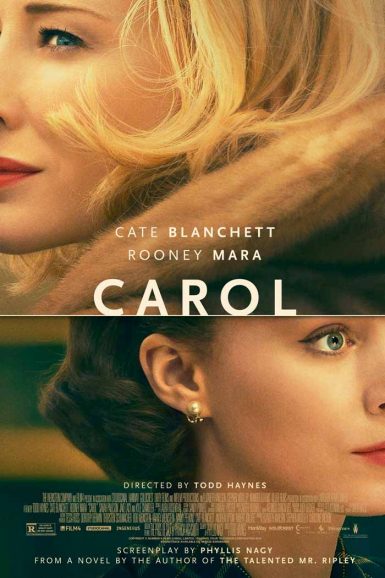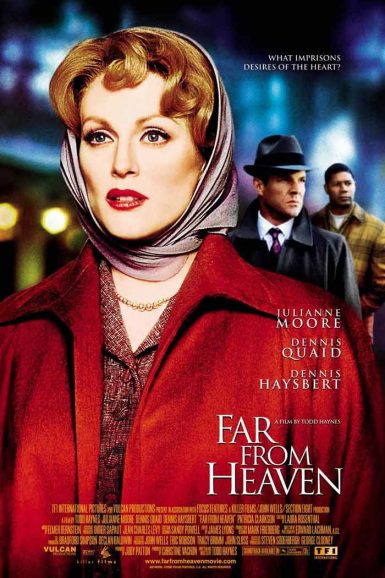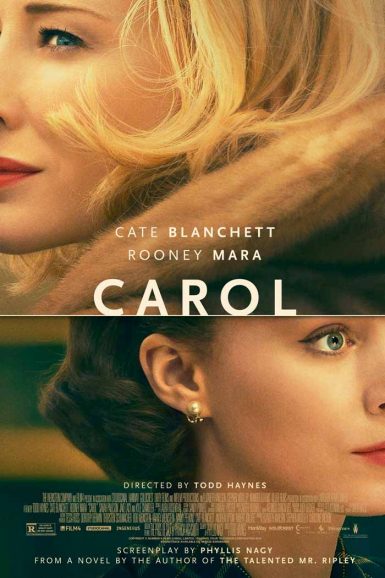 Carol
In Todd Haynes' seductive period drama Carol, modest Manhattan department store clerk Therese (Rooney Mara) catches the eye of well-to-do housewife Carol (Cate Blanchett). What begins as a flirty friendship blossoms into a love for the ages, but in 1950's American, this connection that dare not speak its name upends their lives, costing them nearly everything. Based on the Patricia Highsmith's novel The Price of Salt, this lush and lustful testament to desire manifests as a queer romance that is both traditional and radically innovative. Screenwriter Phyllis Nagy, cinematographer Ed Lachman, costume designer Sandy Powell, composer Carter Burwell, and the two lead actresses were all nominated for Academy Awards.
"The experience of watching Carol is like being pulled into a different place, real and not real, like the best movies, like being in love." – Jeff Baker, The Oregonian
"Carol is one of the greatest American screen romances of any era, period – and perhaps that serves as the ultimate vindication of Haynes' outspoken commitment to queer cinema." – Andrew O'Hehir, Salon
"Haynes understands that swooningly beautiful traditional technique bolstered by thrilling performances creates the greatest impact. He has made a serious melodrama about the geometry of desire, a dreamy example of heightened reality that fully engages emotions despite the exact calculations with which it's been made." – Kenneth Turan, Los Angeles Times
"It's possible to watch Carol simply for its velvety beauty, but chances are that, by that stunning final moment, filmgoers will realize with a start that they care far more about the problems of these two people than they might have realized." – Ann Hornaday, The Washington Post
Director

Todd Haynes
Starring

Cate Blanchett, Rooney Mara, Sarah Paulson, Jake Lacy, Kyle Chandler
Year

2015
Rated

R
Country

USA/UK
Format

35mm
Running Time

118 minutes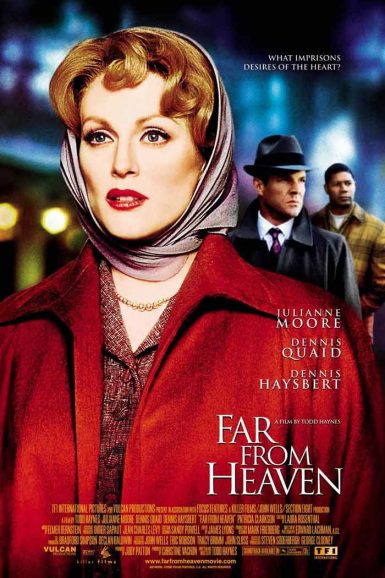 Far From Heaven
Set the in the picturesque 1950's Connecticut suburbs, Todd Haynes' Far From Heaven earnestly channels Douglas Sirk-style melodrama to interrogate issues of race, gender, and sexuality. The epitome of the post-war housewife Cathy Whitaker (Julianne Moore, in an Academy-Award nominated performance) develops feelings for her black gardener (Dennis Haysbert) while discovering her businessman husband (Dennis Quaid) is likely homosexual. Dreamy and visceral, florid and focused, this masterful homage highlights the taboos and hypocrisies at the heart of American life in a way no movie of the period could've done. The first of Haynes' many collaborations with cinematographer Ed Lachman, this film did however mark the final score of Elmer Bernstein.
"The film's three leads are extraordinary, but what Moore does with her role is so beyond the parameters of what we call great acting that it nearly defies categorization." – Manohla Dargis, Los Angeles Times
"A movie for hardcore film geeks and regular folk alike, a stunning, and stunningly improbable, fusion of postmodern pastiche and old-school Hollywood melodrama. It's both a marvelous technical accomplishment and a tragic love story that sweeps you off your feet." – Andrew O'Hehir, Salon
Director

Todd Haynes
Starring

Julianne Moore, Dennis Quaid, Dennis Haysbert, Patricia Clarkson, Viola Davis
Year

2002
Rated

PG-13
Country

USA/France
Format

35mm
Running Time

107 minutes