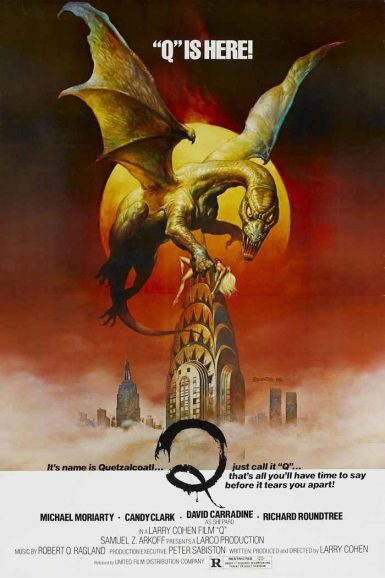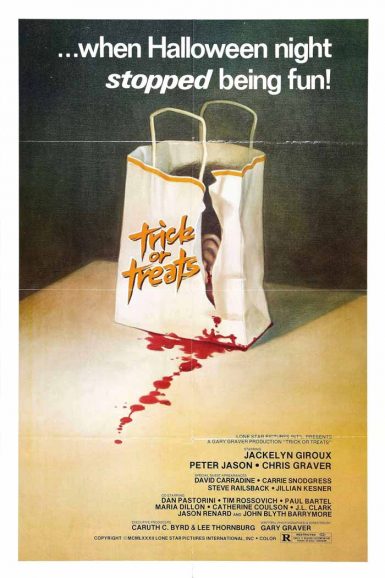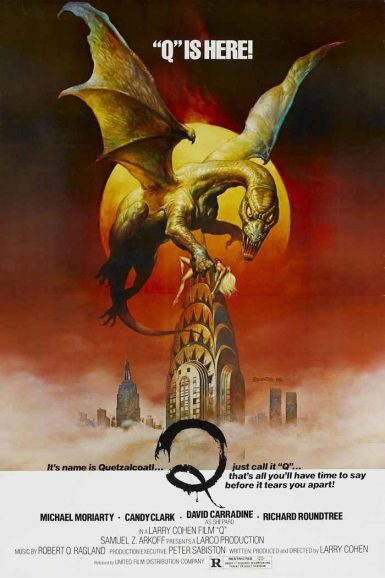 Q: The Winged Serpent
It's name is Quetzalcoatl… just call it Q, that's all you'll have time to say before it tears you apart! No one is safe in New York when a winged serpent voraciously terrorizes the city in Larry Cohen's wildly entertaining Manhattan monster movie. While a pair of detectives (David Carradine & Richard Roundtree) are busy investigating a string of ritualistic killings, a small-time crook (Michael Moriarty) uncovers the creature's secret lair. But will he be able to his newfound knowledge into cold hard cash before he becomes the beast's next meal?
35mm print courtesy of the Academy Film Archive
Director

Larry Cohen
Writer

Larry Cohen
Starring

Michael Moriarty, Candy Clark, David Carradine, Richard Roundtree
Year

1982
Rated

R
Country

USA
Format

35mm
Running Time

93 minutes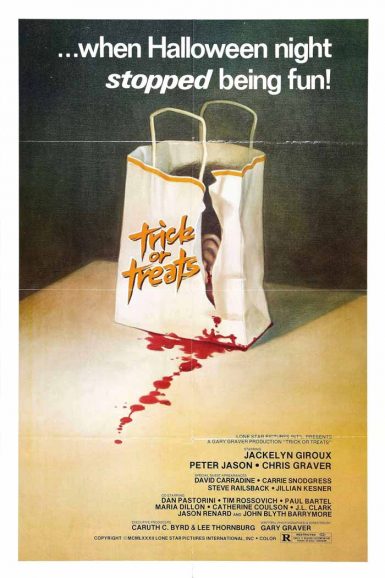 Trick or Treats
A babysitter with an obnoxious pre-teen prankster in her care on Halloween night will have to contend with an escaped lunatic headed her way. A bizarre, slow-motion slasher from Orson Welles collaborator Gary Graver, Trick or Treats is an obscure oddity in the ranks of Halloween knock-offs. Featuring special guest appearances by David Carradine, Carrie Snodgress, and Steve Railsback.
Director

Gary Graver
Writer

Gary Graver
Starring

Jackelyn Giroux, Peter Jason, Chris Graver, David Carradine, Carrie Snodgress, Steve Railsback, Jillian Kesner
Year

1982
Rated

R
Country

USA
Format

35mm
Running Time

91 minutes
Upcoming Showtimes
6:30 pm
Q: The Winged Serpent