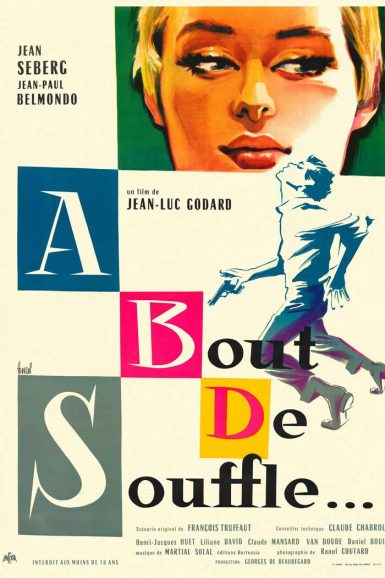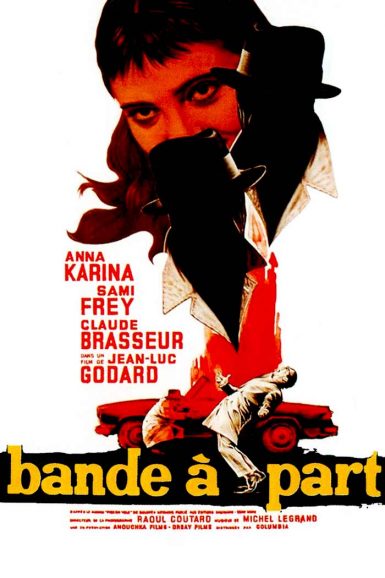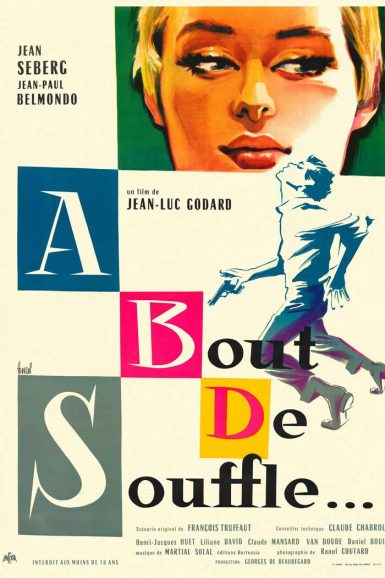 Breathless (1960)
"Gotta make tracks, Max!" Michel (Jean-Paul Belmondo) yells as he tears off in a hotwired car toward his own doom at the start of Breathless. He kills a cop and flees to Paris, where he tries to convince American newspaper girl Patricia (Jean Seberg) to run away with him. Drawing on American film noir a la Nicholas Ray or Sam Fuller, Godard drops a flash bomb with his brash, confident debut. His two leads strolling down the Champs Elysees is perhaps the most iconic image of the French New Wave.
"Modern movies begin here, with Jean-Luc Godard's Breathless in 1960. No debut film since Citizen Kane in 1942 has been as influential." – Roger Ebert
"This movie liberated the cinema – the stories you could tell and the ways you could tell them – as clearly and cleanly as Picasso freed painting and the Sex Pistols rebooted rock." – Ty Burr, Boston Globe
"Breathless is a pop artifact and a daring work of art, made at a time when the two possibilities existed in a state of almost perfect convergence. That is the source of its uniqueness. Much as it may have influenced what was to come later, there is still nothing else quite like it. Its sexual candor is still surprising, and even now, at 50, it is still cool, still new, still – after all this time! – a bulletin from the future of movies." – A.O. Scott, The New York Times
Director

Jean-Luc Godard
Writer

François Truffaut
Starring

Jean Seberg, Jean-Paul Belmondo
Year

1960
Country

France
Format

English subtitled 35mm
Running Time

90 minutes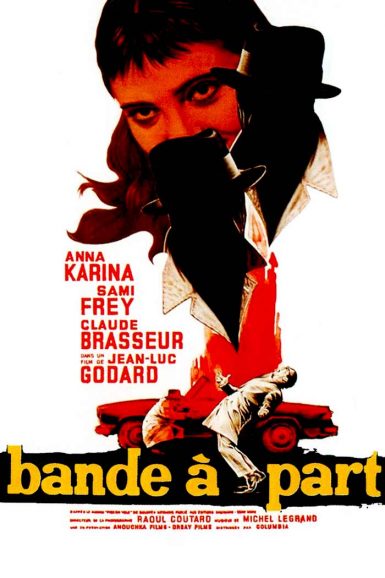 Band of Outsiders
Godard re-works the crime film with even more unruly innovation in Band Of Outsiders. Franz (Sami Frey) and Arthur (Claude Brasseur) are two restless students who cajole beautiful classmate Odile (Anna Karina) into stealing money from under her own roof, but not before plenty of drinking, dancing and racing through the Louvre. A freewheeling, portentous daydream, the film mixes thriller, slapstick comedy, melodrama and neo-realism to tell a heist story unlike any other, one tender, wild, and mean. "All you need for a movie is a girl and a gun," Godard once said, and this film proves it.
"It's as if a French poet took an ordinary banal American crime novel and told it to us in terms of the romance and beauty he read between the lines." – Pauline Kael, The New Republic
"Perhaps Godard's loveliest movie, certainly his tenderest and most accessible." – Charles Taylor, Salon
Director

Jean-Luc Godard
Starring

Anna Karina, Sami Frey, Claude Brasseur
Year

1964
Country

France
Format

English subtitled 35mm
Running Time

97 minutes
Upcoming Showtimes
7:30 pm
Breathless (1960)
9:30 pm
Band of Outsiders