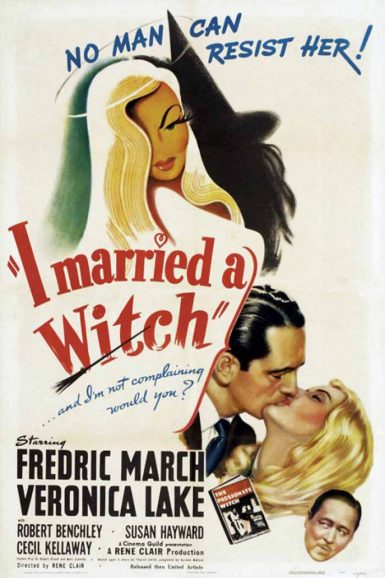 I Married A Witch
A supernatural screwball delight sure to cast a spell on you! A sparkling Veronica Lake stars as a 17-century witch returned to life and looking for revenge against the descendant of the Puritan who persecuted her. But retribution turns to romance when her target turns out to be Fredric March.
Director

René Clair
Starring

Veronica Lake, Fredric March, Robert Benchley, Susan Hayward, Cecil Kellaway
Year

1942
Country

USA
Format

16mm
Running Time

77 minutes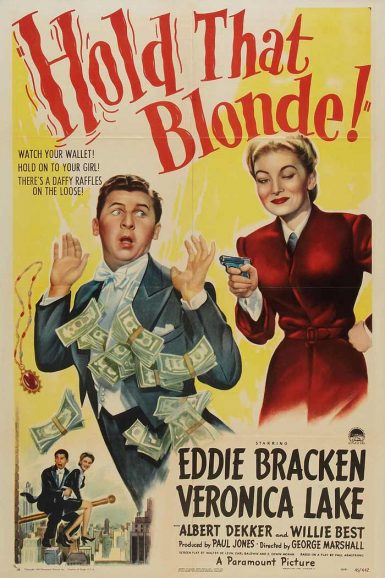 Hold That Blonde!
Watch your wallet! Hold on to your girl! Eddie Bracken is a nebbish kleptomaniac looking for love to help kick his five-finger habit in the uproariously slapstick Hold That Blonde! But the beautiful blonde in his sights (Veronica Lake) just happens to be mixed up with a gang of jewel thieves who don't appreciate the extra attention.
Director

George Marshall
Starring

Eddie Bracken, Veronica Lake, Albert Dekker, Frank Fenton, George Zucco
Year

1945
Country

USA
Format

35mm
Running Time

76 minutes
Upcoming Showtimes
7:30 pm
I Married A Witch
9:20 pm
Hold That Blonde!